GREAT WAR ARCHIVE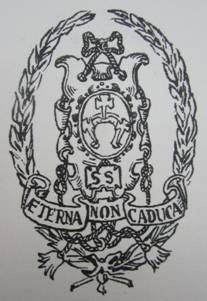 "O Almighty God, whose co-equal son our Saviour was born of the Virgin Mary and hast inspired men in every age to love and do thy will; we beseech thee thou wouldst keep thy servants of the Beaumont College Officer Training Corps steadfast in the faith, to act for thy greater glory and to live by our motto of Aeterna non Caduca, who livest and reignest, one God, world without end. Amen".
INTRODUCTION
For those making a study of The Great War, Beaumont's contribution is particularly interesting for several reasons. Firstly, it was a small school but a very large proportion of its old boys, some 600 served in uniform. The nationalities covered not only British, Empire and Dominions but also French, Belgian and Americans: Beaumont was very international. Their names appeared in all services and at all ranks from General to Private and the Naval equivalent. They played a particular role at the head of Intelligence and resistance. They fought on all fronts from Flanders to Russia, Italy, Salonika, Palestine, Mesopotamia, East Africa, and the Grand Fleet Battle at Jutland There were those involved in the diplomatic service whose decisions effected the post war period even to the present day. There are of course the personal stories of courage, success and disaster and the men who served with and influenced some of the best remembered Heroes of the Conflict: Sykes with Balfour and Lloyd George, O'Beirne with Kitchener, Capel with Clemenceau, Joyce with Lawrence of Arabia, Butters with Churchill and de Croy with Nurse Cavell. Several of these OBs are listed in the Pro Patria section. Many of those below are also to be found on other school memorials having had a shared education.
___________________________________________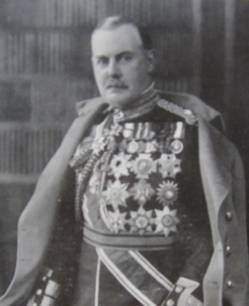 It was Lt-General Sir George MacDonogh (OB), as the personal representative of King George V who brought back the body of the Unknown Warrior from Flanders for burial in Westminster Abbey in 1920.
______________________________________________
The Archive is divided into the War Dead "Pro Patria".
The Casualty Time Line.
Major Awards and Decorations.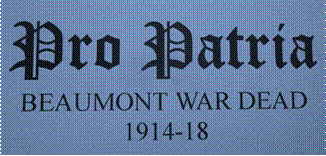 Rudyard Kipling whose son Jack was Killed with Walter Clifford (OB) wrote:-
"They had parted long ago with any delusion as to the war ending that year or the next. The information that came to them by word of mouth was not of the sort dispensed in the Press, and they knew, perhaps a little more than the public, how inadequate were our preparations. One and all they realised that humanly speaking, unless fortune favoured them with permanent disablement they were doomed men; since all who recovered from their wounds were returned to the war and sooner or later despatched. He was lucky in those days who survived whole for three months; and six without hurt was almost unheard of. So the atmosphere of their daily lives, underneath the routine and the carefully organised amusements that the world then offered to its victims, had an unreality, comparable in some degree, to the elaborately articulated conversation and serious argument over utterly trivial matters that springs up among officers in that last hour of waiting under the thunder of the preliminary bombardment before the word is given that hoists all ranks slowly and methodically into a bone-naked landscape."
2nd Lt Alan Ramsey Anderson Royal Irish Regiment. (03) Son of Robert Anderson of Merrion Sq, Dublin. To University College Oxon. Boxing Blue, President St Patrick's Club. Commis 2nd Bn. Fought at Mons, Le Cateau, The Retreat and the Marne. KIA Le Pilly 20 Oct 1914 aged 21. No known Grave. Commem. Le Touret Mem. The Bn was the only one to reach its objective that day but were then cut off and decimated. Of 600 men only 30 returned.
"The Royal Irish was part of the British Army's 3rd Division which had taken its place in a line from Ypres to the Somme to ensure that the Germans would not capture the Channel ports. The unseasonably chilly days of mid-October were the last when the opposing forces faced each other in open warfare. At 3pm on October 19th, 1914, the Royal Irish Regiment crossed a turnip field and attacked the German line. The Irish successfully drove the Germans out of Le Pilly on October 19th under heavy shelling. They suffered an unknown number of dead while 165 wounded were evacuated. The wounded turned out to be the lucky ones. The plan had been that the French would attack the neighbouring village of Fournes, but that attack never materialised.
During the night of October 19th, they asked for reinforcements to protect the flanks of the men who had dug in and made shallow trenches. The 4th Middlesex promised to assist at first light, but they were prevented from doing so by fierce German shelling.
The Irish were now on their own. The Germans ruthlessly exploited their weakness and surrounded them, cutting them off from their division. They were shelled and endured machine gun fire. At 4pm on October 20th, what remained of the regiment surrendered".
2nd Lt Philip Ramsey Anderson Royal Irish Regiment. (03) Brother of above. Gazetted to replace Alan. Died of wounds 14 Feb 1915 while the Bn was carrying out lines of communication duty. Age 26. Buried Bailleul Communal Cem.
Capt. Bernard Arnold RFA. (13) Second son of Bernard Arnold of Milton Hall, Gravesend and one of four brothers at Beaumont. To University College, London. Went to the front with his younger brother in Feb. 1915. 21 March 1918 "Kaiserschlacht" the German spring offensive began: - The British infantry and the most forward-placed artillery face the "perfect storm" on that morning: they were attacked in overwhelming strength in thick fog, wearing gas masks for much of the day, finding that fast-moving enemy infantry has broken through gaps in the defences and rounded them up from behind. Thousands were killed and more captured. Many garrisons of strong points held out although surrounded, but the Germans drove deep into the British positions in several areas, precipitating retreat and chaos that developed over the next few days. Bernard's Colonel wrote:--"He was killed by a machine-gun bullet while attempting successfully to save the guns of his battery. It was essentially a soldier's death, and I cannot hope for a better one myself. The battery behaved magnificently. Every single one of the officers of his battery was killed or wounded or is missing." KIA 21 March 1918. Age 23. No known grave. Commem. Arras Mem.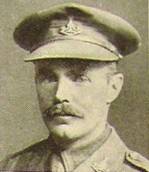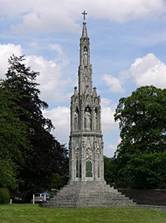 Capt Edward Bagshawe Green Howards. (93) Son of Judge William Bagshawe KC, served in Boer War. To France with 5th Bn. 1915. Wounded near Ypres. Returned 1916. The 5th Bn missed the carnage of the opening stages of the Somme Offensive July 1916 having remained in the Ypres salient, [where they had been serving since April 1915] in trenches near a village named Locre. Here the Bn had been carrying out routine trench work, provided fatigue parties, and occasionally night raids on the nearby enemy positions for intelligence purposes. Inspecting a mine damaged trench, Edward was hit by rifle fire. Killed 20 July 1916. Age 36. Buried La Laiterie Mil. Cem. and Commem on the Sykes Mem. at Sledmere. Engraved "Preux chevalier sans peur et sans reproche".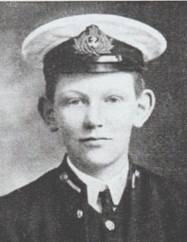 Mdmn Geoffrey Rose Bartlett RNR. (08) Son of Edward Bartlett JP of Peverel Court Aylesbury. Gs of Sir Philip Rose Bt. To Osborne. HMS Bulwark Aug. 1914. Killed when the ship exploded at Sheerness 26 Nov 1914 when loading ammunition (Cordite stored against the boiler room bulkhead). It remains the second worst accidental explosion in the UK. Age 19. Commem. Portsmouth Naval Mem. Edward Bartlett died shortly afterwards and his wife was killed by enemy action 12 May 1941.
"HMS Bulwark was laid down at Devonport Dockyard on 20 March 1899 and launched on 18 October 1899. She began trials in May 1901 and was completed in March 1902.A powerful internal explosion ripped HMS Bulwark apart at 07:50 on 26 November 1914 while she was moored at Number 17 buoy in Kethole Reach, west of Sheerness in the estuary of the River Medway. Out of her complement of 750, only 14 sailors survived, two of whom subsequently died of their injuries in hospital. Most of the survivors were seriously injured. The only men to survive the explosion comparatively unscathed were those who had been in Number 1 mess-deck amidships, who were blown out of an open hatch.
Witnesses on the battleship Implacable, the next ship in line at the mooring, reported that "a huge pillar of black cloud belched upwards... From the depths of this writhing column flames appeared running down to sea level. The appearance of this dreadful phenomenon was followed by a thunderous roar. Then came a series of lesser detonations, and finally one vast explosion that shook the Implacable from mastheads to keel."

The destruction of Bulwark was also witnessed on board battleship Formidable, where "when the dust and wreckage had finally settled a limp object was seen hanging from the wireless aerials upon which it had fallen. With difficulty the object was retrieved and found to be an officer's uniform jacket with three gold bands on the sleeves and between them the purple cloth of an engineer officer. The garment's former owner had been blasted into fragments. ,"Perhaps the most detailed descriptions of the disaster came from witnesses on board battleships Prince of Wales and Agamemnon, both of whom stated that smoke issued from the stern of the ship prior to the explosion and that the first explosion appeared to take place in an after magazine.
On 29 November 1914 divers sent to find the wreck reported that the ship's port bow as far aft as the sick bay had been blown off by the explosion and lay 50 ft east of the mooring. The starboard bow lay 30 ft further away. The remainder of the ship had been torn apart so violently that no other large portions of the wreck could be found".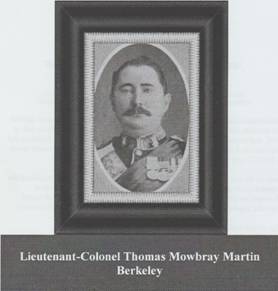 Lt-Colonel Thomas Mowbray Berkeley Black Watch. (76) 3rd son Robert & Lady Catherine Berkeley of Spetchley Court. Gs of the Earl of Kenmare. To Sandhurst. Sudan, Boer war, Gentleman at Arms to King Edward VII. To France, General Staff DAAQMG 10 Corps, Killed 20 May 1916 when returning from a visit to the forward lines in the Somme Sector by artillery fire. Buried at Warloy-Baillon Military Cem. Age 56.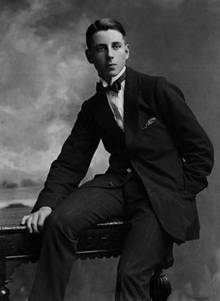 2nd Lt Bernard Bernard Royal Warwickshire Regiment. (11) Son of Colonel Edgar Bernard CMG DSO Financial Secretary Sudan (Later Sir Edgar Bernard Pasha KBE), 2nd Count Bernard. To Sandhurst. Gazetted 1 Oct 2nd Bn, He was soon to proceed to the front. The war diary of Bernard's battalion records his arrival at the head of a draft of 98 men on November 20, 1914. The First Battle of Ypres, which had ended earlier that month, had inflicted heavy losses on the British army, with some 56,000 men dead, wounded or missing. Bernard's unit was in the process of receiving reinforcements to make up for the losses it had sustained.
The battalion was taking its turn in holding the front line in the vicinity of Fleurbaix in France, a few kilometres from the Belgian border. Conditions in this flat, low-lying part of the front were bad and likely to have worsened with the winter's onset. When Bernard arriv­ed, the battalion was billeted in Rue de Bataille in Fleurbaix, his first taste of life in the trenches coming when the battalion went back on the frontline on November 23. This seemed to have been a relatively quiet period, although the battalion's diary records six men killed or wounded by a German shell or mortar on December 6.
The period of quiet was not to last long. The battalion's diary records an Allied offensive on December 18, starting at 4.30pm. The attack began with artillery fire and a charge. Within minutes, heavy German fire cut down the attacking lines, causing some 320 casualties in the Warwickshire regiment alone, including the commanding officer. At 8pm, the order was given to withdraw, the attack having achieved nothing. Stretcher bearers and search parties worked all night to pick the corpses and wounded they could pick. "Trenches very full," the battalion diary grimly notes.
Witness statements in Bernard's file indicate that he was one of the casualties during this attack (which would mean that the officially recorded date of his death – December 21 – is wrong). Private 2525 Saxby reported that a comrade, Lance Corporal Harborne, had seen Bernard killed on December 18 "while cutting the German entanglements. He had a revolver in one hand and plyers in the other, when he was shot dead".
On December 22 the War Office sent a telegram reporting that Bernard had been wounded between December 18 and 19 to D. Ross Johnson, who appears to have been acting as a local contact on behalf of Bernard's father. A later telegram, dated December 25, reported that Bernard was now considered to be missing. Behind the scenes, an enquiry had been made via the German Red Cross which confirmed that Bernard was not a prisoner of war. Enquiries were also made by Bernard's cousin, Alfred Mattei.
Here, Bernard's story links with one of the most poignant moments of the Great War. Following the attack of December 18, a local armistice had been suggested by the Germans to allow for the collection of Allied wounded and burial of their dead. This armistice was disrupted by British artillery fired by mistake. But a few days later, what became known as the 'Christmas truce' took place. At various points on the western front, soldiers from both sides unofficially stopped fighting and fraternised across no man's land. The brigade war diary reports that Bernard's body was found during this unexpected pause from fighting and hastily buried.
This was confirmed by the eyewitness accounts of Corporal Fish of the Wiltshire Regiment and Private Whittall of the Royal Warwickshire Regiment. They reported that Bernard was buried along with some 80 others in three communal unmarked graves dug in no man's land on Christmas Day 1914. "There was no time to remove the bodies to our lines and it was useless to put up any mark as the place was exposed to fire, but the spot will be recognised later by many." The location was "a 100 yards in front of our trenches".
On 28th December the War Office sent a second telegram to Ross Johnson reporting that Bernard was now considered to be dead. Lord Kitchener, then Secretary of State for War, (but former commander-in-chief in Egypt and governor-general of the Sudan), sent a telegram of sympathy and thanks to Bernard's father on 29 December. Bernard's death was reported in The Daily Malta Chronicle of January 12, 1915 (with the date of his death given as December 19).
Having no known grave, Bernard's name is inscribed on the Ploegsteert Memorial to the Missing in the municipality of Comines-Warneton, Belgium. The memorial lists more than 11,000 names of UK and South African servicemen who fought in the area and to whom – to use the words inscribed on the memorial – "the fortune of war denied the known and honoured burial given to their comrades in death". Age 20. First Maltese to die in the War.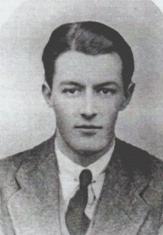 Lt Bernard Gotch Berrill Royal Fusiliers. (13) Son of Arthur Berrill of Sydney Australia. To Balliol Oxon. Commis. 15 Aug. To France with 6th Bn in Jan 1915. KIA Hill 60 Ypres Sector 17 March 1915. His Colonel wrote: - It appears at the time he was hit, he was kneeling down in the trench, and I think a bullet must have glanced down off a tree and got him in the head. He was killed instantaneously; there was no attack, it was ordinary sniping. He was always cheery and bright, made light of any work he had to do, and was absolutely without fear. Micky Hodgson, his captain, told me, 'Young Berrill' has a passion for putting wire out in front of the trenches' (which is not at all a pleasant job). He said it was a standing joke in the company if they saw any wire on the roadside to say, "Where is Mr. Berrill?" Age 20. No known grave. Commem. Menin Gate.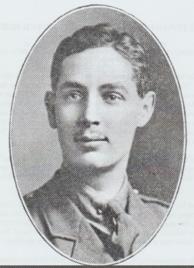 2nd Lt Herman Bagshawe Bicknell Yorkshire Regiment. (16) Son of Herman Bicknell of Holme Park, Ashburton, Devon. Commis. Sept. 1917. To France April 1918 attached 1st Bn East Yorks. KIA 28 May 1918 at the age of 19 in fighting near Trigny when he had only been in the front line a few hours. The East Yorks were in danger of being encircled with machine gun and shrapnel shells coming in from the front and the flanks. The action began at 7-00am and by 4-00pm the battalion had to withdraw so weak were their ranks. Lt Bicknell's body was not recovered and he is remembered today on the Soissons Memorial, which commemorates the missing of the Marne and Aisne battles of 1918.
Capt. Herman Kentigern Bicknell Ox & Bucks LI. (93) Father of Herman above and son of Herman, climber and explorer and the first man to enter Mecca undisguised. He served initially in France before joining the reformed 1st Bn in Mesopotamia. The Bn had been part of the Army surrendered at Kut 1916 "the most abject capitulation in Britain's military history". He took part in the capture of Baghdad. From 7th-28th July 1917 temperatures did not fall below 116 F in the shade and 423 British and 59 Indian troops died of heat stroke, Herman among them. DAS age 44. 24 Jul 1917. Grave Baghdad (North Gate) War Cemetery. Brother in law of Edward Bagshawe see above.
Capt. Edward Bonnyman DSO MC Argyll & Sutherland Highlanders. (02) Son of Colonel Bonnyman. Journalist New York Herald. Commis Sept 1914. To the 10th Bn. To France May 1915. Battle of Loos, The Somme, (Delville Wood, Longueval), Lys, Hindenburg line. On the 30/12/17, the Bn was in the Line in the Gouzeaucourt area, on the edge of the (German-held) village of Gonnelieu, in the aftermath of the Cambrai counter-attack.
"..at 6.30 a.m. the enemy after an intense bombardment on the front of "C Company, commanded by Captain Bonnyman, came over and succeeded in entering our line at two points. Captain Bonnyman at this moment was sitting in his shelter writing his situation report which ran: 'Nothing out of the ordinary to report, line rather quieter than usual,' when his orderly rushed in to say that the Bosches were in the trenches. He immediately, armed with only a stick in one hand and his monocle in his eye, led a party along the trench to the left, where they killed every German there. The trenches having been cleared our men went over the parapet and fought the Bosche in No-Man's land in the snow with such success that scarcely one of the raiding party of 60 reached his own lines. They came over in long white coats, which made them very difficult to distinguish in the snow. For this brilliant bit of fighting, Captain Bonnyman received the DSO. DOW 11 Aug 1918 leading his company in an attack on Parvillers, east of Amiens, they came under heavy machine gun fire and he was hit in the stomach. He was taken back to the dressing station and then to hospital; but did not survive". Buried Crouy British Cemetary.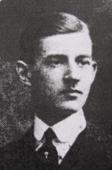 Brigadier Comte Alexandre de Boisgelin Cuirassiers. (08) Son of Comte Louis and Gs of Lord Charles Lennox Kerr. Mobilised in August 1914 and killed on 6 Oct 1914. The regiment went to war still wearing their dress uniforms. In a charge against German Cavalry. His Squadron passed through the line but were then came under Infantry fire. Alexandre was shot through the head and buried north of Arras. His younger brother Henri (OB) succeeded to the title and lands. Age 21.
Capt. Francis Bowring 22nd Punjabs. (96) The son of the late Lewin Bentham Bowring C.S.I., of Woodlands, Torquay, "Bow –Wow" as he was known received his first appointment in the Dorset Regt. from the Militia in 1900; and in 1903 transferred to the Indian Army, in which he obtained his captaincy in 1909. He served through the South African campaign, and in 1908 took part in the Mohmand Expedition on the N.W. Indian Frontier. He married, in 1910, Helen, only daughter of the late Mr. Richard McNabb, of Hemsworth, Torquay. KIA at Ctesphon 22 Nov 1915 aged 37. No known grave. Commem Basra Mem.
General Townshend, ordered a night march in the closing hours of November 21, 1915, with the aim of attacking the Turks at dawn on the November 22, The attack happened on schedule but due to poor ground conditions on the west bank the British ended up attacking the much stronger east bank positions. The advance was supposed to be supported by river gunboats, however two things prevented the gun boats from becoming a factor in the battle. First, the Ottoman guns on the west bank rained fire upon them. Secondly, the Tigris was extensively mined and several river obstructions made navigation difficult. At the beginning of the battle, C-Column, the one closest to the river bank came under heavy small arms and artillery fire and failed to reach the first trench line. A-Column, in the middle, was also halted short of the trench line. On the right, B-Column (mainly Punjabis and Gurkhas) reached the first line of trenches, forced the Ottoman forces to retreat and pursued the retreating enemy towards the second line of trenches where they were held. "Bow-Wow" served in the same regiment as Brigadier General Edmund Costello VC (OB).
Capt. Wilfred Bunbury Northumberland Fusiliers. (93) Son of Colonel Charles & Lady Harriet Bunbury, Cotswold House Winchester. Stockbroker. Commis Aug 1914 To France April 1915 to the 4th Bn wounded at Ypres. March 1917. He returned to the 6th Battalion of the Northumberland Fusiliers when killed in action on the 15th April, 1917. His Colonel wrote: 'He was leading an attack in a conspicuously gallant manner and was the first man into the enemy trench when he was hit in the face and died painlessly. We recovered his body and buried it at night. His death was a great grief to me as we were great friends when he was in my Company, where he always earned our admiration for the thorough way in which he carried out any work entrusted to him'. He was buried at Wancourt British Cemetery. Age 35.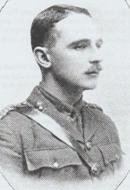 Capt. Francis Burkinshaw MC RFA. (07) Army class Wimbledon, Woolwich Commis RFA 1910 to India. 1914 to France with Indian troops awarded MC and 2x MID. To Mesopotamia with 19th Battery, 9 Bde RFA. Relief force for Kut but wounded by bullet passing through his neck and injuring his spine. Paralysed he was in hospital in Amara but DOW on a hospital ship bound for Bombay 30 Mar 1916. Buried at sea. Commem Basra Mem. Age 26.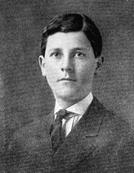 Lt Harry Butters RFA. (07) Son of Henry Butters of San Francisco. Succeeded Father's estates and businesses. 1915 1st American to volunteer for the BEF. Through school connections commis. Royal Warwickshire Regiment, transferred to RFA. To France with B Battery 109th Bde. In support of Guards Division at Loos. Friend of Winston Churchill at the front. Wounded rescuing a line layer. Repatriated but returned in Aug 1916. KIA 31 Aug 1916. Age 24. On that day, Butters and his unit were at the Somme, firing on Trones Woods, outside Guillemont, when his gun received a direct German hit during a massive barrage; he and all the members of his battery were killed. "I don't exaggerate when I say nearly 100,000 shells dropped that day in an area of about 800 square yards," wrote Reverend A. Caseby in his diary entry recounting Butters' death. Butters was buried in the Commonwealth Graves Commission Cemetery at Meulte, a little village south of Albert, France. Age 24. In accordance with a request he made in late August to a British chaplain, his gravestone reads simply "An American Citizen". Churchill wrote his press obituary: -
"He had seen much service on the front line, including the battle of Loos, and came through unscathed until in June last a bouquet of shells destroyed his observation post and stunned him. He could be induced to take only a week's rest before he was back at the front, disdainful as ever of the continual threats of death. And thus, quite simply, he met his fate. He was one of the brightest, cheeriest boys I have ever known, and always the life and soul of the mess. We realize his nobility in coming to the help of another country entirely of his own free will, and understand what a big heart he had."
Letter of January 1916
"I am now no longer untried. Two weeks' action in a great battle is to my credit, and if my faith in the wisdom of ray course or my enthusiasm for the cause had been due to fail it would have done so during that time. But it has only become stronger. I find myself a soldier among millions of others in the great Allied armies fighting for all I believe right and civilised and humane against a power which is evil and which threatens the existence of all the right we prize and the freedom we enjoy.
"It may seem to you that for me this is all quite uncalled for, that it can only mean either the supreme sacrifice for nothing, or at best some of the best years of my life wasted; but I tell you that not only am I willing to give my life to this enterprise (for that is comparatively easy except when I think of you), but that I firmly believe — if I live through it to spend a useful lifetime with you — that never will I have an opportunity to gain so much honourable advancement for my own soul or to do so much for the cause of the world's progress, as I have here daily defending the liberty that mankind has so far gained against the attack of an enemy who would deprive us of it and set the world back some centuries if he could have his way. I think less of myself than I did, less of the heights of personal success I aspired to climb, and more of the service that each of us must render in payment for the right to live and by virtue of which only we can progress.
"Yes, my dearest folks, we are indeed doing the world's work over here, and I am in it to the finish."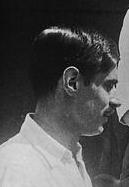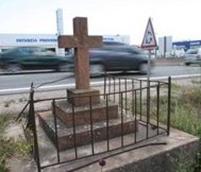 Capt. Arthur Edward Capel CB CBE Cavalry Corps. (97) Son of Arthur Capel. Known as "Boy" Lived mainly in Paris. Businessman, playboy and polo player. Backer of Coco Chanel. War service as special liaison officer to President Poincare and Premier Clemenceau. Legion d'Honneur, Political Secretary to the Council of Ministers Paris Peace Conference. Married Diana Wyndham daughter of Lord Ribblesdale. Killed road accident 22 Dec 1919. Buried Frejus Cathedral, Var. Age 28.
Lt Edgar Carr Kings Own Lancaster Regiment. (90) Son of Richard Carr of Preston. Joined family milling firm of Dilworth & Carr. Volunteer joining 1/5th Bn in France I May 1915. On 3 May in the closing stages of 2nd Ypres, the 1/5th returned to the line at Frezenberg in support, at the apex of the salient under heavy shell fire. As the front line troops, they took part in a general strategic retirement to a new partly completed front line, where they remained under heavy shell fire. They lost 36 killed, 153 wounded and 4 missing, being reduced to 398 men fit for trench duty; and on 6 May they were relieved by the 2nd Bn. Edgar was wounded by shrapnel on 5 May and was repatriated. DOW 18 May 1915. Age 41. Buried St Mary's RC Cemetery Kensal Green.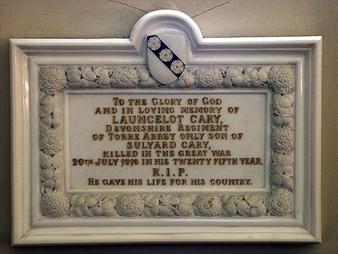 2nd Lt Lancelot Sulyarde Cary Devonshire Regiment. (08) Son of Sulyarde Cary of Clevedon. Succeeded to the estate as Lord of the Manor of Torre Abbey nr Torquay. Law at Oxon, Solicitor. To France with 9th Bn. The Somme attack on Mametz 1 July 1916,
"Due to the severe damage from German artillery fire the British Front Line trench was unsuitable for the battalion to assemble in ready for the attack, so the men were about 250 yards behind the British Front Line trench. At Zero Hour the men of 9th Devons advanced from this position. They had about 400 yards of No-Mans-Land to cross in the Carnoy valley before they could attempt to break into the German Front Line south of Mametz village. As soon as the first men of the Devons reached No-Mans-Land they were exposed to fire from German machine guns. Many were cut down in No-Mans-Land and the battalion suffered heavy casualties. In spite of the heavy casualties lost, the Devons had progressed with their attack and the German-held village of Mametz was captured by the British 7th Division. All but one of the officers of the 9th Devons were killed or wounded. The British Front Line position did, therefore, successfully advance to a new position by the end of the day. 160 bodies were retrieved.They were buried in the vicinity of a little wood called Mansell Copse which was in the British Front Line trench position at the start of the day. A ceremony was held at the burial site on 4th July. A wooden cross was put up at the time by the survivors of the 9th and 8th Battalions of the Devonshire Regiment. Carved on the cross were the words: "The Devonshires held this trench, the Devonshires hold it still." The graves were left in this position when the cemeteries were rebuilt after the war. 163 graves are now contained in the cemetery which is named "Devonshire Cemetery". All but one of the casualties are men of the Devonshire Regiment." Lt Cary took part later in the assault on Bazentin Le Grand Wood and High Wood. He was KIA there on 20 Jul 1916 the last of the Torre Abbey Carys. His brother officer, the war poet, Lt Noel Hodgson wrote:
I that on my familiar hill
Saw with uncomprehending eyes
A hundred of thy sunsets spill
Their fresh and sanguine sacrifice,
Ere the sun swings his noonday sword
Must say good-bye to all of this:
By all delights that I shall miss,
Help me to die, O Lord.
As a small boy Cary when at Torre had said "I would like to die in a cornfield" and so it came to pass with his arm raised to signal his men to take cover from the machine guns in a field of waving corn. Only a couple of hours previous he had given the water from his flask to a dying man saying "I won't be needing this".
Commem Thiepval Mem. Age 25. The Slipper chapel at Walsingham is also dedicated to Cary's Memory.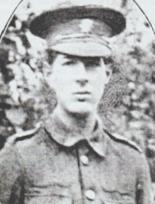 Pte Cecil Castelli County of London Regiment. (12) Son of Xavier Castelli of Kensington. Volunteer with his elder brother for 13th (Kensington) Bn formed at Irena Gardens 4th Aug 1914. To France 4 Nov. in trenches nr Armentiers. Cecil was shot, the bullet coming through a loophole striking him in the head; he fell dead in his brother Ernest's arms 4 Dec 1914 (Ernest later KIA May 1915). Buried at Rue-David Mil. Cem. Fleurbaix. Age 18. His younger brother Capt. Gerald Castelli RHA (OB) was wounded and a POW.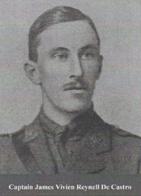 Captain James Reynell de Castro Suffolk Regiment. (08) Son of Major James de Castro of Bury St Edmunds. Commis. 15 Aug 1914. To France 28 January 1915 with 2nd Bn. On 20/7/15 he was recommended for MC having held Hooge crater nr Ypres with only a few men for a whole night. The day before he was killed he was recommended for the VC at Sanctuary Wood (Hill 62). Citation; "For a very conspicuous and gallant action during a counter attack on September 30. In leaving a trench under heavy fire and calling on his men to charge, he led them across the open to the German trench. This being found to be protected by barbed wire, he coolly cut it by himself, being well in advance of his men and completely exposed to the enemy, and so enabled them to occupy the trench on their coming up with him."
He was KIA 1 Oct 1915 by a sniper and buried at Bedford House Cem. Age 24.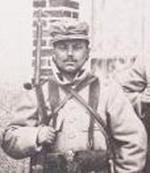 Pte Charles Cavrois 110th Régiment d'Infanterie. (06) Son of Georges Cavrois, avocat of Dunkirk. Known as P'tit Charles, a law student, he joined with his brother George (OB) (Sgt, MM & Legion d'Honneur) at the outbreak of war. He fought in Belgium & the Marne.
Premiers contacts avec le feu. L'ennemi. La mort. « P'tit Charles », comme on l'appelle, note ses impressions dans lettres et carnets. « Il se mue en un homme d'acier qui dit se battre pour la liberté des suivants, Il défend une civilisation plus qu'il n'est sentimental » : il est forgé par la mort et la souffrance. » Une mort qu'il rencontre le 28 février 1915 près de Mesnil-les-Hurlus.
The village in Champagne was totally destroyed during heavy fighting in thick snow and was known as the "Calvary of the Regiment" for the number of Dunkerquois killed. No known grave. Age 22.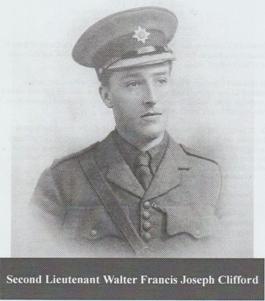 2nd Lt Walter Clifford Irish Guards. (11) Son of Charles Clifford, Gs of Sir Charles Clifford Bt & Sir Humphrey de Trafford Bt (OB). Returned from travelling abroad at the declaration of war and gained a commis. Irish Guards. Joined newly formed 2nd Bn July 1915 and arrived France 16 Aug. Rudyard Kipling in his regimental history wrote:-
"For the Battle of Loos, the Bn had the objective of Chalk-pit Wood at a moderate estimate the Battalion had now been on foot and livelily awake for forty-eight hours; the larger part of that time without any food. It remained for them merely to go into the fight, which they did at half-past two on the morning of the 27th September when they received "verbal instructions to push forward to another line of captured German trenches, some five hundred yards, relieving any troops that might happen to be there." It was nearly broad daylight by the time that this disposition was completed, and they were much impressed with the permanence and solidity of the German works in which they found themselves, and remarked jestingly one to another, that "Jerry must have built them with the idea of staying there for ever." As a matter of fact, "Jerry" did stay within half a mile of that very line for the next three years and six weeks, less one day. They had their first hint of his intentions when patrols pushed out from Nos. 2 (Incl. Clifford) and 3 Companies in the forenoon, reported that they were unable to get even a hundred yards ahead, on account of rifle-fire. Men said, long afterwards, that this was probably machine-gun fire out of the Bois Hugo; which thoroughly swept all open communications, for the enemy here as elsewhere had given ground a little without losing his head, and was hitting back as methodically as ever. At four o'clock the two leading companies No 2 & 3 deployed and advanced, "keeping their direction and formation perfectly." They advanced quickly, and pushed through to the far edge of the Wood with very few casualties, and those, as far as could be made out, from rifle or machine-gun fire. (Shell-fire had caught them while getting out of their trenches, but, notwithstanding, their losses had not been heavy till then.). In the meantime, the 1st Scots Guards, following orders, had come partly round and partly through the right flank of the Irish, and attacked Puits 14 bis, which was reasonably stocked with machine-guns, but which they captured for the moment. Their rush took with them "some few Irish Guardsmen," with 2nd Lieutenants W. F. J. Clifford and J. Kipling (Rudyard's son) of No. 2 Company who went forward not less willingly because Captain Cuthbert commanding the Scots Guards party had been adjutant to the Reserve Battalion at Warley ere the 2nd Battalion was formed, and they all knew him. Together, this rush reached a line beyond the Puits, well under machinegun fire (out of the Bois Hugo across the Lens–La Bassee road). Here 2nd Lieutenant Clifford was shot and wounded or killed—the body was found later—and 2nd Lieutenant Kipling was wounded and missing. The combined Irish and Scots Guards party fell back from the Puits and retired "into and through Chalk-Pit Wood in some confusion." Walter has no known grave. KIA 27 Sept 1915. Commem Loos Mem. Age 21.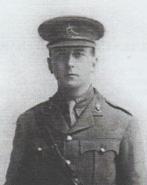 2nd Lt Bernard Clutterbuck RFA. (01) Son of Alexander Clutterbuck of Stowmarket Suffolk. To Balliol College Oxon, Maths Exhibition. Business in Belgium and Germany but then emigrated to farm in Canada. Returned April 1915 to enlist. Sent to Army Service Corps in France but hearing that the RFA required mathematicians transferred and commissioned arriving back at the front in April 1917 and was attached to "Z" 29th Trench Mortar Battery. Trench mortars were used in a variety of defensive and offensive roles, from the suppression of an enemy machine-gun, sniper post or other local feature, to the coordinated firing of barrages. Larger mortars were sometimes used for cutting barbed wire, especially where field artillery could not be used, either because of the danger of hitting British troops or where the effect of the fire could not be observed. Experience on the Somme revealed that use of Stokes mortars in an offensive close-support role had been limited by the reluctance of some commanders to sacrifice rifle strength to provide parties required to carry the ammunition which the weapons so quickly consumed. On 14 July 1917, he was killed by a shell burst at the entrance to his dugout. Age 34. Buried at Canada Farm Cem. Ypres.
Lt Charles Reay Coffey RAF. (12) Son of James Reay Coffey of Cambridge Gardens London. 1908 Ushaw to train for priesthood. Aug 1914 joined Army, Commis. 13th Bn Durham L I. 1915 France and served with trench mortars at the Somme. Awarded Croix de Guerre avec Palm. Volunteered for RAF. Chief wireless officer 52nd Sqn. Flew RE8 No B5147, Suffered heavy losses German March 1918 Spring offensive. 27 May, Coffey's Squadron had to evacuate its aerodrome under heavy shellfire. Having seen both men and equipment away, he and some other officers were about to leave by car when he was hit by shrapnel in the temple and killed instantly. No known grave. Commem. Arras Flying Services Mem. Age 24.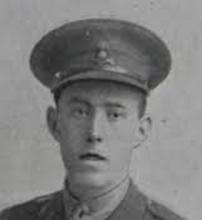 2nd Lt Christopher Considine Royal Dublin Fusiliers. (06) 3rd son of Sir Heffernan Considine Inspector General of Constabulary of Derk, Limerick. Commis 5th Bn he was attached to the 2nd Bn in France. On 24 May 1915, The Royal Dublin Fusiliers started the day at Ypres with 666 men - by the end of the day they had lost 645 men, of whom 149 were listed dead. The battle at Mouse Trap Farm is famous one in the history of the RDF, the CWGC describes it as "Located half-a-mile north of Wieltje, originally a moated farm with outbuildings. It was first given the name 'Shell Trap Farm' by the British. The unhappy associations of this designation were held to be detrimental to the garrison's morale and the position was subsequently re-named by the Staff as 'Mouse Trap Farm'. On the morning of the attack on 24 May 1915 what was left of the farm after the bombardment ('a mere heap of mud and rubbish') was defended by two platoons of the Royal Dublin Fusiliers; being a mere 30 yards from the enemy trenches the rapid occupation of the farm by the quick-moving German infantry was little short of inevitable"
At 2:45 am on the 24th of May, the Germans launched a gas attack on the Allied lines which was the first time that they had used poison gas on a large scale on the Western Front. The poison gas came 'drifting down wind in a solid bank some three miles in length and forty feet in depth, bleaching the grass, blighting the trees and leaving a broad scar of destruction behind it.' By 9:30 pm, out of a battalion strength of 666 men, all that remained when the battalion 'retired' was one officer and twenty other ranks. For the record, in just eighteen and three quarter hours, the Dublin Fusiliers had suffered a loss of 645 men who were blown to bits, gassed, or driven insane by the effects of poisonous gas. The British at that time had no defences against gas attack, indeed the large-scale use of gas by the Germans on the Western Front had begun at Second Ypres. The Battalion did not take part in any more major battles for the rest of the year.
Engraved on Menin Gate Memorial are the names of 461 Royal Dublin Fusiliers killed during the Battles of Ypres. 143 of them are the names of Dublin Fusiliers belonging to the 2nd Battalion who died on the 24th of May 1915: Christopher Considine among them: he was killed trying to save his Company Commander. Age 27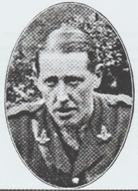 Capt. Heffernan Considine MC Royal Irish Regiment. (02) Eldest brother of Christopher. Regular Officer RIR but resigned after 10 years to farm in Rhodesia. At the outbreak of war he came home to re-join and went out to France. He was awarded his MC "for conspicuous gallantry in action. He handled his company with great courage and skill, maintaining his position under intense fire for 48 hours". During this time they had virtually no water and Heffernan was buried by a shell and had to be dug out. He was eventually killed by a trench mortar in the Ypres Sector. He was having a cup of tea at about 7.30 am on 27 Oct. 1916 when the bombardment started on their position. He went to check on his men when he heard an incoming mortar and tried to take cover. Despite it exploding some 40 yds away he was hit by the shrapnel and died within minutes. Age 33 He is buried in Kemmel Le Chateau Mil Cem. on the road to Armentieres.
Maj. Edgar Conway Royal Munster Fusiliers. (96) Son of John Conway and husband of Geraldine of Monkstown Co. Dublin. He was a regular officer joining the 1st Bn in May 1900 in South Africa. He was wounded north of Bethlehem during an engagement with the Boers and was MID in Nov 1901. At the outbreak of WW1, he sailed with the 6th Bn for Gallipoli and landed at Suvla Bay on 7 Aug 1915 at noon in the area of Ghazi Baba. Some of the lighters ran aground and the men had to wade ashore under shelling from the Turk to find that the beach was land mined. The divisional objective was to secure Kiretch Tepe Sirt Ridge, so safeguarding the flank for an advance across the Anafarta plain. Movement was difficult with the gullies covered with oak and holly scrub. The Bn got within a hundred yards of the Turkish position but suffered heavy casualties. The following day, they made a final assault taking this position but could advance no further as the Turks held the ground in depth. It was during this attack 10 Aug 1915 that Edgar was killed. No known grave. Commem 32 Hill, 10 Cem. Age 36.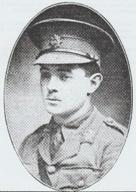 Lt Arthur Copner Devonshire Regiment. (10) Son of Arthur Copner of Ilfracombe. Prize cadet at Sandhurst and Commis 1st Bn 1915. To France with 8th Bn as Machine Gun Officer in July. 25 Sept Battle of loos. "The Bn behaved magnificently, but was wiped out with 21 officers and 580 men killed. The Bn dashed to their objective and captured the gun trench and 4 field guns one of which was later presented to the city of Exeter". Arthur was among the fallen killed by a bullet as he charged the trenches. No known grave, Commem Loos Mem. Age 23.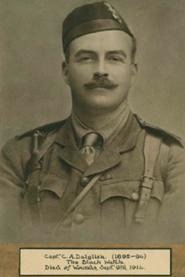 Capt. Charles de Guerry Dalglish Black Watch. (94) Charles was born in Goulburn NSW Australia in 1883 and was the third son of a district surveyor who had considerable wealth invested in the Broken Hill Proprietary Company mine. Charles's father died in 1888 and so the family immigrated to Britain where they resided at Gledhow Gardens in South Kensington, London. Dalglish joined the 3rd Battalion of the Royal Perth Militia in 1900 before being commissioned into the 1st Battalion Black Watch, and serving in the Boer War. After the conflict, he was promoted to captain, married and had three children. He was based at Aldershot with the 1st (Guards) Brigade when the German army mobilised and invaded neutral Belgium in 1914. Charles was a member of the British Expeditionary Force (BEF) who were deployed to France in August 1914. They formed part of the defensive screen along the Mons-Conde canal to hold back the German's advance toward Paris. He was killed very early in the battle of The Marne near the German-held village of Soblonnieres on September 8, 1914 while leading his men in the assault. Buried Sablonniers New Communal Cem. Age 31 His mother Mrs Dalglish Bellasis donated the stained glass windows in the Chapel at St John's.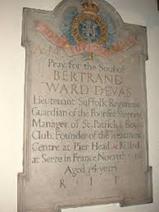 Lt Bertrand Ward Devas Suffolk Regiment. (98) Born Kensington, London, 7 February 1882, 3rd son of Charles Stanton Devas, political economist and author, Corpus Christi Oxon. Barrister, Inner Temple 1907; W Circuit, Bath, Bristol and Somerset Sessions 1907-1914; appointed to National Insurance Commission 1911. Married 25 September 1915 Elizabeth Helen [Fleet], at Westminster Cathedral. To France with 2nd Bn. Killed in action during an unsuccessful attack on Serre at the end of the battle of the Somme 13 November 1916 (aged 34) leading his men over the parapet. Buried at Luke Copse British Cem. Puiseux. Memorial at St Patrick's Wapping. 3 of Bertrand's brothers served as Chaplains; all highly decorated.
Corpus Christi Archives:-
Among the names of those posted as "missing" during the war, who must now be presumed to have been killed in action, is that of Bertrand Ward Devas, who was a Commoner of the College from 1901 to 1905, took a third in Mods and a second in Greats, coxed the College boat for two or three years, and was subsequently called to the Bar from the Middle Temple. He was a son of the well-known Catholic writer C.S. Devas, was educated at Beaumont and Stonyhurst, and though very tolerant of heresy in others, he remained always a most loyal and devoted member of his Church. On his father's death he found himself relieved of the necessity of earning a living and free to devote himself to pursuits more congenial, if less remunerative, than the Law. He made a home for himself in Wapping, near the "Old Stairs", where he helped to organise a Social Club for the Catholic Irish boys of the Port of London, in connexion with which he equipped, at his own expense and in his own quarters, an excellent clinic. In the summer of 1916 Devas went to France with a commission in the Suffolk Regiment. He was sent straight into the thick of the fighting on the Somme, where after a very few days he seems to have met his end.
Bertrand Devas, with or without his dog "Stodge", was a prominent and popular figure in the College. He was a member of many social and literary Societies, and was always ready with some lively and ingenious contribution to their discussions. He had considerable natural gifts for speculation, and if his interests had run more strongly in that direction would have made a true philosopher. But, as time showed, what he really loved was not so much wisdom as humanity. At Wapping he showed himself a born philanthropist.
Tpr Thomas Joseph Dixon Hertfordshire Yeomanry. (06) Son of Oliver Dixon. To Royal Veterinary College. A keen sportsman and follower of hounds he enlisted in the Yeomanry and was mobilised in August 1914 as part of the Eastern Mounted Brigade. In January 1915 the Yeomanry embarked for service in Egypt where it was absorbed into the Yeomanry Mounted Brigade.

As a fighting unit, the Yeomanry first saw action at Gallipoli, where they acted as dismounted Cavalry through the majority of the campaign. Remaining in theatre until the withdrawal of British and Commonwealth Forces, they returned to Egypt in December of 1915, having suffered significant numbers of casualties.

In 1916 the Hertfordshire Yeomanry was split up into its constituent Squadrons'. Thomas with 'B Squadron' would return to the UK with the 11th Division. But he came home with pleurisy and tuberculosis from which he died 24 Nov. 1917 aged 23.
Lt Archibald Douglas-Dick Scots Guards. (07) Only son of Brigadier General Douglas-Dick, Laird of Mains of Pitkerro castle. To Sandhurst. Commis 1st Bn. To France with BEF. Mons, The Marne, The Aisne and Ypres. KIA 11 Nov 1914.
The battle of Nonne Bosschen was part of the wider first battle of Ypres and was the final German attempt to break through the British lines around Ypres. It was mounted by twelve and a half divisions from two army groups and involved an attack against a nine mile front, stretching from Messines to Reutel (close to Polygon Wood). By the middle of November both the British and German armies were exhausted. The main German threat on 11 November would come from two fresh divisions, the 4th Divison and the Prussian Guards. These two divisions, with 10,000 men in twelve fresh battalions, would attack eleven tired British battalions, reduced in strength to around 4,000 men after three months of fighting, along the line of the Menin road.
The German attack was preceded by one of the heaviest artillery bombardments yet, lasting from 6.30-9.00 am. Along much of the line the advancing German troops were further protected by early morning mist, but the attacking troops had already lost their early enthusiasm and the attack was turned back by the accurate British rifle fire. The most successful German attack was made against the 1st Guards Brigade. This brigade contained battalions from the Scots Guards, Camerons and Black Watch regiments, and had around 800 men. They were outnumbered three to one by the Germans.
The advancing Germans emerged from the mist and overran the British front line, in a rare bayonet attack. However, enough resistance was offered to disrupt the German formations. Accurate British artillery fire then isolated the German Guards, preventing reinforcements from reaching them. Isolated British strong points combined with well-aimed artillery fire then took any remaining momentum out of the German attack and they retreated into Nonne Bosschen woods, the incident that gave the entire battle its name. This was the last major German offensive of the battle. A series of minor attacks were mounted over the next few days, and in the official German history of the war the battle of Ypres does not finish until 30 November, but the real danger was over.
From The Tablet:-
The memory of Mr. Archibald William Douglas-Dick, of the Scots Guards, who was missing on November 11, 1914, and is presumed to have been killed in action at Veldhock during an attack by the Prussian Guard, has been commemorated in the church of Our Lady of Good Counsel, Broughty Ferry, by the installation of a new peal of nine bells. He had been through three weeks' desperate fighting, and was the only officer left in the trench with the sixty remaining men of his battalion. The bells and the tower to receive them are the gift of his parents, Brigadier-General and Mrs. Douglas-Dick, of Pitkerro, Dundee, and the largest of them bears his initials with the words "Mater Dei memento mei," copied from an old pre-Reformation bell. The ceremony of blessing the bells took place on Sunday before last in presence of an overflowing congregation in the little church. Father Hampton, S.J., who was Rector of Beaumont whilst Mr. Douglas-Dick was a student there, was to have preached the sermon, but was unfortunately prevented by illness from attending. His place was taken by Father Barrington Douglas-Dick, uncle of the young officer. The preacher pointed to the appropriateness of bells as a memorial, for their call to Worship would remind all that they were consecrated to the service of God and one's neighbours. Archibald Douglas-Dick, said the preacher, was, above everything, deeply and fervently religious. He was a good son and brother, staunch comrade and friend and a brave soldier, possessing a bright and sunny disposition which endeared him to all his brother officers. Thus he writes home of his life in the trenches, that "amidst the squalor and sordidness of the life "—such that we who never witnessed it cannot realise—the one consolation was the constant practice of his religion. The last words he is recorded to have said were words of cheer and consolation to a soldier friend who had just been wounded. Even as he spoke he was cut down. After the sermon, Father Russell, the parish priest, acting as the deputy of the Bishop of Dunkeld, blessed the bells, assisted by Father Stuart and Father Toner. General and Mrs. Douglas-Dick were present at the ceremony in the tower.
Two of Archibald's American Parrott cousins were killed later in the war: see below.
2nd Lt Theodore Tarleton Ellison Welsh Regiment. (12) Son of Francis Ellison of Kempston Manor, Kempston. Law student, he joined the Inns of Court Yeomanry before a commis. 9th Bn Welsh. To France mid –July 1915. Their first action was at Pietre, in a diversionary action supporting the Battle of Loos. Theodore was killed near Vermelles, often a hotspot that changed hands on many occasions during the War. 14 March 1916. Buried Maroc Cemetery. Age 21.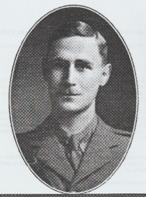 Lt Henry Bagshawe Eyre Irish Guards. (15) Son of P J Eyre. Born in Peru. To Sandhurst. Commis 1st Bn 1916. To France July 1916. He fought on The Somme before the Bn moved back to the Ypres Sector and Boesinghe July 1917. Rudyard Kipling wrote:-
On the 14th of July there was a German raid, preceded by an hour's "box" barrage of trench mortars, .77's, and machine-guns, on two platoons of No. 4 Company then in the front line behind the canal. A shrapnel-barrage fell also on the supports. A "box" barrage is a square horror of descending fire cutting off all help, and ranks high among demoralising experiences. Luckily, the line was lightly held, and the men had more or less of cover in dug-outs and tunnels in the canal bank. A Lewis-gun post in a covered emplacement, almost on the bed of the canal itself, was first aware, through the infernal racket, of Germans crossing the canal, and fired at them straight down the line of its bed. They broke and disappeared in the rank weed-growth, but there was another rush over the parapet of the line between two sentry groups in the firing bays. The trenches were alive by then with scattered parties stumbling through the black dark, and mistaking each other for friends or enemies, and the ruin of the works added to the confusion. As far as can be made out, one officer, Lieutenant H. J. B. Eyre, coming along what was left of a trench, ran literally into a party of the enemy. His steel helmet and revolver, all chambers fired, were found afterwards near the wreck of a firing-bay, but there was no other trace. It was learned later that he had been mortally wounded and died that evening. In trench-raids, when life, death, or capture often turn on a step to the left or the right, the marvel was that such incidents were not more frequent. KIA 14 Jul 1917, Henry was buried in Perth Cem (China Wall). Age 19
Cpl Vincent Thomas Eyre Cheshire Regiment. (96) Son of Captain Vincent Eyre and husband of Helen of Lyndley Hall, Leics. Lt the Life Guards but fought in the Boer War as a trooper in the Imperial Yeomanry and was POW. At the outbreak of WW1 Vincent went to France with the Yeomanry but after the Somme 1916 He was transferred with others from disbanded Yeomanry to make up the numbers in the decimated 15th Bn of the Cheshires. This was the original Bantam Bn recruited in Birkenhead, after Alfred Bigland MP, heard of a group of miners who had been rejected from every recruiting office because of their height. Vincent served with them in some of the hardest fought battles of the war, such as the Battle of Arras in 1917 and Bourlon (Cambrai) in November. He was KIA 24 March 1918 during the German Spring Offensive that started 21 March when the 5th Army was pushed back by overwhelming numbers on The Somme. No known grave. Commem. Pozieres Mem. Age 37.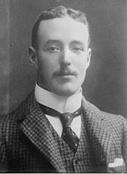 Capt. The Lord de Freyne South Wales Borderers. (93) Son of Arthur French, 4th Baron (OB), of Park Lane and Frenchpark. 1899 Commis. Royal Fusiliers. Resigned 1902 to USA. Enlisted US Army Sgt, Philippines. Returned outbreak of War, Special Reserve Officer South Wales Borderers. To France with 1st Bn Nov 1914. Coy. Comd. at Battle of Givenchy 26/1/15. That spring, the French launched 2nd battle of Artois and the BEF carried out a diversionary attack to reduce the salient at Neuve Chapelle and reach Aubers Ridge; it was a disaster. More than 11,000 casualties were sustained 9 May, the vast majority within yards of their trenches. It was probably the highest rate of loss of the entire war. Among them Arthur. Age 35. Buried Cabaret – Rouge Cem, Souchez.
Lt Francis William Galton Devonshire Regiment. (11) Son of Major Hubert Galton, Gs Maj-Gen Henry Clifford VC. 1911 Sandhurst. Commis 1st Bn. To France Nov. 1914. From November the Bn occupied Messines Ridge in rain and sleet, often knee- or waist-deep in mud and icy water. In March 1915 Francis was MID. On 21st April 1915 they occupied Hill 60, which had been captured on 17th April. Counter-attacks and heavy shelling cost them more than 200 casualties. Francis repatriated sick. On 31st July 1915 the Bn moved to the Somme. When the offensive began on 1st July 1916 the Devons were at Arras but returned to the Somme, to consolidate the line around Longueval. Francis was back once more at the front in August: Shellfire and German counter-attacks cost them 265 casualties. In September they made two very successful advances near Guillemont at a cost of another 376 casualties.
In the Battle of Arras, in April and May 1917, their losses in four attacks nearly wiped out the Battalion. Among them KIA 23 April was Francis aged 21. No known grave. Commem. Arras Mem.
Capt. Gilbert Mead Gerrard Highland Light Infantry. (04) Son of General Sir Montague Gerrard KCB of Rochsolels, Lanarkshire. To Sandhurst. 1908 Commis 2nd Bn. Contracted Enteritis but recovered. Aug 1914 to France, Mons, The Marne, The Aisne 1st Ypres wounded repatriated. Rejoined but wounded again in May. Early 1916 joined 1st Bn to Mesopotamia. But contacted Enteritis again and died 3 May 1916. No known grave. Commem. Basra Mem. Age 26.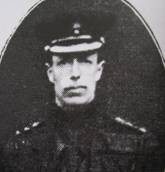 Capt. Alwyn Gosselin DSO Grenadier Guards. (97) Son of Sir Martin & Hon Lady Gosselin of Mayfair and Blakesware Hertfordshire. Known as "Goose". Initially a regular officer in the 19th Hussars but in 1901 Commis 2nd Bn. To France Aug 1914. Mons, Villers –Cotteret, The Marne, The Aisne. Oct awarded DSO "Although wounded and in considerable pain, he commanded his company for two days in action against all medical advice until relieved by another officer". February in the Ypres Sector near Bethune, he spotted a junior officer wounded during an assault. Goose went to his help and while administering 1st aid was hit by a shell splinter in the neck. He doubly saved his friend's life by stopping the bleeding and then sheltering him from the shell blast. The Subaltern was saved though lost his arm. Goose was KIA 7 Feb 1915. Buried at Cuinchy Communal Cem. Age 31
"Three weeks into the conflict and the BEF was in retreat from Mons, where they had been overwhelmed by numbers and the weight of artillery. On the 26th August, the 2nd Battalion of the Grenadiers were withdrawing through the town of Landrecies some thirty miles from the Belgian border. Understandably, they were apprehensive and jumpy, expecting attack as they formed the rear guard of the Army. As one officer wrote "Well, in case we don't get out of this – goodbye". The town was already devastated by the barrage coming down "and was like a city of the dead". The only living thing the Guards came across as they marched through the remains of the centre was a frightened trooper of the Irish Horse holding a good looking bay charger.
Alwyn questioned the man as to what he was doing. The soldier replied that he had been given the horse to hold by his officer, but he had not seen sight nor sound of him in six hours and he did not know what to do. Goose told him to look to himself and he would look after the horse and see the animal to safety. Alwyn named the animal Landrecies and rode him as they were forced to fall further back. The horse was to become his mount and companion till he was killed some six months later. It was recorded that the lure and attraction of that noble steed helped to neutralise the human instincts of that moment whether it was nerves, trepidation or even self- preservation. That soul destroying retreat, so early in the War was a test of the British soldier , often under fire and with his boots in shreds, digging trenches only to have to abandon them to fall even further back. When the Grenadiers came into Landrecies, they had only a couple of hours sleep in two days, there was no safe cover, they were exhausted and understandably demoralised. Yet for a moment the sight of this lone animal standing patiently and without obvious sign of fear in the face of carnage impressed both officers and men alike. After Goose was killed, the horse was taken on by a brother officer – the future General Lord Jeffreys and Landrecies survived the conflict - eight million horses from both sides didn't. "No medal and no cross they wear, the burden that they bravely bear, only their daily tasks attest". Landrecies was one of the very few, able to find the peace of the English countryside once again as George Jeffreys favourite hunter".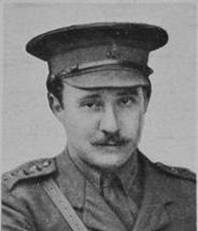 Capt. George Grisewood Royal Sussex Regiment. (06) Son of Harman Grisewood. Gs Count Messina of Malta. 1909 Commis Grenadier Guards. Aug 1914 transferred to Royal Sussex to be adjutant to his elder brother Harman CO 11th Bn (Southdowners). France 26 Feb 1915. Died of pneumonia 27 March 1916. Buried Merville Communal Cem. Age 27
Lt Francis Grisewood Royal Sussex Regiment. (93) Elder Brother of above. Born Paris. To Kings Coll. London for engineering. Owned Gold and Arsenic mines in Spain. Returned to join 11th Bn. To France. Battle of Richebourg 30 June 1916 (diversionary attack prior to the Somme). The Bn was inexperienced and was covering unfamiliar ground. Lt Col Grisewood (OB) expressed that his men would be "Canon Fodder" and was relieved of command for the assault. As he predicted it was a disaster: they took the first line of trenches but without reinforcement, lack of ammunition and superiority of German numbers were forced back with appalling casualties. "The lambs had gone to the slaughter" including Francis 30 Jun 1916. No known grave. Commem. Loos Mem. Age 36
A/S Paul Casmir Grisewood Public School Bn RNR. (03) Another Grisewood brother. Married a Miss Hodkinson. Lived at Sutton Lodge, Sutton. Joined Public Schools Bn RNR but contracted TB and died 3 Aug 1916. Age 28.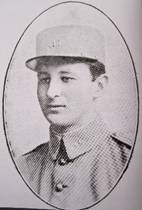 Cpl Edgar Guillet 412 Régiment d'Infanterie. (14) Of the Rouyer-Guillet Cognac family. Joined the army at 17. In 1914 the 2ieme Bn (les Perigourdins). Known as "L'Anglais" he served on several sectors L'Aisne and Verdun. At Verdun awarded Croix de Guerre. KIA in a counter attack between Soissons and Rheims 23 Jul 1918. Posthumously awarded France's highest bravery decoration - Medaille Militaire. His brother Albert (OB) was the first French Irish Guards officer. Age 21.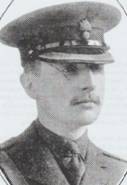 Lt Ian Fitzgerald Gunnis Grenadier Guards. (08) Son of Major George Gunnis. Gs of Lord Fitzgerald. Joined Finance House. Ran Catholic boys Club in the East End. Aug 1914 Commis 2nd Bn. On the 15th of August 1914 the Bn proceeded to France, landing at Le Havre. They were in action in The Battle of Mons and the subsequent retreat, The Battle of the Marne, The Battle of the Aisne, the First Battle of Ypres and the Winter Operations of 1914-15. In 1915 they were in action during The Battle of Aubers and then on the 20th of August 1915 they transferred to the newly formed 1st Guards Brigade, Guards Division. The saw action in The Battle of Loos. In 1916 they fought on The Somme in The Battle of Flers-Courcelette and The Battle of Morval, capturing Lesboeufs. In March 1917 they were in action in The German retreat to the Hindenburg Line. In July Ian was severely wounded during an assault and was last seen crawling into a German dugout and presumed KIA 4 Jul 1917. No known grave. Commem. Ypres Reservoir Cem. Age 26.
Lt Walter Hackett Queen's Own Royal West Kent Regiment. (98) He was the only son of Colonel and Mrs. Hackett, of Brooklawn, Co. Dublin. On the outbreak of war he volunteered and was given a Lieutenant's commission in the 7th Bn Royal West Kent Regiment. Shortly after joining he was appointed regimental transport officer, and very soon transport officer to the brigade, which position he held till last March 1916. Lieut. Hackett married, in 1907, Eleanor, the eldest daughter of Hon. Mrs. McCausland and the late Mr. C. T. McCausland, D.L., Drenagh, Co. Londonderry. 7th Battalion took part in the July 1st 1916 attack on the Somme, as part of the 18th Division, and was among that terrible day's success stories, occupying enemy trenches at Montauban. Later The Battle of Bazentin Ridge including the capture of Trones Wood. Walter was wounded at Thiepval at the end of Sept. Died 3 Oct 1916. No known grave. Commem. Thiepval Mem.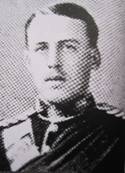 Lt John Raphael Hamilton-Dalrymple Kings Own Scottish Borderers. (07) Son of Sir Walter Bt of N Berwick. Known as Jock. To Sandhurst. Commis 2nd Bn. 1909. ADC Governor Gold Coast. 14 Aug 1914 to France. Mons, Le Cateau. The Marne, The Aisne, Wounded at Le Bassee 13 Oct. repatriated. MID by Comd in Chief. Returned to the front December. Following the first use of gas by the Germans in the Ypres sector, the KOSB as part of 13 Brigade was ordered to make a general attack to regain the lost ground: it was a failure. Jock was fatally wounded in this assault 23 April 1915 at Gravenstafel 2nd Ypres. No known grave. Commem. Menin Gate. Age 25.
Jock wrote "le Cateau was awful. I had to take my platoon up to the trenches under fire ……..after holding for four hours we got the order to retire. The fire was tremendous. When it got too bad we threw ourselves on our faces and rested and when it slackened again rose up and retired. It was wonderful to watch the German outflanking movement. The officers seemed to be standing all the time and as cool as possible.
Commenting he says" the retreat from Belgium was wonderful. We marched 114 miles in eight days. As three days were taken up with battles we really covered the distance in five". At one stage we had no rations for 24hrs".
The KOSB suffered great losses. At Le Cateau and Mons they lost 16 officers. Of Jock's company, his Major, a Captain and a subaltern are missing, two subalterns killed and a Captain wounded. This left Jock the only officer in the company. He was cut off at Le Cateau and rejoined after two days. He has never told us the circumstances and did not know that he was reported as missing. On re-joining he took command of the Company and commanded all through the Battle of the Marne and the first week of the Aisne. Eight officers then arrived. Speaking generally, he says that aeroplanes have played a great part in the action and he had seen them fighting in the air above him.
Like everyone he bears out the magnificent spirit of the NCOs and men. He says he was twice reported dead, and when he turned up from Le Cateau was loudly cheered by his men. He continues "Facing death quietly night and day is a fair reminder that there is another life beyond the grave. To see a brave friend dead beside you is good for the soul. I have had miraculous escapes as indeed we all have, and your prayers have pulled me out of some very tight places.
As I write the enemy are sending lyditte into us. This is a daily show. Our artillery are amusing themselves by sending shrapnel in return".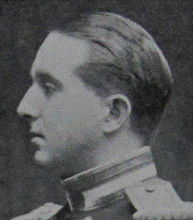 Lt John Malby Bergin Hanly RN. (97) Son of Lt Colonel Edward Hanly of Eaton Square and Avonmore House Co. Wicklow. To Britannia, Sword of Honour. Gazetted HMS Queen Mary was wounded early in the war, but recovered sufficiently to attend his brother John's wedding as best man in 1915. (He married Lady Marjorie Feilding). HMS Queen Mary was a modern battle cruiser. Commis 1913. First action Battle of Heligoland Bight 1914. On 31 May 1916 Queen Mary put to sea with the rest of the Battlecruiser Fleet to intercept a sortie by the High Seas Fleet into the North Sea. John Hanly was the senior Lt. The British were able to decode the German radio messages and left their bases before the Germans put to sea. Hipper's battlecruisers spotted the Battlecruiser Fleet to their west at 15:20, but Beatty's ships did not spot the Germans to their east until 15:30. Two minutes later, he ordered a course change to east south-east to position himself astride the German's line of retreat and called his ships' crews to action stations. Hipper ordered his ships to turn to starboard, away from the British, almost 180 degrees, to assume a south-easterly course, and reduced speed to 18 knots (33 km/h; 21 mph) to allow three light cruisers of the 2nd Scouting Group to catch up. With this turn Hipper was falling back on the High Seas Fleet, then about 60 miles (97 km) behind him. Around this time Beatty altered course to the east, as it was quickly apparent that he was still too far north to cut off Hipper. This began what was to be called the "Run to the South" as Beatty changed course to steer east-southeast at 15:45, paralleling Hipper's course, now that the range closed to under 18,000 yards. The Germans opened fire first at 15:48, followed by the British. HMS Queen Mary exploded 38 minutes into the battle after being struck by a salvo from the German battlecruiser SS Derflinger. Queen Mary blew up hit by two 12-inch shells on 'A' and 'B' turret and their respective magazines were detonated. In all, 1,266 men lost their lives. Her wreck was discovered in 1991 and rests in pieces, some of which are upside down, on the floor of the North Sea. From Naval Operations Official History
"For about five minutes she stood it gallantly. She was fighting splendidly. The Germans say full salvoes were coming from her with fabulous rapidity. Twice already she had been straddled by the Derfflinger, when at 4.26 a plunging salvo crashed upon her deck forward. In a moment there was a dazzling flash of red flame where the salvo fell, and then a much heavier explosion rent her amidships. Her bows plunged down, and as the Tiger and New Zealand raced by her to port and starboard, her propellers were still slowly revolving high in the air. In another moment, as her two consorts were smothered in a shower of black debris, there was nothing of her left but a dark pillar of smoke rising stemlike till it spread hundreds of feet high in the likeness of a vast palm tree. Two such successes were beyond anything the Germans had reason to expect. Admiral Scheer's plan had broken down, and yet they were gaining even more than he could have hoped for......"
HMS Queen Mary is designated as a protected place as a war grave.
John lost at sea 31 May 1916 is Commem Portsmouth Naval Mem. Age 28.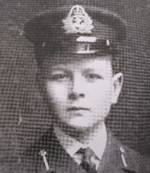 Mdmn Geoffrey Harold RN. (11) Son of Dr John Harold eminent physician of 65 Harley Street. To Osborne. 1914 appointed to the cruiser HMS Hogue launched in 1900. On the morning of 22 September, Hogue and her sisters, Aboukir and Cressy were on patrol without any escorting destroyers as they had been forced to seek shelter from bad weather. The three sisters were in line abreast about 2,000 yards (1,800 m) apart, at a speed of 10 knots (19 km/h; 12 mph). They were not expecting submarine attack, but they had lookouts posted and had one gun manned on each side to attack any submarines sighted. The weather had moderated earlier that morning and 8 destroyers were on their way to reinforce the cruisers.
U-9, had been ordered to attack British transports at Ostend but had been forced to dive and take shelter from the storm. On surfacing, she spotted the British ships and moved to attack. She fired one torpedo at 06:20 at Aboukir that struck her on the starboard side; the ship's Captain thought he had struck a mine and ordered the other two ships to close to transfer his wounded men. As Hogue approached her sinking sister her Captain realized that it had been a submarine attack and signaled Cressy to look for a periscope although his ship continued to close on Aboukir as her crew threw overboard anything that would float to aid the survivors in the water. Having stopped and lowered all her boats, Hogue was struck by two torpedoes around 06:55. The sudden weight loss of the two torpedoes caused U-9 to broach the surface and Hogue's gunners opened fire without effect before the submarine could submerge again. The cruiser capsized about ten minutes after being torpedoed as all of her watertight doors had been opened and sank at 07:15. Cressy attempted to ram the submarine, but did not hit anything and resumed her rescue efforts until she too was torpedoed at 07:20. She too took on a heavy list and then capsized before sinking. Several Dutch ships began rescuing survivors at 08:30 and were joined by British fishing trawlers before the destroyers arrived. The combined total from all three ships was 837 men rescued and 62 officers and 1,397 enlisted men lost. Of these, Hogue lost a total of 48 men. These included Geoffrey who was last seen tying together two boards for another midshipman who could not swim, before upon the order he jumped overboard. Lost at sea. 22 Sept 1914. Age 15.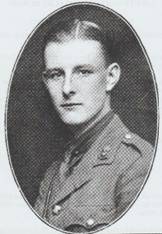 Lt John Bevan Harold RFC. (12) The elder brother of Geoffrey. Known as "Beaver". To Univ. Coll. Oxon. for medicine. Volunteered 1914 and commis RFA and served in France for two years before transferring to RFC. Pilot Aug 1917. To 5 Sqn to the front Dec 1917. The Sqn was equipped with RE 8s and worked closely with the Canadian Corps. He was in a formation on photo reconnaissance when he was separated from the rest of the squadron and was attacked by two fighters. Their MG fire injured both Beaver and his observer and damaged the controls. Beaver managed to get his plane home saving his observers life. He was taken to hospital but succumbed to his wounds 16 Feb 1918. Age 23. Buried Etaples Mil. Cem.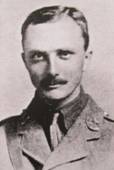 Capt. John George Harter DLI. (05) Eldest son of Charles Harter of Onslow House Kensington. The Brigade Major of 151st Bde, 50th Division, He was commissioned into the 1st Durham Light Infantry from Sandhurst in September 1908 and gained his Lieutenancy in March 1912. Upon the outbreak of war, he was appointed to the 10th (Service) Battalion of the regiment as Senior Subaltern but, in October 1914, joined the 2nd Battalion in Flanders. May 1915 saw John's appointment as ADC to the general officer commanding the 6th Division (Maj.-gen. Sir Walter Congreve) until July 1915 when he was appointed Adjutant of the 9th Bn DLI. In January 1916, he was appointed Brigade Major of 151 Bde and was still holding this appointment when he was killed at 'The Bluff' on the Ypres-Comines canal on 3 April 1916. After his death, his body was returned to Poperinge for burial. He now lies in Lijssenthoek Military Cemetery. Age 37.
His Brigadier wrote: "There was some heavy shelling yesterday and while he and I were walking from one HQ to another a shell came in and practically severed his left leg. I gave him morphia and sent him to the dressing station. They put him in an ambulance and sent him to hospital where his leg was amputated but died the next morning. When he was hit his first thoughts were for others and he said tom me "I order you to get out of danger. Don't stop with me" He was so brave and plucky and when I said goodnight to him he was just like himself".
Capt. Clement Jesse Harter Royal Fusiliers (03) Brother of the above. He entered the Royal Navy but later retired as a Sub. Lt. At the outbreak of War he was commissioned in the 3rd Bn and crossed to France to join the 4th Bn where his elder brother James was the adjutant (later Lt-Colonel DSO, MC and Croix de Guerre). Wilfrid Stapleton-Bretherton see below was also in this Bn. At the end of May 1915 the Germans had possession following the 2nd Battle of Ypres and the Gas Attack of Bellewarde Lake and established positions which left an uncomfortable sag in the Ypres salient (Hooge Chateau) which the 3rd Division was tasked with a local straightening. At 1.30 a.m. on the 16th June 1915 the 4th Royal Fusiliers were in position with in front of them a wood with a trench guarding its western end. After the artillery bombardment which began at 2.50 a.m. two companies were able to advance and capture the German front line without much resistance but the position was different on the right when the two supporting companies of the Battalion pushed through the wood to the trench on the bank of the lake, advancing too quickly for the British artillery and sustaining casualties. After considerable loss the companies withdrew to a communication trench which they held for the rest of the day under heavy artillery fire with gas shells being freely used by the enemy. At the end of the day only a small amount of ground remained in the Battalion's hands and the losses had been heavy, with 15 officers and 376 men becoming casualties. Among the dead was Clement. Commemorated on the Menin Gate Memorial Ypres, having no known grave. Age 26.
2nd Lt Thomas Jerome Hartigan Northamptonshire Regiment. (09) Son of Thomas Hartigan FRCSI of Croom, Limerick. Business in London. Volunteer at outbreak of War. Commis 6th Bn raised at Northampton in August 1914 as part of Kitchener's Second New Army and joined 18th (Eastern) Division as army troops. They moved to Colchester for training and in November transferred to 54th Brigade in the same Division. They moved to Salisbury Plain in May 1915 for final training and proceeded to France on the 26th of July 1915, where the Division concentrated near Flesselles. In 1916 they were in action on The Somme in The Battle of Albert capturing their objectives near Montauban, The Battle of Bazentin Ridge including the capture of Trones Wood:-
"At 0430 hours (An hour after the main offensive had begun) the 6th Bn Northamptonshire Regiment advanced out of the sunken road near the brickworks towards the wood 800 metres away. They had to brave a storm of artillery fire as they crossed the open ground and entered the wood but from there they managed to make good progress despite being disorientated". By 0930 hours the remaining Germans were being pushed out of the wood and were forced to flee towards Guillemont. As they did so they suffered numerous casualties from fire directed at them from the new cordon securing the eastern edge of Trônes Wood. The wood was finally in British hands.
Later at The Battle of Delville Wood, Thomas was KIA 18 Aug 1916. Buried at Delville Wood Cem. Age 23.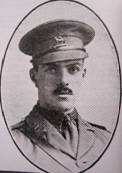 Capt. William Hayes DSO Queen's Royal West Surrey Regiment. (07) He was the eldest of the three sons of the late Major Patrick Aloysius Hayes, R.A.M.C., and of Lady Babtie, and step-son of Lieut.-General Sir William Babtie, V.C. Born in 1891. To Sandhurst, and was gazetted to the Queen's in 1911. With the 1st Battalion he accompanied the original Expeditionary Force to France, taking part in the Mons retreat and the battles of the Marne and the Aisne, in the latter of which he was very severely wounded. He returned to the Front in 1915, joining the 2nd Battalion of his regiment, but was soon afterwards invalided as a result of shell concussion. In 1916 he re-joined the 2nd Battalion in time to take part in the battle of the Somme. He was appointed second in command, with the temporary rank of major, and for his services in that capacity while in temporary command of his battalion was mentioned in dispatches, and awarded the D.S.O. in 1917. Later in that year he proceeded to the Italian front with the 7th Division, and in 1918 he was appointed Staff Captain on the lines of communication. He had just returned from leave in England when attacked by influenza and died at Genoa. One who knew him writes :—" A keen soldier, whose heart and soul was in the honour and credit of the Queen's, he was a man of character and of great personal charm, and his memory will live long in the hearts and minds of his regiment and of his multitude of friends in and out of the Army." DAS 20 Oct 1918. Buried Staglieno Cem Genoa. Age 27.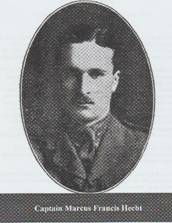 Capt Marcus Francis Hecht King's Royal Rifle Corps. (06) Son of Emil Hecht of Regent's Park London. Enlisted in The Inns of Court. Commis 17th Bn KRRC at outbreak of war. The 17th Battalion King's Royal Rifle Corps was raised in London on the 16th of May 1915 by the British Empire League. After initial training close to home, they moved to Paddockhurst. In July they joined 117th Brigade, 39th Division, moving in September to Hursley Park and in January 1916 to Witley for final training, spending a brief spell at Aldershot then returning to Witley. They proceeded to France on the 8th of March 1916, landing at Le Havre, the division concentrating near Blaringhem. On the 30th June 1916 they were in action in an attack near Richebourg with the Sussex battalions (see Grisewood) suffered heavy casualties. They were in action during the Battles of the Somme, including, the fighting on the Ancre, It was during this action at Beaumont Hamel that Francis was KIA. He was commanding B Coy during the 117th Bde attack in which the Bn was in support. 3 Sept. the barrage opened at 05.30 and the assault at 06.45. On the left the Bde reached its objectives but was held on the right. The KRRC advanced to assist but crossing no man's land all the officers and a majority of the NCOs became casualties. KIA 3 Sep 1916. Francis is buried Knightsbridge Cem, Mesnil –Martinsart. Age 26. (See also Wegg-Prosser).

Sous-Lt James Raymond Hennessy 8eme Chasseurs à Pied. (09) Son of James Hennessy of Cognac. Joined Navy But on the outbreak of war exchanged to the 12eme Cuirassiers, Brigadier, Marechal des logis. Then S-lt 7eme Chasseurs a Cheval to be near the fighting. Later he exchanged again to 8eme Chasseurs a Pied because he believed "Young officers needed to lead the men and set an example by exposing themselves". The Blue Devils as the Regiment was known claimed the honour of fighting in the most dangerous sectors of the battlefield. DOW 23 Sep 1916 nr Cagny Battle of the Somme. «Chevalier de la Légion d'Honneur - Croix de guerre - Citation à l'ordre du 32e corps d'armée : "Blessé très grièvement le 23 septembre 1916 dans des circonstances graves et lors d'une grosse attaque ennemie : toujours sur la brèche. Jeune officier de chasseurs venu de l'armée de mer. Superbe au feu. Mort pour la France des suites de ses blessures". Age 21.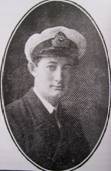 Lt Wilfred Hinsley RAF. (09) Son of Charles Hinsley of Ashenground House, Haywards Heath. Trainee Engineer. Initially RNAS but transferred RFC and posted to the Aegean. During 1917 there was comparatively little activity on the British part of the front in Macedonia, due in part to complex political changes in Greece throughout the year. The main fighting took place around Lake Doiran, where the line was adjusted several times by each side early in the year. In April 1917, the British attacked, gained a considerable amount of ground and resisted strong counter-attacks. In May, the Bulgarians attacked the British positions, but were firmly repulsed. The British action in May triggered a series of attacks elsewhere on the front by the other Allies, known as the Battle of Vardar. At the beginning of 1918 the Allied troops in Salonika were prepared for a major offensive intended to end the war in the Balkans. The Greek Army had been reorganised and joined the Allied force. The offensive began in July 1918 but the British contingent did not play a significant part until early September. Then the British attacked a series of fortified hills. The final assault began along the whole front on 15 September 1918; the British being engaged in the Lake Doiran area. This battle was really on the 18 and 19 September 1918 and was a disaster for the British Divisions. They had to frontally assault 'Pip Ridge' which was a 2000 foot high heavily defended mountain ridge with fortresses built on some of the higher mountains, notably Grand Couronne. (This was what the Bulgarians had been working on in the first months of 1916 and early 1917.) They sustained very heavy casualties. Wilfred served as an observer and was injured when his plane crashed on the River Struma. After Hospital he contracted malaria and then influenza at Mudros. DAS 6 December 1918 three weeks after the armistice. Buried Mikra British Cem. Kalamaria, Greece. Age 28.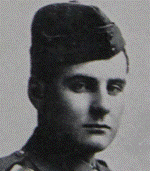 2nd Lt Frederick Cyril Hoey RFC. (14) Son of Charles Hoey of Ballsbridge Dublin. 1917 pilot training. Killed flying nr Yatesbury 7 June 1917. Buried in All Saints Churchyard. Age 18.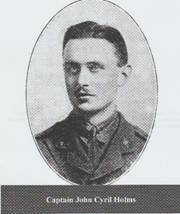 Capt. John Cyril Holms London Regiment (Queen Victoria's Rifles). (08) Son of Douglas Holms and Gs of Ld Russell of Killowen. To Corpus Christi Oxon for Law. 1914 Commis 9th Bn. To France Jan. 1915. "On Thursday, 9 Sept, Captain Holms was killed and one rifleman wounded. Captain Holms of 'A' Company was sitting on or near the Talus Bois, near Carnoy, making a sketch of the enemy trenches. He must have been observed by a sniper, who fired and wounded him mortally. He was taken to a dug-out, where he died the next day." Buried at Carnoy Mil. Cem. Age 23.
A correspondent wrote :—" In his successful career both at Beaumont and at Oxford, Jack Holms's tastes had always inclined to the peaceful pursuit of letters, but hardly had war been declared when he responded to what he considered the call of duty. Having obtained a commission in the 9th City of London Regiment, he put his whole heart into his work, was sent to the Front after a very brief delay, and obtained his captaincy a couple of months ago. On Friday last, having climbed a tree to draw a plan of the enemy's trenches, he was seen by a sniper and shot through the body. He lived only a few hours, but he had time to ask for and receive the spiritual services of his friend and chaplain, Father Evans, C.SS.R. Throughout his life of twenty-three years he had maintained, as all who knew him intimately were well aware, a singularly conscientious standard of duty. He was at no time demonstratively pious, but it was quite like him that when in rest billets during the week preceding his death, he should have gone to Communion daily. His fellow-officers and men deplore his loss as that of a comrade who never shirked an unpleasant task, and who uniformly set a conspicuous example of soldierly bearing and courage."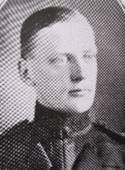 Lt William Edward Hope Irish Guards. (99) Son of William Hope. Commis 1909. ADC Lord Lt Ireland. Rejoined 1st Bn on mobilisation. Rudyard Kipling wrote:-
On the 12th August the Battalion entrained for Southampton in two trains at Nine Elms Station, each detachment being played out of barracks to the station by the band. They embarked on a hot still day in the P.&0. S.S. Novara. This was a long and tiring operation, since everyone was new to embarkation-duty, and, owing to the tide, the ship's bulwarks stood twenty-five feet above the quay. The work was not finished till 4 P.M. Novara cleared at 7 P.M. As dusk fell, she passed H.M.S. Formidable off Ryde and exchanged signals with her. The battle ship's last message to the Battalion was to hope that they would get "plenty of fighting." Many of the officers at that moment were sincerely afraid that they might be late for the war! In fact they arrived at Mons as the retreat started and acted as part of the rear guard. Mons where it was dimly understood that some sort of battle was in the making. But it was not understood that eighty thousand British troops with three hundred guns disposed between Condé, through Mons towards Binche, were meeting twice that number of Germans on their front, plus sixty thousand Germans with two hundred and thirty guns trying to turn their left flank, while a quarter of a million Germans, with close on a thousand guns, were driving in the French armies on the British right from Charleroi to Namur, across the Meuse and the Sambre. This, in substance, was the situation at Mons. It supplied a sufficient answer to the immortal question, put by one of the pillars of the Battalion, a drill sergeant, who happened to arrive from home just as that situation had explained itself, and found his battalion steadily marching south. "Fwhat's all this talk about a retreat?" said he, and strictly rebuked the shouts of laughter that followed.1
On the 6 Nov after an hour's preparation with heavy-, light-, and machine-gun fire, the enemy attacked the French troops on the Battalion's right, who fell back and left the flank of the Battalion (No. 2 Company) open. The Company "in good order and fighting" fell back by platoons to its support trenches, but this left No. 1 Company practically in the air, and at the end of the day the greater part of them were missing. As the Germans occupied the French trenches in succession, they opened an enfilade fire on the Irish which did sore execution. Once again the Adjutant went to the Brigadier to explain the situation. The Household Cavalry were sent up at the gallop to Zillebeke where they dismounted and advanced on foot. The 1st Life Guards on the left were detailed to retake the Irish Guards' trenches, while the 2nd Life Guards attacked the position whence the French had been ousted. A hundred Irish Guardsmen, collected on the spot, also took part in the attack, which in an hour recovered most of the lost positions. Here Lieutenant W. E. Hope was killed. Two companies, had these been available, could have held the support-trenches after the Household Cavalry had cleared the front, but there were no reinforcements and the unceasing pressure on the French drove the Battalion back on a fresh line a couple of hundred yards behind the support trenches which the cavalry held till the remains of the Battalion had re-formed and got some hot tea from the ever-forward cookers. William KIA 6 Nov 1914 Age 27. Commem. Menin Gate having no known grave.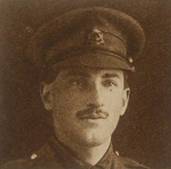 Lt Thomas Moor Horsford Bedfordshire Regiment. (10) Son of Colonel Horsford of Penryn Cornwall. Thomas was promoted to Lieutenant on 13th May 1914 and joined the 2nd Battalion from the 3rd (Reserve) Battalion, landing in France with them 6th October 1914. He was wounded at Ypres on 18th October during the Bn's first engagement with the enemy. He returned after recovering and fought at 2nd Ypres, only to be killed at Givenchy by shellfire on his trench. Buried behind the Scottish Trench obliterated in later fighting KIA 16 June 1915.Age 22. Commem Le Touret Mem. Having no known grave.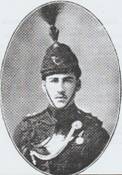 Lt Jocelyn Huntingdon Lincolnshire Regiment. (05) Son of Major Herbert Huntingdon of Dursley, Glos. He was granted a commission 6th Bn Rifle Brigade on leaving school but as this was a reserve Bn he transferred to the 2nd Bn Lincolns when they embarked for the front 5 Nov 14. He was killed in the Ypres Sector shot by a sniper when he was taking up a similar position. 18 Nov 14. Age 22. Commem Le Touret Mem. No known grave.

2nd Lt James Brendan Lane-Mullins RFA. (12) Only son of Hon John Lane-Mullins of Sydney Australia. Returned to New South Wales but came back to England and gazetted 1916. To France with The Warwickshire Royal Horse Artillery arriving in March 1917. During the years of bloody battles which followed many of the battery's soldiers were killed, with particularly heavy losses suffered on Easter Monday, April 9, 1917. On that day the 1st/1st Battery was in action at St Sauveur during the joint offensive by the First and Third Armies in the Vimy-Arras sector. The plan was to thrust forward taking Vimy Ridge (where the Germans had for long held the French at bay) and south east towards Cambria and then hopefully further. By April 7 the Germans had suddenly and without prior warning withdrawn their defensive line back to the Hindenburg Line. Their new positions were now sited on a reverse slope south east of Arras, denying the British any chance of observing them. After changing the plans, the Allied offensive began early morning on Easter Monday, a day of sleet and snow in which the battery would give fire support on to three objectives. It was during this battle that the battery was targeted by a heavy counter-battery fire barrage which killed many of the men: It was Brendan's first baptism of fire.
On 14 June 1917, Brendan was killed whilst on duty in an observation post, being responsible for maintaining communications between the battery and the infantry they were supporting. The attack was a success but a shell burst in his trench and he together with the other occupants died instantly. Buried at Faubourg d'Amiens Cem. Arras. Age 22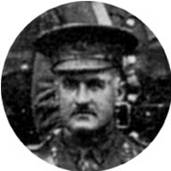 Major James Cumming Lattey RFA. (85) Son of James Lattey. He served in the Boer War with The Cape Mounted Rifles and held a commission in the Basutoland Police. He remained in South Africa at the war's end returning with his wife Winifred in 1912 and was gazetted to command 241 Battery in the South Midlands Brigade. He was killed in Belgium; he was resting in his tent when a shell burst hitting him in the back and the forehead. 5 May 1918. Buried at Nine Elms British Cem. Aged 47.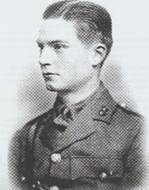 Lt Eric Wheadon Leake Lancashire Fusiliers. (12) Youngest son of Colonel G D Leake of Hyde Park London. Commiss. Ist Bn Oct 1914. In March sailed with the Bn for The Dardanelles via Alexandria and Mudros. Landed Gallipoli 25 April 1915. "On that day one of the most gallant actions in the history of the British Army took place at 'W' Beach at Helles on the Gallipoli Peninsular. 1000 men of the 1st Battalion Lancashire Fusiliers stormed the beach under withering fire from the Turkish defenders. During the course of this action 6 Victoria Crosses were won by the Regiment. The Fusiliers took the beach but at horrendous cost. Of the first 200 men who landed only 21 survived. 600 men of the Battalion were killed or wounded. The beach was later re-named "Lancashire Landing" in honour of the Fusiliers. This action was later referred to as "6 VC's before breakfast". W Beach lay on the coast to the north-west of Cape Helles, just south of Tekke Burnu the site of a small gully. The Ottomans had mined the beach and laid extensive barbed wire entanglements, including one along the shore and trip wires just under the surface of the water, a few yards offshore. Trenches on the high ground overlooked the beach and two machine-guns were hidden in the cliffs, to cover the wire in enfilade. The ridge beyond the centre of the beach was commanded by entrenchments on higher ground to the north-east and south-west and 600 yards away lay one of two redoubts close to Hill 138, both extensively wired and behind slopes with no cover. Another barbed-wire entanglement ran from the southern redoubt to the cliffs near a lighthouse which blocked an advance from W Beach towards V Beach.
The 1st Bn were embarked in the cruiser HMS Euryalus and the battleship HMS Implacable which took up positions off the beach. The shore had been silent but as the first boat landed, Ottoman small-arms fire swept the British and caused many casualties. The Ships lifted their bombardment ten minutes before the British landed and the Ottoman infantry had been able to emerge from cover. The survivors jumped from the cutters and tried to rush ashore but many leapt into deep water and sank under the weight of their equipment. The preliminary bombardment had not cut the wire along the shore and the surviving Fusiliers were fired on from three sides as they cut the wire or crawled underneath. Colonel Wolley-Dod wrote:
It appeared as if the whole battalion must be wiped out. The wire on the beach was intact and to those watching anxiously from the ships the situation appeared hopeless. It looked as each man was shot down as he left his boat
Small numbers of Fusiliers got through the entanglement, reached the dunes behind the shore and captured the trenches beyond. A small party climbed the cliff and occupied a trench on the top, drove off an Ottoman counter-attack and then engaged the Ottoman troops on the northern flank of the beach. Ottoman small-arms fire against the main landing began to diminish after a trench was hit by heavy shells from offshore; the Fusiliers cut more paths through the wire and attacked the cliff at the south end of the beach. Naval observers could see the trenches on the cliff top and as the British attacked, the ships were raking the ground with shells, and the Turks were also killed by the hundreds as they retreated. By 7:15 a.m. the British had got far enough inland to deny the Ottomans observation over the area. During the landing, compasses, binoculars and watches had been soaked which added to the confusion.
On 4 June The Third Battle of Krithia was fought and was the first of the campaign to take place under trench warfare conditions. Imagination and initiative were used in planning the operation, but despite early successes the attack eventually failed, only minor territorial advances being made at heavy cost in casualties. Among these was Eric. KIA 4 Jun 1915 Commem Helles Mem. No known grave. Age 19.
Capt. Frederick Alexander Liebert North Somerset Yeomanry. (94) Son of Frederick Liebert of Wincanton. Commis 3rd (POW) Dragoon Guards. Resigned and joined his county Yeomanry. Secretary to Blackmore Vale Hunt, Clerk of Course Wincanton Races. Aug 1914 Yeomanry mobilised, Frederick now a Major (Squadron Leader). Landed France 26 Oct as part of 6th Cavalry Brigade. 15 Nov went into the trenches at Zillebeke. 17 Nov came under heavy bombardment on their unriveted trenches and in the ferocious engagement that followed they took 59 casualties including Frederick. Buried Ypres Town Cem. Age 32. Memorial at St Stephen's Charlton Musgrove.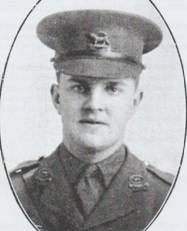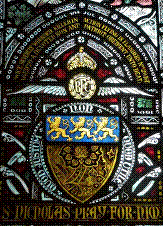 Lt Alexander Charles March Phillipps de Lisle RFC. (14) Youngest son of Edwin de Lisle MP of Garendon Hall Leicestershire. A volunteer at 17 and Commiss. Royal Leicestershire Regiment. To France with 9th Bn. Night 5 Oct. "Alexander joined another subaltern in an enlarged shell hole in no man's land at Bienvilliers with a primitive contraption for catapulting bombs into the German lines. Although they were difficult to spot in the darkness the enemy had a good idea where the bombs were being launched from and retaliated with artillery salvoes against their tormentors. Alexander was hit in the hip and ankle which required hospital treatment but also received the Divisional Commander's commendation for distinguished and gallant service. He did not return to light duties till the following April". Back in the front line for the Somme offensive he took part in the capture of Mametz Wood and led his men in the final bayonet charge on Bazentin Le Petit and was wounded again, this time in the neck and had to be repatriated. He recovered sufficiently to transfer to the RFC in Dec 1916. Awarded his wings June 1917, he joined 21 Sqn equipped with BE 12s for recce and bombing but totally inadequate as a fighter in August in time for the battle of Passchendaele. Alexander after several successful missions was shot down and killed 20 Nov 1917 Age 20. Buried Dozingheim Mil Cem. (Memorial Window Arundel Cathedral).
Lt Rudolph March Phillipps de Lisle RN (05).He was the 2nd son of Edwin and Agnes de Lisle of Charnwood Lodge , Leicestershire and the elder brother of Alexander. After Beaumont he went on to Osborne (I of Wight) and then to Dartmouth .In December 1914 he joined HMS Lurcher (Destroyer and the fastest ship in the Navy). On 15 January 1915 he was appointed to HMS Invincible and in February 1915 participated in the bombardment of the Forts leading to the Dardenelles. He suffered from "shell-shock" and entered the RN Hospital on 14 December 1915 .In the London Gazette for 28 January 1916, Rudolph was placed on the Retired List. (HMS Invincible was sunk on 31 May 1916 in the Battle of Jutland). After convalescence at the RN Hospital , he stayed with his great–aunt , Lady Haversham , at South Hill Park , Bracknell ( 1916 – 1929 ) and on her death in 1929 he returned to the RN Hospital. Rudolph died on 17 August 1943 and was buried at Mount St Bernard's Abbey , Charnwood , Leicestershire .
Sometime before the Beaumont Centenary in 1961 The Rector and the War Memorial Trust agreed for Rudolph's name to be inscribed on the War Memorial.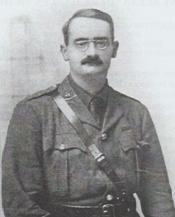 Maj. Carlos Barron Lumsden Highland light Infantry. (95) Younger son of Hugh Lumsden of Auchindoir and Clova, nephew of Gen. Sir Peter and Gen Sir Harry Lumsden. Served Boer War with Robert's Horse taking part in several of the major engagements. Studied Law, Barrister, City Sheriff Norwich. Author "Dawn of Modern England". Married Geraldine Fitzgerald of Castlemain Victoria. Outbreak of War he was initially commissioned Royal Norfolk Regiment but transferred to 18th Bn HLI in Jan 1916 promoted Major and company commander. Bn landed in France in February and went into the line. Carlos wrote to his wife "Conditions had become hell on earth and he doubted he would make it home". He died of a heart attack brought on by exhaustion 8 March 1916. Buried at La Gorgue Communal Cem. Age 36.
Pte Joseph Mary Lynch Royal Fusiliers. (95) Son of Charles Lynch of Killester, Dublin. He was a volunteer in the 20th Bn for Public School boys formed at Claridges Hotel in August 1914 and killed Jan 1917. No further details.
Lt Martin Joseph McDonnell Royal Irish Rifles. (09) Born Kildare. Volunteer Irish Guards, transferred on commission to 2nd Bn RIR. To France 3/9/14. He took part in The Battle of the Aisne, at La Bassee, Messines and the First Battle of Ypres. The Winter Operations of 1914-15, the First Attack on Bellewaarde and the Actions at Hooge. On the 18th of October 1915 the Bn transferred with 7th Brigade to 25th Division. He was in action in defence of the German attack on Vimy Ridge in May 1916. With the Bn he moved to The Somme and joined the Battle just after the main attack, with 75th Brigade making a costly attack near Thiepval on the 3rd of July. The Bn was in action at The Battle of Bazentin, The Battle of Pozieres and The Battle of the Ancre Heights. KIA 3 Feb 1917 in the Ypres sector. Buried Bailleul Communal Cem. Ext Nord.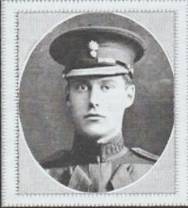 Lt Donald Frederick Macdonald Miller Grenadier Guards. (07) Son of Sir William Miller Bt of Glenlee. To Sandhurst. Commis 2nd Bn. To France Aug 1914. Mons, Villers-Cotteret (with fellow OBs Gosselin, Gunnis & Hope) The Marne, The Aisne, and Ypres. Killed 23 Oct 1914. His Company Commander Major Lord Bernard Gordon-Lennox wrote to Sir William:-
" It is with most profound grief that I write to offer you my most sincere condolences on the death of Donald. He has been my subaltern since the beginning of the war and he had invariably done magnificently. I had learned to love him as a really good officer, an excellent companion and a friend whose friendship was worth cultivating. I cannot tell you how deeply I personally feel his death. I would have written before, only since his death, we have had a really hard time, continually on the move, day and night, and fighting all the time. Perhaps it may be some small satisfaction to you to know that Donald suffered not an instant's pain, being instantaneously killed by a shell which landed straight on him".
It would be out of place to insert any further news in this letter, so I will; conclude by saying we are having a very hard time of it, being shelled by day and attacked by night, so we don't get much peace. Donald is Commem. Menin Gate Ypres, having no known grave. Age 22. His younger brother Alistair Irish Guards (OB) succeeded to the baronetcy.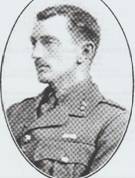 Major Keith Ramsey Maitland MC & Bar RFA. Son of George Ramsey Maitland. Gs of 20th Chief of MacDonalds of Keppoch. Husband of Christina. Tea Planter Ceylon. Returned on outbreak of war, Commis RFA. To Egypt 1914, involved in fighting on the Suez Canal Jan, and Feb 1915. When the Turkish 4th Army attempted to seize the canal. They were repulsed and the Turkish columns withdrew eastwards across Sinai. The British failed to mount a pursuit, citing lack of training especially amongst the cavalry, and so the Turkish guns and gunners and the mass of infantry lived to fight another day. Allied aviators did drop some bombs on the withdrawing enemy. The battle was hailed as a British defensive success, which it was, and a Turkish defeat, which it only partially was as the bulk of the enemy forces withdrew in good order along their well-constructed desert tracks. British casualties numbered 163 (ten of them being naval) and Turkish casualties were estimated at over 2,000. Keith then went to Gallipoli in support of the ANZAC landings at Gaba Tepe 25 April 1915 and served in that theatre for 4 months. He was wounded twice and saved a man's life under fire. He was sent home with a commendation. Aug 1915 to France and awarded his first MC at Grandcourt (Somme). "He carried out a daring reconnaissance at great personal risk, the information obtained being of the utmost value." At the Battle of Vimy Ridge he was awarded his Bar: -
"For conspicuous gallantry and devotion to duty in continuing for some hours to register the guns of his battery from an exposed position, where he was subjected to very heavy shell fire. He showed the greatest coolness and courage." (M.C. gazetted November 14, 1916.) in support 4th Canadian Division. Later he received a further Bar recommendation but declined in favour of his driver and one of his gunners both awarded the DSM. Keith was killed in the Ypres salient 4 Oct 1917 Battle for Broodseinde. Buried Canada Farm Cem. Age 33.
Brigadier General Cuthbert Martin DSO & Bar late HLI. (94) Third son of the late Sir Acquin Martin and of Lady Martin and husband of Maree. He received his commission in the Highland Light Infantry in 1897. Serving in the South African War,-he took part in the advance on Kimberley, the action at Magersfontein, in operations in the Orange Free State, and elsewhere, and received the Queen's and the King's medals with four clasps. General Martin went out to France with his regiment from Aldershot in August, 1914. He was in the retreat from Mons, and was severely wounded on the Aisne in September, 1914. On leaving hospital in 1915 he took over the adjutancy of the Reserve Battalion of his regiment, where he obtained his majority. In 1916 he returned to France as second in command of a Service battalion of the H.L.I., and almost immediately was given command of his old Regular regiment, the 74th. After being mentioned in dispatches and receiving the D.S.O. in October, 1917, he was given command of the151st Infantry Brigade in the 50th Division, which he died commanding in the 2nd Battle of the Aisne. In April 1918 he received a bar to his D.S.O for conspicuous gallantry and was again mentioned in dispatches. KIA 27 May 1918. Finding his command post surrounded Cuthbert fought his way through the German infantry to be hit by a shell. Commem. Soissons Mem. Having No Known Grave. Age 39.
"In May 1918, the Germans had decided to move the centre of their attack to the south and the French Sector in Champagne where the British were in support. Thirty two divisions were allocated for the assault. On the Allied side of the wire, oblivious to the massive force assembling in front of them, life had gone on as usual. Decimated during the recent fighting the four British Divisions including the 50th had become mere shadows of their former selves. Most of the veterans belonging to the four formations had by this time either been killed off or wounded, their places being taken over by the eighteen and nineteen years olds who had only recently arrived in France, barely fit for front line service. Nevertheless, despite their shortcomings, the youngsters had taken their places in the Front. Duly, at 1am on Monday the 27 May 1918, over four thousand German artillery pieces had begun to throw two million shells at the Chemin des Dames white limestone sides. The bombardment, considered larger than that which had been unleashed on the 21 March, had at first consisted predominantly of gas, rained into the French and British positions on the whole of the twenty four miles front, among the hardest hit being the positions of the British 50TH. "The dugouts rocked and were filled with acrid fumes of cordite mixed with the sickly sweet tang of gas. The men scrambled for gas masks, grabbed their kits, weapons, message pads, and dived for deeper shelter. It was a descent into hell. Crowded with jostling sweating humanity, the deep dugouts reeked and to make matters worse we had no sooner got below than gas began to filter down. The entrances were hastily blocked with saturated blankets. This excluded the gas but also the air…" The German attack developed at 3-30am. A slight ground mist, smoke and dust from the bombardment, and the uncertainty of very early morning made visibility bad, and nothing could be seen of the progress of the fighting. The enemy was at first checked on the outpost line, and later on the main line of resistance by rifle, Lewis, and machine gun fire. The 151st Brigade, smack in the middle of the German attack was virtually wiped out during the initial bombardment, had nonetheless succeeded in momentarily breaking up the assault on their positions. Useless without artillery support, the remnants of 50th Division were forced to make yet another 'fighting retreat' to the south bank of the River Vesle, where the remains of the formation were formed into a composite battalion [consisting of around 950 all ranks] which remained in action until 30 May, when their tattered remains were withdrawn from the fighting having been driven back twenty four kms, to the banks of the Marne. The last operation of the Great War that the original 50th Division took part in, the 27 May 1918 had resulted in the formation losing somewhere in the region of two hundred and twenty officers, and no less than four thousand eight hundred other ranks, killed, wounded, and missing, along with all its transport and artillery. Among those lost was Brigadier General Cuthbert Martin DSO & Bar. KIA 27 May 1918".
Lt Gerald Winfield Martin Northumberland Fusiliers. (11) Cousin of above. Son of Patrick Martin of Edgbaston. Joined the Territorial Royal Engineers. Mobilised with them 1915. He transferred to the Northumberland Fusiliers in 1917 gazetted to the 8th Bn. He saw action in the Battle of Messines and Third Battle of Ypres. In 1918 the Second Battles of Arras and the Battles of the Hindenburg Line but was killed during the advance 2 Oct in the Arras sector, two days before the Germans asked for an armistice. Buried at Chapel Corner Cem. Sauchy-Lestree. Age 24.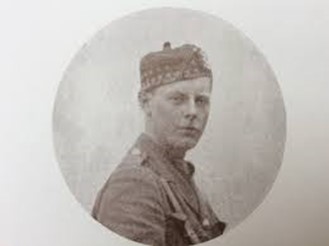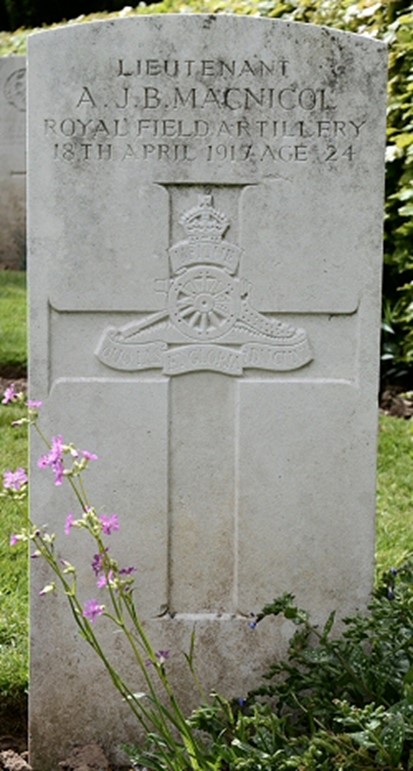 Lt Angus Bayne Mcnicol RFA (07). The son of Captain Mcnicol spent three years at Beaumont before leaving for Victoria College Jersey at the age of 14. He was commissioned in the Seaforth Highlanders but later transferred to the RFA. In France he was posted to D Battery of 34 Brigade RA in support of 2 Division. He died of wounds during the Battle of the Arras that began 9th April 1917 which initially featured some notable successes. The opening advances, particularly at Vimy Ridge, achieved impressive gains with a relatively low casualty rate. The battle also succeeded in drawing German forces away from the French attack at the Aisne. Beyond the first few days however, casualties rose exponentially and the battle ground to a halt. Angus, aged 24 was buried at Aubigny Communal Cemetery Extension. He was unmarried.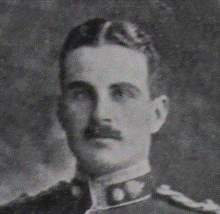 Lt Noel George Scott McGrath Queen's Bays. (02) Son of The Hon George McGrath of Charlemont Jamaica. He obtained his first commission in the Royal Inniskilling Fusiliers in 1907, and in the following October transferred to the Queen's Bays. He rode to war as ADC to Brig.-General Briggs commanding the 1st Cavalry Brigade in which his own Regiment was serving (including his brother and 2 other OBs). Retreat from Mons, Engagement at Nery, The Marne, The Aisne, 1st Ypres in the course of which the Cavalry Brigade had to plug the line at Messines. The 12 squadrons fought for the first time as infantry against 12 German Bns. Greatly outnumbered they would lose the battle but as the German General was to comment "These were men of real worth oppose to us who merely did our duty". Noel died November 5th, 1914, at Boulogne from wounds received at Messines, on October 31st, 1914. Buried at Boulogne Eastern Cem. Age 29.

Capt. John Alworth Merewether Rifle Brigade. (01) Son of Walter Merewether of Sydney Australia. To Brasenose College Oxon for Jurisprudence. Known as Jack, in Feb 1915 he joined the Camel Corps but gained a commis. 9th Bn Rifle Brigade and went out to the Ypres salient before moving to the Somme for the attack I July. He took part in the assault on Delville Wood and Flers–Courcelette where he was KIA 15 Sept. 1916. Commem Thiepval Mem. Having no known grave. Age 34. A brother officer wrote to Jack's mother:-
"Our Division took part in the big show on the 15th. The Battalion had to advance about two miles across country from our own trenches and take a certain line of German trenches defending a village: our Battalion did awfully well and Jack and his company in particular. One of jack's officers came through without a scratch. Dear old Jack was shot through the forehead by a machine gun bullet when reconnoitring out in front of the road where our troops were halted for the time being and several hundred yards from our final objective. His servant Ramsay who was with him was killed at the same time. I know you will be heartbroken at his loss and you have my sincerest sympathy; dear old Jack, he was awfully brave and his men loved him and would have followed him anywhere; and as I felt after the attack, there was no pleasure in being left alive in the Battalion without Jack and all the other fellows who went into the attack. I and two other officers were left out and three others were away. One of my Company bombers brought back his revolver and field glasses and papers. They were not able to bury him at the time, as they were under heavy fire, but all that ground and well in advance of it is held by us now, so they will have been able to collect and bury the dead".
Lt Constant Clifford Meyer Lincolnshire Regiment. (12) From Dacca Bengal. To Sandhurst and Commis. 2nd Bn in July 1915. To France and the Battle of the Somme where his Bn were part of 25 Infantry Brigade:-
The 25th Brigade, in the centre opposite Ovillers, assaulted across the open fields of No Man's Land with three Companies up in each assaulting Battalion. The 2nd Lincolnshires got their first two waves over the parapet shortly before H-Hour and the third and fourth followed as the artillery barrage lifted. Although heavy casualties resulted due to machine-gun fire from the left and rifle fire coming from the German support line, they advanced in good order and were soon entering the enemy's frontline. Here they were met by the German soldiers who were erupting from the shelter of the cellars of the fortified village. In the heavy fighting that ensued, the 2nd Lincolnshires managed to seize around 200-yards of the enemy's trench. The supporting Company of the 2nd Lincolnshires suffered heavily as they crossed the shell torn expanse of No Man's Land and soon joined their comrades in the fight where the few remaining officers led the remnants of the Battalion onwards towards the German support line. In the face of an increasing crescendo of German rifle and machine-gun fire they failed to enter this second line and began to consolidate their gains in the enemy's frontline. The Germans subsequently mounted a counter-attack from their support line but this was repulsed. It soon became evident that, in the face of the intense rifle fire from the German second line, machine-gun fire from the left flank, continual bombing by the enemy and a continued lack of support, the remnants of the 2nd Lincolnshires were not going to be able to hold on. In an effort to obtain additional support Lieutenant-Colonel Reginald Bastard crossed No Man's Land on at least four occasions rally his men and trying to get additional forces forward. By 8:30 am however, the 2nd Lincolnshires were forced to fall back on their own frontline as best they could.
Constant was shot in the stomach when leading his platoon and died of his wounds 3 Jul.1916. Buried Daours Communal Cem. Age 20.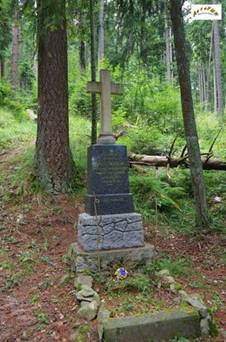 Cpl Willie Morgan Chasseurs Alpins (08) Left to study philosophy in Paris. Worked with the St Vincent de Paul Society. He went to the front with the 6eme Bn and with the other "Blue Devils" were deployed to the Alsace Region. The group of summits which comprise Moenchberg-Reichackerkopf (about 780 metres high) were the site of extremely fierce fighting between the German troops and the French Chasseurs Alpins between February and April 1915. The two summits of Petit and Grand Reichackerkopf were immensely important, partly because they controlled access to the town and valley of Munster. 4500 French soldiers and 4000 Germans were killed or lost on this small section, but in the two weeks between 6th and 20th March, the 6th and 23rd Battalions of the Chasseurs Alpins suffered 1403 casualties, including those wounded, killed and vanished.
La bataille du Reichsackerkopf
Le Reichsackerkopf domine la haute vallée de Munster. Il la sépare en deux avec au nord la vallée de la petite Fecht (Soultzeren et la route vers le col de la Schlucht) et au sud la vallée de la grande Fecht (Metzeral et Mittlach). Il permet une vue directe sur Munster et la vallée vers Colmar. Les Français et les Allemands se le disputeront, au cours de terribles combats, durant la 1ere moitié de 1915.Au début de la 1ere Guerre mondiale les deux camps occupèrent les sommets des Vosges du sud, que de façon très espacée en multipliant les patrouilles. Début 1915, les Français envisagèrent une offensive d'envergure en direction de Colmar. Ils seront devancés par les Allemands qui, le 12 février 1915, débutèrent leur progression dans la haute vallée de la Fecht et occupèrent Metzeral. Ils engagèrent le combat avec les troupes françaises le 19 février 1915. Leur offensive portait sur la haute vallée, le Barrenkopf et le Reichsackerkopf. Ils se rendirent maitres du Reichsackerkopf, du col du Sattel et de l'Altmattkopf. Du côté français, l'artillerie de la 2e Brigade fut à court de munitions dès 10h du matin et ne pourra être ravitaillée que la nuit suivante. La contre-attaque du 12e bataillon de chasseurs alpins (BCA) échoua au Reichsackerkopf. Le 21 février 1915, les troupes françaises reprirent le Reichsackerkopf aux Allemands, mais le reperdirent dans la soirée. Ces combats prirent fin le 24 février 1915. Les troupes du 4e Regiment de Landwehr Bavarois étaient épuisées et avaient subi des pertes considérables. Les pertes de la 2e Brigade de chasseurs français se chiffrèrent à 313 morts, 897 blessés et 342 disparus. En 1914, une Brigade comprenait 135 officiers et 6500 hommes
Fin février 1915, le général Dubail ordonna à la 47e division d'infanterie (DI) de reprendre le Reichsackerkopf. Le 1er mars 1915, les Allemands pénétrèrent dans Soultzeren, mais furent rejetés par les Français le même jour. L'attaque française débuta le 6 mars 1915. La 2e Brigade avait pour objectif Stosswihr et la 4e Brigade devait s'emparer du Reichsackerkopf. Le 23e BCA attaqua à 11h et enleva le Petit et le grand Reichsackerkopf. Il repoussa avec l'aide du 6e BCA une contre-attaque allemande. Durant cette action, le chef de bataillon Fabry (ministre de la Guerre de 1934 à 1936) sera grièvement blessé et devra être amputé d'une jambe. Pendant ce temps, le 11e BCA échoua dans sa tentative de s'emparer de Stosswihr. Le 7 mars 1915, la 2e Brigade était bloquée par les Allemands. Ces pertes de ce jour furent de 102 morts, 278 blessés et 142 disparus.Le 19 mars 1915, la 47e DI repartit à l'attaque de Stosswihr depuis le Reichsackerkopf, mais ne parvint pas à remplir son objectif. L'attaque allemande du 20 mars 1915 leur permettra de se rendre maitre du Petit et du Grand Reichsackerkopf jusqu'au col du Sattel. Les contre-attaques de la 4e Brigade du 21 et du 23 mars 1915 échouèrent à reprendre le Reichsackerkopf. Willie was killed on 20 March 1915. Age 21. A Memorial marks the spot.
« Peu après avoir passé le centre de vacances, vous prendrez le sentier à gauche et traverserez l'épaisse forêt de sapins, en direction des tranchées et cantonnements français. Vous y devinerez aisément le profond sillon laissé par les anciennes tranchées, les entrées de cagnas* ou de galeries françaises. Au bout de ce petit sentier, se dresse la stèle d'un chasseur alpin, fauché par un projectile allemand. Le texte gravé dans le socle de la stèle dit : "A la mémoire du Caporal Willie MORGAN, 6ème bataillon de chasseurs alpins, tombé ici pour la France, le 20 mars 1915, à l'age de 21 ans. Priez pour lui." Sa famille avait fait la demande après la guerre, d'obtenir le droit exceptionnel de pouvoir implanter, à titre définitif, une stèle mortuaire sur le lieu de la mort de leur fils à l'emplacement où tombèrent tant et tant de jeunes soldats tout au long deces quatre années de guerre ».
Maj. Edmund Molyneux-Seel Kings (Liverpool) Regiment. (69) Son of Richard Molyneux-Seel Papal Privy Chamberlain. Gs of the Duque de Losada y Lousada. Married Clare Weld-Blundell. Regular soldier fought in the Boer War. Retired 1902. Re-joined 1914 but died at home of angina 5 Aug.1915. Buried Family Vault St Agnes Church Huyton. Age 58.

Sgt Henry Edward McCarthy Morrogh 4th Battalion Australian Infantry. (98) The son of James McCarthy Morrogh of Innish Beg, Creagh, Co Cork and a descendant of the Princes of Carberry. Commissioned Royal Munster Fusiliers but retired and emigrated to Australia to farm. Sept 1914 volunteered for the 4th Bn raised in New South Wales and appointed Sgt. Embarked for Egypt in Oct. 25 April landed at Gallipoli with the ANZAC forces. In August the Bn led the charge on the attack on Lone Pine. Henry was KIA 7 Aug and is Commem Lone Pine Memorial having no known Grave. Age 31. (His niece Kay Summersby was Chauffer, Secretary and intimate friend of Gen. Eisenhower WW2).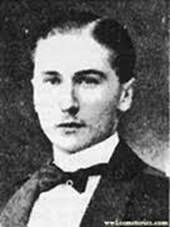 Capt. Gerald de Baillou Monk Welsh Regiment. (04) Son of Colonel Charles Monk, Gs of Comte de Baillou. To Sandhurst. Gazetted 1st Bn 1911. To Egypt, the Soudan then India. Bn returned to England and Jan 1915 to France. Took part 2nd Ypres and Loos. During the latter, the 1st Battalion of the Welsh Regiment was to attack a trench - Little Willie - adjacent to a strongpoint known as the Hohnzollern Redoubt during the night of 1st October 1915. The attack began well with the Battalion getting to within 100 yards of their objective before being discovered. 'Then from both flanks machine guns opened fire. The commanding officers voice rang out "forward the 41st, get at 'em Welsh" In 20 seconds there were 250 men and a proportion of officers on the floor the remainder were in the trench bayoneting those in the trench and firing at the retreating Prussian Guards……………It was a gallant little affair.
The confusion brought about by the poor state of the trenches left the battalion cut off from food, water, ammunition and reinforcement. The battalion attempted to link their isolated position with the British line by digging towards the front line trenches. At one point the regimental history describes an incident where 14 men in succession were killed whilst attempting continue trench digging in an exposed position, the area so small that only one person at a time could work. The battalion was under almost continual artillery fire and suffered numerous grenade attacks.
'The whole night and morning was spent in bombing battles on each flank. The Welsh had the best of these battles wounding and taking prisoners – by 10 am the bombs were finished – the enemy's supplies were unlimited. The situation was serious. Having no bombs the enemy moved up gradually from both flanks. The enemy opened up with a minenwerfer shell this is what the soldiers call "sausage up". The shell, having reached the distance it is regulated for, drops down perpendicularly and can be seen all the way and can be dodged – the men were now so congested it was impossible to get out of the way. – When one lands in a trench six men in the vicinity disappear.
The diary goes on to say that 'These operations were carried out with tired troops who had been in the trenches and moving from one position to another as reserve troops for eight days and eight nights'. All officers behaved magnificently but the casualties were very severe 370 N.C.O.'s and men 15 officers.
On the 3rd of October the 1st Welsh were relieved and moved back to Vermelles. The attack failed to meet any of its key objectives. Gerald was KIA 3 Oct. 1915 acting as the machine Gun Officer. His death occurred trying to rescue a wounded colleague. MID for gallantry. Buried Vermelles British Cem. Age 23.
Lt Jack Septimus Morriss Royal Warwickshire Regiment. (11) Youngest son of Henry "Mohawk" Morriss Shanghai tycoon. Commis 1/5th Territorial Bn. Killed during 3rd Ypres 5 Oct 1917.
….. attacked, though on the evening of October 4th it looked as if the 91st Brigade's none too strongly held line was about to be assaulted. But the absence of counter-attacks does not imply that the Division had an easy time. On the contrary it was after the attack that it suffered most of its losses. Its line was subjected throughout the 5th and 6th to a bombardment the intensity of which was unluckily equaled by its accuracy. To make matters worse consolidation was much impeded by the rain which rivalled the bombardment in persistence. It was impossible to dig down more than a couple of feet: below that meant getting into water. The bringing up of rations, ammunition, and trench stores was greatly impeded by the rain and mud, and the wounded endured great hardships. Still it was "not so bad as Bullecourt," as one officer writes," there was not the same trouble from snipers, even in the final positions it was possible to move about freely without being hit." Jack is Commem. Tyne Cot Mem. Having no known grave. Age 20.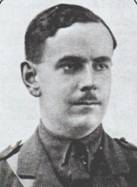 2nd Lt. Gerald Patrick John Morison Cameron Highlanders. (13) He was the younger son of Mr. Frederick William Morison, of 78, Cadogan Place, S.W., and of Mrs. Morison, daughter of Mr. John A. Turner, of Sydney, N.S.W. A Godson of the Archbishop of Westminster He passed out of Sandhurst in May 1915.
Extract from the war diary of 1st Bn Cameron Highlanders during the battle of Loos. "In the opening attack on 25th September 1915, the 1st brigade was one of the few formations to break through the German lines. The 1st Camerons penetrated as far south as the town of Hulloch, but the loss of 364 casualties reduces the battalion to a strength of only 4 officers and 200 soldiers. Gerald arrived with a new draft 2 Oct. Later in the battle the 1st Camerons took part in the assault on the Hohnzollern Redoubt at Hulloch on 13th Oct 1915. Gerald was KIA that day. Commem. Loos Mem. Having no known grave. Age 18.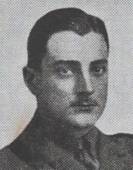 Lt John Francis Munster 13th Hussars. (11) He was born in Alfred Place, Kensington to John Philip Munster (OB). He was a solicitor and barrister. To Balliol College, Oxford. When war broke out, he immediately applied for a commission and was gazetted 2nd Lieutenant in 13th Hussars on 15th August 1914. The Hussars had been stationed in India for years and were brought back to the UK before joining the British Expeditionary Force in France and Flanders Dec 1914. They fought through many of the major battles of France and Flanders 1915 in the dismounted role.
In September 1915, they were transferred with their Brigade to 2nd Indian Cavalry Division. John was promoted to Lieutenant in January 1916. In July 1916, at the beginning of the Battle of the Somme, John moved with the Brigade to Mesopotamia (modern day Iraq) and came under the orders of the 7th Indian Cavalry Brigade. As Britain relied heavily on oil to keep its dominant navy at sea a decision had been made at the outbreak of war with Germany to protect its interests by occupying the oilfields and pipeline near Basra. Basra was captured in November 1914. It then pushed out a force to seize the river junction at Qurna which was captured in December.
In 1915 early battle gains were then followed by losses and, by the end of that year, led to retreat to Kut-al-Amara. The Turks pursued and surrounded Kut and cut it off. After a four month siege the garrison at Kut was surrendered on 29th April 1916 which was an enormous blow to the British. In July of 1916 John's 13th Hussars landed in Mesopotamia. John was killed in action in operations to recapture Kut. 4 Feb 1917
The losses were great as in so many theatres of war. However the conditions in the region were extreme. Temperatures of 120 degrees F were common and they were living and fighting in arid desert which was also prone to flooding. Mosquitoes, flies and vermin led to appalling levels of sickness and death from disease and these factors contributed to high casualty rates.
His Colonel wrote that having unexpectedly come under heavy fire, and his Squadron Leader being wounded, the command of the squadron devolved upon him, and that while gallantly leading the squadron across the open he was instantaneously killed; adding that he had worked incessantly to fit himself for the work before him, and a brother officer also wrote that when he had seen all his troops under cover he had casually walked across to another officer to save a man from exposing himself to fire, to deliver a message of his own.
John was 22 when he died and was buried near the River Hai. He is commemorated on the Basra Memorial in Iraq.

Pte Illytid Francis Nicholl South African Army (83) Son of Capt. Illytid Nicholl RN. GS of Rt Hon John Nicholl and Admiral Arthur Jerningham. Farming in Argentina and volunteered for the War in South Africa . Medal for Distinguished Service. Government Service in Cape Town. Volunteered in 1914 but died in Wynberg Military Hospital (cause unknown) 8 Days after joining camp. Age 53.
Maj. Edward Dale Nicholson South Lancashire Regiment. (95) Son of Major Nicholson of Thelwell Hall. Married Alice Cunningham. Commis. 1st Bn, but on outbreak of war moved to the 7th Bn within the 19th (Western) Division. This Division was established by the Western Command in September 1914, as part of the Army Orders authorising Kitchener's Second New Army. Early days were somewhat chaotic, the new volunteers having very few trained officers and NCOs to command them, no organised billets or equipment. The units of the Division initially concentrated in the Bulford area. The Division was inspected by King George V on 23 June 1915. Advanced parties left for France on 11 July and the main body crossed the English Channel 16-21 July. Units initially moved to the point of assembly near St Omer. Their first action was at Pietre, a supporting/diversionary action during the Battle of Loos. In 1916 on the Somme they fought The Battle of Albert in which the Division captured La Boisselle, The attacks on High Wood, The Battle of Pozieres Ridge, The Battle of the Ancre Heights, The Battle of the Ancre. 1917 and the Ypres sector, the 19th Division were involved on the first day of the Battle of Messines (June 7th 1917), when they took the village. The 19th Division, aided by the three mines exploded at Hollandscheschuur Farm, made excellent progress on their frontage with significant gains made. There followed the 3rd Battle of Ypres in which they took part in all the major actions. On 12 October the allies tried to take Passchendaele but the Germans repeled the attack with machine gun fire from their bunkers. It was during this attack that Edward was killed 12 Oct 1917. Buried Locre Hospice Cemetery. Age 33.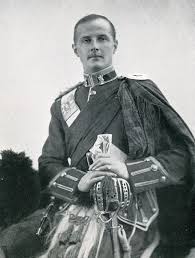 Lt Raymond Nolan Black Watch. (00) The eldest son of Mr Philip Nolan of the Indian Civil Service, was born on 1st July 1883 in India. As a boy of 12, he accompanied his father on a tiger shoot and succeeded in killing a full-grown tiger with his miniature rifle, a unique exploit that was recorded in several well-known works on Indian big game shooting. To New College, Oxford, where he got his double half-blue, and was called to the Bar, Inner Temple, in 1908.He joined the Black Watch (Royal Highland Regiment) in May 1907, and in April 1910 was promoted to Lieutenant in the 3rd Battalion. In 1912, he succeeded his uncle, Lieutenant-Colonel J. P. Nolan, MP, in the Balinderry Estate in County Galway and, on 27th November the following year, married Kathleen O'Connor, the eldest daughter of Mr C. A. O'Connor, Master of the Rolls in Ireland. A son was born to them on 7th September 1914.Just 10 days after the birth of his son, Raymond left for France, where he joined the 1st Black Watch. The Battalion had spent September fighting on the Marne and had lost eight officers (including Dalglish see above) and 48 other ranks, either killed in action or died of wounds. In the middle of October, they moved up to the Ypres Salient. In the next two weeks, seven more officers and 100 other ranks were killed attempting to advance or repel the frequent German attacks.
On November 2nd, the Germans attacked down the Menin road towards Ypres. The 1st Black Watch was called upon to halt the enemy advance. It was here that Lt Nolan gave his life for his country. To quote from the Regimental History: "On the 2nd the British line on the Menin road was again broken. The Bn played a very considerable part in restoring the line by a brilliant counter-attack, which stopped the forward German movement on the Menin road and helped to fill the gap. They were only 120 strong and were reduced to 75 in the course of the attack. Lieutenant Nolan was killed.
A letter written by one of Raymond Nolan's brother officers is quoted; "Two companies of the Black Watch were ordered to counter-attack as the Germans had broken through on the right of the Brigade, and had apparently occupied some houses in the village of Veldhoek, about three miles east of Ypres. The attack was eventually made by two platoons of 'A' Company and 'C' Company.
"They got within about 150 yards of the houses, but could get no further owing to machine gun and rifle fire. The German advance was, however, also stopped. In trying to make a further advance, the Captain of 'C' Company - Capt. Amery - was hit in three places, and Lieut. Nolan in five places, by machine gun fire. He was killed instantaneously. After dark he was brought in and buried near the Dressing Station, which was a farm on the road running N. and S. just west of the village of Veldhoek, and the spot is marked with a cross with his name upon it.
"His loss was deeply regretted by all of us, as he had proved himself a capable leader, and we were all very fond of him."
In the ensuing years, the ravages of war succeeded in obliterating the location of Lieutenant Nolan's grave and he is now commemorated on the Menin Gate, his name alongside those of so many of his fellow officers and men who died fighting in the Ypres Salient. KIA 3 Nov 1914. Age 31.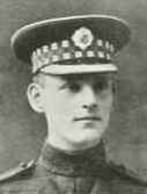 2nd Lt Richard Francis Nugent Scots Guards. (01) The son of the Hon Richard Nugent of Stacumny. Co Kildare and Gs of the Earl of Westmeath. A keen hunting and racing man, he Intended to go to Sandhurst but suffered from typhoid fever and so became a territorial officer in The King's Royal Rifle Corps. Richard transferred to the Scots Guards 2nd BN in 1905 and remained on the active list until 1911 when he moved to the reserve. In 1914 he volunteered and joined his old Bn at the front 11 Nov in the Ypres sector. During the night 18/19 Dec, he led his platoon on an attack between Fleurbaix and Fromelles. He was last seen standing above a German trench encouraging his men. Fatally wounded he was taken by the Germans but was beyond aid. It was following an offer by the Germans to allow the Guards to collect the bodies of their comrades that sparked off one of the Christmas truces. The Colonel – Sir Richard Hulse reported that "Our Adjutant found an extremely pleasant stamp of German officer who arranged to bring our dead to a halfway point. We took them over there, and buried 29 between the two lines. They also provided all their personnel effects. We gave the officer a scarf and in return he sent over some woolly gloves". Richard's grave was destroyed in the further fighting. KIA 18 Dec 1914. Commem. Ploegsteert Mem. Having no known grave. Age 30.
Hugh James O'Beirne CB, CVO. (81) of Jamestown, Drumsna, County Leitrim. To Balliol College, Oxford, (the oldest student fatality) and entered the Diplomatic Service in 1892. Petrograd was his first post, and after service at Washington, Constantinople, and Paris he returned there in 1906 as Councilor of Embassy. James remained in Russia for more than nine years, and played a valuable part in the development of Anglo-Russian relations under Sir Arthur Nicolson and Sir George Buchanan. He was given the rank of Minister in 1913. In July 1915 he was sent to Sofia as Charge d' Affaires, in place of the British Minister Sir Henry Bax-Ironside, and he conducted the negotiations with Bulgaria up to the declaration of war. Returning to England, he was employed in the Foreign Office, and was for a time in charge of the War Department. He attended the Paris Conference at the end of March. As Foreign Office Minister and adviser he accompanied Lord Kitchener on his trip to Russia at the invitation of the Tsar to discuss the Eastern front and the need for munitions. On the afternoon of 5th June 1916 HMS Hampshire set sail for Archangel. Three hours into the voyage, the cruiser struck a mine off Marwick Head, Orkney and sank almost immediately. Kitchener and his Staff perished, along with the officers and nearly all the men of the ship. Just 12 survivors from a crew of 655 managed to find their way ashore. Died 5 Jun 1916. War Grave of HMS Hampshire. Age 49.
Lt Timothy Aloysius O'Brien RFA. (10) Son of Sir Timothy O'Brien Bt, Captain of both England and Ireland Cricket. Despite ill health he gained a commission in the RFA and went to France in August 1914 with 27th Brigade RFA within the 5th Division. Part of the Old Contemptibles, Timothy took part in the Retreat from Mons and other major battles up to the battle of the Somme. He was KIA on 7 Aug 1916 during the assault on Delville Wood when a shell exploded on his dugout. Buried at Quarry Cem. Montauban. Age 24.
Lt Francis Joseph Oddie Royal Berkshire Regiment. (95) Son of Arthur Campbell Oddie. Initially worked for Sir William Leng the publisher, then secretary of Sussex County Cricket Club. (Father was Chairman) At the outbreak of War carried out patrol work on the south coast before a commission in the Royal Warwicks, then the Middlesex and finally a transfer to the Berkshires. He went to France to join the 2nd Bn within the 8th Division for the Battle of the Somme. The Divisions objective being Ovillers. Their casualties were horrendous. The battalion returned to the Somme in October having been spent some time in the area of Loos after their ordeal. The 23 Oct. the Bn took part in an action at the strongly held Zenith Trench which cost them a further 203 casualties. The Bn had advanced about ten yards, when there occurred a deed of great gallantry on the part of a German officer. All the records speak of this man's actions in glowing terms. "as soon as the battalion started to assault a very gallant German officer ran down his own parapet and got his men up and stopped us by rifle-fire." Included among the dead was Francis 23 Oct 1916. Commem Thiepval Mem. Having no known grave. Age 37.
Pte Patrick O'Sullivan-Beare Royal Engineers. (07) An eager young volunteer, who preferred to enlist rather than wait for a commission, Private Patrick John O'Sullivan-Beare, only son of the late Daniel John O'Sullivan-Beare, (Prince of Beare) of The Grange, Killarney, died of wounds in France on May 22nd 1915, age 21.
Pte Alexander Robert Outram Royal Fusiliers. (97) He was the youngest son of the late Joseph Outram, formerly of Tacna, Peru, and of Mrs. Outram, of 22, Cleveland Square, Hyde Park. A keen Volunteer before the war, he joined up as a private, and was attached to the Royal Fusiliers, going out to the front in December, 1916 with "C" Company of the 22nd (Kensington) Bn. On the 28 January 1917 the 22nd Royal Fusiliers moved into Wolfe Huts on the Albert-Bapaume road in support of the 23rd Royal Fusiliers. The area in which the battalion found itself was part of the battlefield that had been taken from the enemy during the battle of the Somme the previous year. The landscape was described as being 'desolate, treeless, a mass of mine craters, shell holes and wire entaglements', with a few repaired roads and beaten tracks to link up with the front area.
On 17 February 1917 the 22nd Royal Fusiliers were involved in the fighting around Miraumont. At 5.45 am the British barrage fell on the German lines and the attack began. It was immediately subjected to heavy German machine gun fire. The attack was still progressing in the gloom of the early dawn and mist and smoke of battle. The ground over which the men were advancing had become a slippery, icy morass. 'C' Company of 22nd Bn Royal Fusiliers lost direction as they attempted to advance across Hill 130 towards their objective, and strayed west of West Miraumont Road. Elements of "C" Company were led back towards their objective, but became surrounded and killed or captured in the region of South Miraumont Trench. As the attack faltered, the Germans counter attacked towards Hill 130 from a ravine to the north of the Miraumont-Pys Road. By this stage there was little the depleted and tired men of the attacking force could do to resist, and gradually the advance was pushed back across the slopes of Hill 130. Alexander was among the casualties 17 Feb 1917. A widower, he left one son (Alexander OB.). Buried Regina Trench Cem. Grandcourt. Age 38.
Capt. Henry Joseph Pace Royal Marine Artillery. (03) Died of enteric fever, at the age of twenty-eight. He had been serving with the Royal Naval Division in the Dardanelles. The son of the late Mr. Henry Pace, Barrister-at – Law, he entered the Royal Marines in 1904, passed out first at Greenwich. He served on HMS Natal, Edward VII and Queen. 1910 to Moscow to study Russian; interpreter. Outbreak of war to Belgium; Battle of the Yser. In Feb 1915 promoted Captain, he joined the Mediterranean Fleet and went to the Dardanelles where he contracted the fever and was repatriated. He died 7 Aug. 1915 Buried at Kensal Green Cem. Age 28.
L/Cpl Andrew Thomas Pace London Regiment (London Rifle Brigade). (01) The elder brother of Henry (above). Called to the Bar Lincoln's Inn 1905. North Eastern Circuit. Enlisted at the outbreak of War. To France 24 Jan 1915 to join 1st Bn. Took part in 2nd Battle Ypres. He was killed on the last day of the battle for St Julien 4 May 1915. Buried at Poperinghe Old Military Cem. Age 32.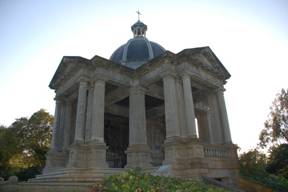 The Parrott Memorial
Lt Edmund Anthony Parrott United States Air Force. (13) The son of John Parrott, banker and financier of San Mateo. Cousin of Douglas-Dick (above). One of three OB brothers. To Yale and aviation at Univ. California. To France with a bomber squadron. On a raid east of the R Meuse some twenty miles behind German lines his group were attacked by some 29 fighters. He was hit during the combat but his pilot was able to return safely to base. He was taken to hospital at Toul but was dead on arrival. 18 Oct 1918. Buried at Toul Hospital Cem. Commem Parrot Mausoleum San Mateo. Age 22.

Pte Francis Parrott United States Army. (14) Younger brother of Edmund. To Catholic University Washington. Enlisted man killed in an automobile accident while on active service. 6 June 1917. Buried at Parrott Family Mausoleum San Mateo. Age 19.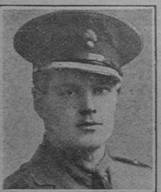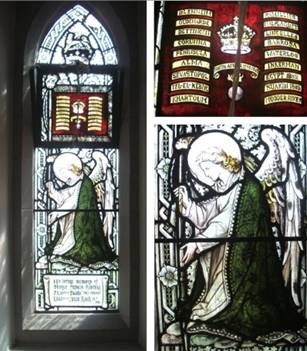 Capt. George Francis Pauling MC Grenadier Guards. (13) Son of Henry Clarke Pauling of Abergavenny. To Sandhurst Commis 17th Lancers (his pastimes were racing and hunting). To France Nov 1914. Jan 1916 George transferred to 3rd Bn Grenadiers to see more action. In September he was awarded a MC during the battle of the Somme commanding The King's Company. —" He led his company and formed a strong point on the left flank, displaying great courage and initiative. Later, he maintained himself for twenty-four hours, causing considerable loss to the enemy until relieved." He was wounded at Messines 1917 but returned to duty in Feb 1918. During the German advance (OP MICHAEL) in March George was KIA by a bursting shell as he was getting his men to safety 25 March 1918 Arras Sector. Buried at Caberet Rouge Cem. Souchez. Mem Window at Our Lady of Sorrows, Effingham. Age 23.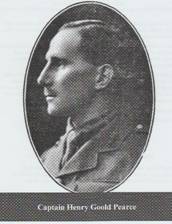 Capt. Henry Gould Pearce MC Royal Engineers. (02) Son of Henry Pearce of Hove. Emigrated to Rhodesia. Saw action with Rhodesia Rifles in German East Africa before returning to England and a commis in RE Oct 1915. He was posted to 171st Tunnelling Company formed of a small number of specially enlisted miners, with troops selected from the Monmouthshire Siege Company, RE. First employed in March 1915 in the Hill 60/Bluff areas at Ypres. Moved to Ploegsteert in July 1915 and commenced mining operations near St Yves. April 1916 saw a move to the Spanbroekmolen/Douve sector facing the Messines ridge. Whilst the war raged across Flanders fields, an equally horrifying and sometimes more dangerous battle took place underground, which still remains one of the most misunderstood, misrepresented and mystifying conflicts of the Great War. The tunnellers lived a relentless existence in the depths of the battlefield for almost two and a half years, enduring physical and mental stresses that were often more extreme than their infantry counterparts. Their lives were reduced to a complex war of silence, tension and claustrophobia, leading up to the most dramatic mine offensive in history launched on 7 June 1917 at Messines Ridge. It was at Messines that Henry was awarded an MC having been responsible with his men for the construction and blowing of what is now called "the Peace Crater". He was fatally wounded by a bursting shell having just been relieved from duty. 15 July 1917. Buried at Poperinghe New Military Cem. Age 31.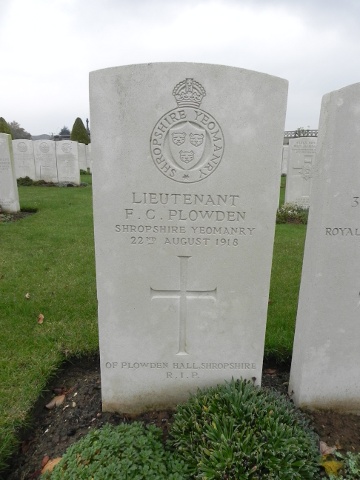 Capt. Francis Charles Plowden Shropshire Yeomanry. (97) Son of William & Lady Mary Plowden of Plowden Hall. He held a commission in the Yeomanry and served with what became 10th Bn (Shropshire & Cheshire Yeomanry) of the King's Shropshire Light Infantry formed at Cairo on 2 March 1917, from the two dismounted Yeomanry regiments and came under command of 231st Brigade in 74th (Yeomanry) Division.7 May 1918: landed at Marseilles for service in France and in August were in the front line on the River Lys. Francis was wounded here but died at the casualty Hospital near St Omer 18 Aug. 1918. Buried at Aire Communal Cem. Age 40.
"He had hardly come into his inheritance," wrote, a correspondent, "Francis Plowden belonged to a type clearly drawn for us in the excellent Manorials of Serjeant Ballasis.' Outwardly a plain English squire, he was splendidly faithful to the pious practices traditional in a line that has known no recreant; his was the unobtrusive devotion of a Charles Waterton. Proud of the great confessor, Edmund Plowden, whom Elizabeth vainly essayed to bribe with the Lord Chancellorship, and other forefathers who suffered for the faith, a home-lover, a sportsman, the late Captain Plowden would have been well content to continue the quiet life of his ancestors. But Dieu disPose, and he lies in French soil, far away from the beautiful Catholic God's acre whose crucifix overlooks the Plowden meadows."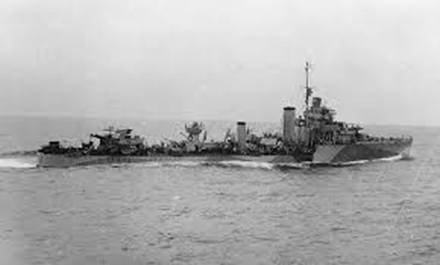 HMS Wolverine at Gallipoli
Cmdr. Osmand James Prentis RN. (84) Son of Captain William Prentis late Scots Greys and husband of Edith of Kensington. He was killed in the operations in the Mediterranean. He had reached the rank of lieutenant in 1897, and of commander in 1908. In November, 1913, he was appointed to the command of the destroyer "Wolverine," and the war found him in the position of Senior Commander of the Mediterranean Destroyer Fleet. It was Prentis who fired the first shots against the Ottomans in Nov. 1914 when sinking a gunboat. He died 28 April 1915 when supporting the Gallipoli Landings off Cape Helles when the bridge of the Wolverine was hit by a shore salvo. Commem Portsmouth Naval Mem. Buried at Sea. Age 40.
John Dom Placid Pritchard OSB St John's Ambulance. (11) Son of William Pritchard. To Benedictine Erdington Abbey. 1914 he was given permission to go to the front with St John's Ambulance arriving in France Sept 1915 and served on the French sector at the 1st battle of Verdun. 1916 to Russia and the Eastern front. He was appointed second in command of an Ambulance being sent to the Balkan Front as the Russian revolution took hold in 1917. Through bad communications he ended up in Persia where he caught Typhoid. On recovering he went in search of his unit once more but was attacked by Brigands and died of his wounds 4 Sept 1917. No known grave. Age 23.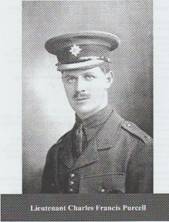 Lt Charles Francis Purcell Irish Guards. (06) Known as "Sunny", Son of Mathew Purcell of Burton Park, Buttevant Co, Cork. To Balliol Oxon for History. Founder of St Patrick's Society for a united Ireland. Graduated 1913 to Inner Temple but joined Red Cross at the outbreak of war. To France. March 1915 took a commission 2nd Bn Irish Guards. After Battle of Loos became Machine Gun Officer. . 1916 the Somme and September Battle of Flers-Courcelette (Ginchy). Kipling wrote:-
The idea of the battle of the 15th September was, as usual, immensely definite. Rawlinson's Fourth Army was to attack between Combles and Martinpuich and seize Morval, Lesbœufs, Gueudecourt, and Flers. Immediately after the objective had been won the cavalry would advance and, apparently, seize the high ground all-round the Department, culminating at Bapaume. The work of the Guards Division, whose views of cavalry at that particular moment are not worth reproducing, was to support the cavalry "on the above lines." The Guards Division, pushed forward and took the ground it had been ordered to take, while the enemy, attacking here, bombing there, and bolting across the shell-holes elsewhere, seemed to be desirous to pull out of action and break away towards Bapaume. Our guns, of which the fighting infantry were unconscious at the time, had helped them towards this decision. There was some question and discussion in the trench as to whether they should now push on to their second objective or whether our artillery would, as originally laid down, bombard that before a fresh move. Having halted and sent back demands for reinforcements. As they were utterly detached from an already detached force, they might as well have indented for elephants. The day went on, and the enemy, realising that the push had come to an end, began to steal forward in small bodies which first out flanked and then practically surrounded the detachment. At last a whole company, hidden in the tall crops, made a rush which should have killed or captured everyone in the position. Somehow or other—and again no coherent account was ever rendered, but it was probably due to our controlled rapid fire—they failed. Our men fought their way out and back to the main body and the enemy excitedly following them, came under a limited but well directed machine-gun fire from the main trench. The Diary enters it as "a weak attack from Lesbœufs easily driven off." But nothing is more difficult than to dissect and sift out the times and the values of linked or overlapping episodes throughout one desperate day, where half a dozen separated detachments are each profoundly certain that they, and they alone, bear the weight or turn the tide of the local war. The minuteness of the field of action adds to the confusion, when one remembers that the distance from Ginchy to Lesbœufs was about the extreme range of a service rifle and that the whole of that day's work had won them about eight hundred yards. For that advance they had paid three hundred casualties among the men, and six officers. Sunny Purcell was among the fallen. KIA 15 Sept 1916 Commmem. Thiepval Mem. Having no known grave. Age 24. Sunny was a cousin of Clement Ryan of Scarteen see below.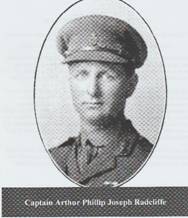 Capt. Arthur Philip Joseph Radcliffe MC RFA. (13) He was born in 1896, the only son of Lieut.-Colonel Philip Radcliffe of Rudding Park Yorkshire, and Gs of Sir J. P. Radcliffe Bt and Sir Francis Weld. To Woolwich, whence he received his commission in the Artillery in February, 1915. To France and joined 71st Brigade RFA. His services were mentioned in dispatches in January 1917, and the Military Cross earned by his gallantry was gazetted in June. On September 25, 1915 (writes a correspondent), young Radcliffe's battery in the famous 15th (Highland) Division was in action in the open near the main street of the village of Loos. Three German batteries and a machine-gun on the morning of the 26th concentrated their fire on the British four-gun battery. With the utmost coolness Lieut. Radcliffe (as he was then) continued working his section and cheering on his men at this critical time, and by his example a hostile counterattack on Hill 70 was prevented' from developing. Later on that day Lieut. Radcliffe volunteered to walk back a mile and a quarter over a shell-swept zone to endeavour to call up more ammunition. It was not until this year that this young officer was awarded the Military Cross for gallantry both on the Somme and at Ypres. On the first occasion "he went forward under heavy fire and managed to establish an observation post and continued though wounded to direct the fire of his battery and sent valuable information as to the enemy's positions to headquarters during the entire day. He was wounded again 2 July during the 3rd Battle of Ypres. He was repatriated to hospital but died 18 Aug 1917. Buried St Thomas of Canterbury, Fulham Churchyard. Age 21.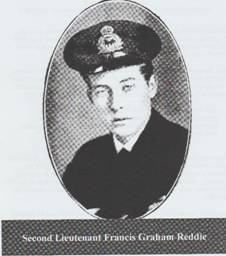 Sub- Lt. Francis Graham Reddie RNAS. (15) Son of Charles Reddie of St John's Wood At the age of 17 he joined the naval Air Service and went to France in March 1918 to join 206 Squadron RAF flying photo reconnaissance for the Second Army in DH-9s. On 18 May he engaged in aerial combat with a larger enemy force but the next day was shot down and killed. Commem Arras Flying Services Mem. Having No known grave. Age 18.

Capt. Charles Edmund Tyrwhitt Repton RAF. ((90) He saw service with 21st Lancers in the Boer War then emigrated to Canada and Joined the Royal Canadian Dragoons. Outbreak of war he returned to England and went to the war as a Lt Troop leader South Nottinghamshire Hussars. To Egypt April 1915. Gallipoli (Sulva Bay) 18 Aug. Withdrawn in December. Moved with the Regiment to Salonika and became an observer with RFC and was awarded a Croix de Guerre for shooting down an enemy plane near Pateros in 1917. In 1918 he went with 142 Squadron to Julis in Palestine flying RE-8s but was shot down after less than a month in theatre and killed 25 Apr 1918. Buried at Jerusalem War Cem. Age 41.
Lt Herbert Robertson MC RFA. (15) One of four OB sons of W Patterson Robertson. Commis RFA 1916. To France with 32nd Brigade RFA. MC "For conspicuous gallantry and devotion to duty. As forward observing officer during an infantry attack he showed the greatest skill in establishing and maintaining the artillery communications. He also Displayed great gallantry in attending to the wounded, and personally attacked and dispersed a considerable party of the enemy who were about to attack his heavily-laden signallers. His conduct throughout was invaluable towards promoting the success .of this operation". He was killed 1 Nov. 1918 SW of Mons. Buried at Verchain British Cem. The British Cemetery was made by fighting units (mainly of the 4th Division) in the period 24th October-1st November 1918.
Capt. Francis Joseph Roche AVC. (87) Son of the late Mr. Redmond Roche, J.P., of the Irish Land Commission, and of Rockville, Queenstown, co. Cork. To the Royal Veterinary College. Joined the O.T.C.at the Curragh and from there joined the Special Reserve, Army Veterinary Corps at Aldershot. He was called up on the outbreak of war in August-1914. Served with the British Expeditionary Force in France and Flanders attached to the 39th Brigade, R.F.A. He was severely wounded at the battle of the Aisne, 19-September and invalided home. On recovery was sent to Woolwich, returned to France in February-1916 and attached to the 15th Hussars, and died at Etaples, 30 June 1917 of wounds received in action on the Aisne. Buried in Etaples Military Cemetery. Age 28.
Lt Laurence Humphrey Ruck Worcestershire Regiment. (04) Son of Colonel Oliver Ruck of Merioneth. Nephew of Maj –Gen Sir Richard Ruck and Brig. Stanhope Pedley (OB). Commis 1st Bn 1910. Initially in Eqypt, the Bn returned to England and went to France 8 Sept 1914. By Christmas they had lost half their strength. In March they took part in the Battle of Neuve Chapelle. Poor communications caused confusion during the British attack on 11 March 1915; the artillery barrage landed too far from the objective and when shortened landed on the leading platoons. It was during this combat chaos that Laurence was killed and buried in a grave later destroyed by further fighting. Commem Le Tournet Mem. Having no known grave. Age 26.
Maj. Clement Ignatius Ryan Essex Regiment. (93) Eldest son of Maj- Gen. Thadeus Ryan Master of the Scarteen. A regular Officer he passed through Sandhurst and was commis. 2nd Bn and served in the Boer War and the Egyptian campaign. Captain 1904. At the outbreak of war he went to France and took part in the Retreat from Mons. He was posted to the newly formed 9th Bn as a Company Commander. Their first major engagement was the Battle of Loos in Sept 1915 for which the Bn was awarded its first Battle Honour. The following year the battle of the Somme and the Bn objective was Ovillers. Despite the intense artillery barrage, the Germans maintained their strong and deep defences and the Bn took heavy casualties and were forced to withdraw. They re-launched the assault and eventually took the village on 8 July. In the course of the fighting Clement was killed. Commem. Thiepval Mem. Having no known grave. Age 40
Lt Edmond St Vincent Ryan Royal Marine Light Infantry. (11) Son of Colonel St Vincent Ryan. Commis RM and was serving in the Far East at the outbreak of war. He returned to take part in the engagements at Ostende before going to the Dardanelles where he was wounded at Smyrna and his ship HMS Triumph was torpedoed and sunk. His detachment was part of the defences at Port Mudros before he returned home in June 1915. He took part in the Battle of Jutland. He died 2 Feb 1917 cause not known. Buried at Edinburgh Morningside Cem. Age 22.

Capt. John Henry Rymer Manchester Regiment. (91) Son of Edward Rymer of Tunbridge Wells. Younger Bro. of Rear Adm. Edward Rymer (OB). Regular Officer Commis. South Staffordshire regiment. Served in Boer War with 4th Bn. Left Army to Farm in South Africa. Rejoined at Outbreak of war appointed to 14th Bn. Manchester Regiment Dec. 1914. Captain March 1915. To the Dardanelles with the 11th Bn. 30 June 1915: sailed from Liverpool, going via Mudros to Suvla bay, disembarking on 6 August 1915. The landing was carried out under heavy rifle fire from Lala Baba and shrapnel fire from further inland. When the disembarkation had been completed the C.O. found the Battalion resting on the beach with bayonets fixed, and ready to move against the ridges to the north of the bay. The trenches were reached without serious opposition, and were carried at the point of the bayonet, the Turks retiring on Karakol Darg, followed up by the Battalion. When day broke on the 7th August the Battalion was astride the ridge, about half a mile inland, faced by the Turks in considerable numbers. About three hundred rifles were out of action for several hours owing to their having become clogged with sand and salt water. The British attack was begun, and was strenuously opposed by the enemy, but the Battalion succeeded in taking the ridge for about three miles inland, and was then brought to a standstill owing to heavy opposition in front and to being enfiladed on both sides. There was no means of communicating with Brigade Headquarters, and no other unit was at hand, but about noon a message was sent by flag signal to a destroyer and shortly before darkness fell the Battalion was reinforced by two battalions 10th Division, but even this support did not enable a further advance to be made, and, after dark, the force prepared "sangars" to enable them to hold on during the night. It was during this fighting that John was killed 7 Aug 1915. Commem. Helles Mem. Having no Known Grave. Age 40.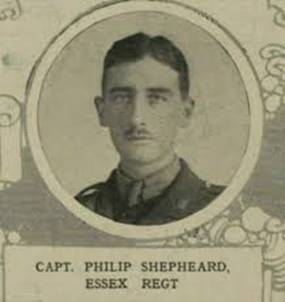 Capt. Philip Shepheard Essex Regiment. (02) Son of Philip Shepheard of Aylsham Norfolk. Regular officer Commis 1st Bn 1904. The Bn was in Mauritius when war broke out in August 1914. As soon as a territorial unit arrived to take over the garrison, they departed for England, arriving in December. On the 18th of January 1915.They were training for France when orders arrived to prepare to depart for Gallipoli. They embarked from Avonmouth on the 21st of March sailing via Malta to Alexandria then on to Mudros in April. They landed at Cape Helles, Gallipoli on the 25 April 1915 and were involved in heavy fighting particularly on 4 June when they took three lines of trenches. Later on 6 June they came under heavy fire and Philip and his men took many casualties before losing their trench. Of his 90 men only 25 escaped, Philip was fatally wounded and died 13 June 1915. Commem. Helles Mem. Having no known grave. Age 31.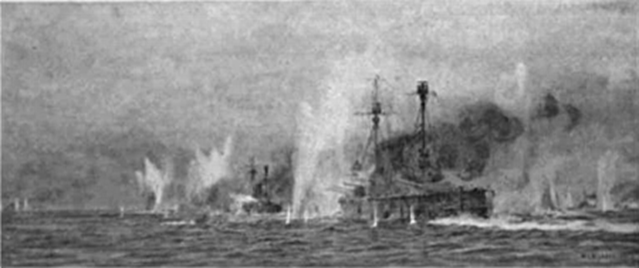 HMS Defence at Jutland
Cmdr. Arthur Edward Silvertop RN. (90) Son of Henry Silvertop of Minsteracres. Husband Dorothy Campsie Dalglish. He entered the navy in 1894. Served as a Lt on HMS Pygmy in the Philippines. Spent three years on the China Station and later was seconded to the War Office to trial Marconi radios in Somaliland1903 campaign. 1911 commander HMS Vernon as Wireless officer before of staff duties at the Admiralty. 1913 appointed to HMS Defence, an armoured cruiser as senior Cmdr. He saw War service in the Dardanelles and the south Atlantic. The ship then returned to join the Grand Fleet as Flagship of Rear Adm Sir Robert Arbuthnot commanding the First Cruiser Squadron. During the Battle of Jutland on 31 May 1916. The squadron formed the starboard flank of the cruiser screen, ahead of the main body of the Grand Fleet. HMS Defence was just to the right of the centre of the line. At 5:47 pm HMS Defence and HMS Warrior the leading two ships of the squadron, spotted the German scouting group and opened fire. Their shells fell short and the two ships turned to port in pursuit, cutting in front of the battlecruiser HMS Lion which was forced to turn away to avoid a collision. Shortly afterwards, they spotted the disabled German light cruiser Wiesbaden and closed to engage. When the two ships reached a range of 5,500 yards (5,000 m) from Wiesbaden they were spotted in turn at 6:05 by the German battlecruiser Derfflinger and four battleships who were less than 8,000 yards (7,300 m) away. The fire from the German ships was heavy and HMS Defence was hit by two salvoes from the German ships that caused the aft 9.2-inch magazine to explode. The resulting fire spread via the ammunition passages to the adjacent 7.5-inch magazines which detonated in turn. The ship exploded at 6.20 with the loss of all men on board; between 893 and 903 men were killed. among them was Arthur KIA 31May 1916. From the Official Naval History:- "Both the Defence and Warrior had already hit the doomed Wiesbaden. Still Admiral Arbuthnot, in spite of straddling salvoes, held on till within 5,500 yards of his prey he turned to starboard. Both ships were now in a hurricane of fire, which the Germans were concentrating with terrible effect to save their burning ship, and there quickly followed another of the series of appalling catastrophes which so tragically distinguish this battle from all others. Four minutes after crossing the Lion's bows the Defence was hit by two heavy salvoes in quick succession, and the Admiral and his flagship disappeared in a roar of flame (6.20). The Warrior barely escaped a similar fate.............." Arthur is Commem. Plymouth Naval Memorial having been lost at sea. Age 38. Also at East Lulworth see also Weld Blundells below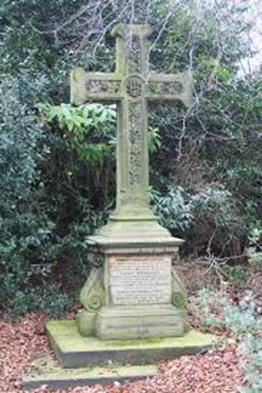 Lt Wilfrid Stanislaus Stapleton-Bretherton Royal Fusiliers. (03) Son of Frederick and the Hon Mrs Stapleton Bretherton. Gs of Ld Petre. One of five (OB) brothers. Elder bro. Robert KIA Boer War and listed on the School Boer War Memorial. Sister Evelyn married Prinz Blucher. He served with 4th Bn, Royal Fusiliers and arrived in France on 25/10/1914.The War Diary for the 4th RF states he joined them 28th Oct 1914 after heavy losses "only 8 officers and 350 ORs left now".
On the 8th Nov............."still in trenches, very heavily shelled all day several attacks by the enemy on our trenches all repulsed. One particularly heavy attack on Y Coy at about 6pm was repulsed with heavy losses to the enemy. Y Coy under Lt Stapleton Bretherton charged the enemy who were advancing on our trench. The Coy drove the enemy away but went too far as Lt Bretherton and most of the Coy are missing." It was assumed that he was killed that day but was in fact wounded and captured by the Germans. He died in hospital at about Christmas time. Commem. Menin Gate Mem. Having no Known grave. Age 27.
Princess Blucher wrote in her memoir:- "I had been in correspondence with Prince Lowenstein about my brother, who was first reported missing after the battle of Ypres. He was quartered at Comines, near the fighting line of that district, and the trouble and real sympathy he showed me in my anxiety impressed me in a way that few other things have done for a long time. He several times rode out specially to the surrounding district to make inquiries about him, and rode up to the dressing-stations and field-hospitals of the district, and also to the abandoned trenches and graveyards, in the hopes of getting a clue. And sometimes, when passing a wayside cross, he would get down from his horse and copy the name of the fallen officer, and send it to me in the hope it might bring some little consolation to a bereaved relation. At the beginning of May he came back on leave for a few days, and I went to see his wife and him at their apartment. His real and intense kindness and sympathy touched me very much — the way he tried to give me every detail about the search, and at the same time spare my feelings as to the hopelessness and sadness of the aspect of warfare in that particular part of the country".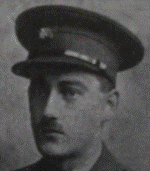 2nd Lt. John Francis Stein Royal Irish Rifles. (03) Only son of Robert Stein of Blackrock Co. Dublin. To College of Science Dublin .Went to Canada but returned at the outbreak of war. His application to join was rejected three times by the medical board before his commission in the 3rd Bn. He served with them as part of the Force that put down the Dublin Easter Rising 1916. He insisted, however, on being allowed to proceed to the Front. Early in August he wrote home saying that had he not been a Catholic he did not know how he could have borne the awful ordeal of the trenches ; and, again, later :—" I am quite sure that the prayers you are saying for me have saved me." He says that when shells fell thick and fast, he found comfort in his lonely dug-out in the little book of devotions which he always carried in his breast pocket. In one of his last letters of the middle of September he mentions with gratitude the privilege granted by the Holy Father to the soldiers of receiving Holy Communion without the usual prescribed fast. The chaplain, the Rev. H. Gill, S. J., wrote of him:—" He was a splendid fellow, always cool and reliable. The colonel frequently spoke to me of his' high appreciation of his qualities. Since his death he has often spoken of the great loss he is to the regiment. He was in charge of a machine-gun team, and several of his men were killed and wounded with him. He was killed during a time of great danger in the trenches, and in a very difficult and important part of the line. He died doing his duty splendidly. There is not an officer or a man who does not mourn his loss." KIA 28 Sept 1916. Buried at Lonsdale Cem. Authuile. Age 31.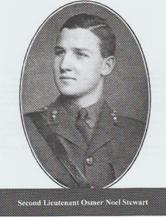 2nd Lt Osmer Noel Stewart MC RFA. (15) The son of Mr. and Mrs. A. B. Stewart, of Alipore, Calcutta. To Woolwich, he had his commission in 1916, and went to the Front in the September of that year to join B battery of 71 Brigade RFA (Same Regiment as Capt, Arthur Radcliffe MC above). Though his time was so short, and he only nineteen years old, his bravery was such that he had already been awarded the Military Cross;-
"When acting as F.0.0., he went forward under heavy shell fire and sent back valuable information throughout the day. His maintenance of communications enabled the artillery to inflict considerable damage on enemy positions."
31 July 1917 the opening of the 3rd Ypres (Pilckem), his gun detachment was following an infantry advance when they came under sustained artillery fire. While trying to extricate a gun from a shell hole he was hit in the head by shrapnel and killed. Buried at Ypres Reservoir Cem. Age 19.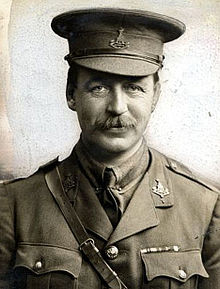 Lt –Col. Sir Mark Sykes Bt Green Howards. (94) Son of Sir Tatton Sykes of Sledmere. Husband of Edith. To Jesus College Cambridge. Commis Green Howards Served South Africa, 1902; Hon. Captain in the Army, 1902; Captain 3rd Battalion Yorkshire Regt., 1908; OC Beaumont College OTC. Lt-Col 5th Bn 1911; Member North Riding Territorial Force Association; County Councillor East Riding Yorks; contested Buckrose division of East Riding, Jan & Dec. 1910; MP (Unionist) Central Hull 1911; traveller, author and diplomat in the Middle East. Raised The Wagoners (Cart Drivers) for war service. April 1915 his Bn was ordered to France but Ld Kitchener had him posted to his staff as Middle East adviser. 1916 joint author of the secret Sykes-Picot agreement on the post war division of the Middle East. Suspected author of the Balfour Declaration 1917. 1919 He was in Paris in connection with peace negotiations. At the conference, it was said of him that "It was due to his endless push and perservance, to his enthusiasm and faith, that Arab nationalism and Zionism became two of the most successful of our war causes.". He died of the Spanish Flu at his Paris hotel 16 Feb. 1919. Buried at Sledmere. Age 40.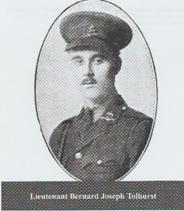 Lt Bernard Joseph Tolhurst RFC. (08) Son of Bernard Tolhurst (OB) of Ditton Court, Maidstone. To Exeter College Oxon and spent his time playing football, hockey and cricket. At the outbreak of war he joined the Inns of Court OTC and was later commissioned into the Duke of Wellington's Regiment. To France 1916 where he fought on The Somme. 1917 he transferred to the RFC and trained in England before posting to 11 Sqn in France 5 April 1917. The Sqn carried out reconnaissance and photographic missions based at Le Hameau with obsolete FE2s. The Battle of Arras had just begun and this month was to be known as "Bloody April" for the RFC with 319 aircrew lost. 22 April, on that day they encountered Manfred von Richthofen's Squadron (Jasta 11} while on a mission to the Drocourt- Queant Line. Bernard and his pilot were shot down by Kurt Wolff (his nineteenth victory). Bernard had only been with the Sqn two weeks, KIA 22 April 1917. Buried at Vis-en-Artois Cem. Haucourt. Age 25.
"Kurt Wolf (1895-1917) was one of Germany's highest-scoring air aces of the First World War, amassing some 33 victories prior to his death during active service on 15 September 1917. Wolff enlisted with the Eisenbahn Railway Regiment Number 4 in Schoesberg in 1912 while aged 17. Receiving his commission in April 1915 he applied for and received a transfer to the German Imperial Air Service three months later. Emerging from his period of training with a pilot's certificate in December 1915 Wolff saw service at Verdun in early 1916 with a KG unit and later that year during the closing stages of the Battle of the Somme with Jasta 11. Known as 'tender little flower' among his fellow pilots ('zarte Bluemlein') for his shy demeanour Wolff was not initially a successful fighter pilot. It was only with the arrival of Manfred von Richthofen to command of Jasta 11 that both Wolff's and Jasta 11's performance picked up. Wolff achieved the first of his 33 victories on 6 March 1917, bringing down a British B.E.2d. In the space of just two months Wolff worked hard to make up for lost time, downing 29 aircraft. The recipient of Germany's highest military award, the Pour le Merite, on 4 May 1917, Wolff was handed command of Jasta 29 two days later, an appointment which brought a mixed reaction, Wolff believing that he was better while being led than leading by example himself. However late the following month Wolff was recalled to Jasta 11 as its commander. (Richthofen having since been appointed to command of the first Jagdgeshwader). Receiving an injury - shot through the hand - during a fight with no fewer than eleven British Sopwith Triplanes on 11 July Wolff was removed from active service until 11 September. The day following his return to duty he was promoted to Oberleutnant. Four days later, on 15 September 1917, Wolff was shot down in the air above Moorslede while fighting Sopwith Camels attached to the British No. 10 Naval Squadron; Wolff's aircraft - one of the new Fokker Triplanes - crashed behind German lines and he was afforded a burial with full military honours.

Lt Francis O'Connor Twomey Australian infantry. (95) Son of Daniel Twomey of Victoria. Initially he joined as a Private and served at Gallipoli. He then transferred to France with a commission in the 54th Bn. They fought on the Somme launching a diversionary attack at Fromelles. The attack was disastrous for the Australians, and it was later described as "the worst 24 hours in Australia's entire history". Having gone in during the first wave of the assault, the 54th suffered heavily, losing 65 percent of its strength, equating to 20 officers and 518 other ranks. [After the battle, the battalion regrouped at Bac-St-Maur before taking up defensive positions to the right of Bois Grenier. Reinforced, they remained at the front until September, rotating between the main defensive position and the village of Fleurbaix. Its final action in the area was a raid on the German trenches opposite their own. From the Battle of Amiens on 8 August 1918 until the Armistice on 11 November 1918 is the period known as the 'Hundred Days'. This was a time of almost constant advance for the allied armies. The Australians, few in number, were unable to hold the summit of Mont St Quentin when German reserves counter-attacked but held on just below the summit until next morning when Australian reinforcements recaptured the summit. The same day, 1 September 1918, saw Australian forces break into Péronne and take most of the town. The next day it completely fell into Australian hands. On those three days, without tanks or protective barrage, the Australians, at a cost of 3000 casualties, dealt a stunning blow to five German divisions and caused a general German withdrawal eastwards to the Hindenburg Line. The taking of Mont St Quentin and Péronne is regarded as among the finest Australian feats on the Western Front and the intensity of the action is evident from the fact that eight Victoria Crosses were awarded to Australians between 31 August and 2 September 1918.
On 29 September 1918, the strongly defended Hindenburg Line was attacked on a six-kilometre wide land bridge between Bellicourt and Vendhuille where the St Quentin Canal ran underground through a tunnel. After nearly two months of continuous action Australian units were numerically weak with the average battalion having only 300 men available for action. The Australians were reinforced by keen but inexperienced American troops whose unit strength was three times that of the exhausted Australians. In three days of hard fighting, with Lewis guns and grenades, the Australians captured the first two German lines which had been the American objectives. Among the fallen was Francis. KIA 1 Oct 1918. Buried at Hargigcourt British Cem. Age 40.

2nd Lt Evelyn Claude Vardon Royal Dublin Fusiliers. (95) Only son of Evelyn Vardon a Papal Chamberlain to Pope Leo XIII. To Canada (Family origin). Served Boer war with Canadian Contingent. Commis 8th Bn July 1915. To France Dec 1915 as part of the 16th (Irish) Division under Command Maj-Gen Sir William Hickie (Brother of Brig Gen Carlos Hickie OB). Battle of Hulloch nr Loos 27 -29 April 1916 suffered heavy casualties following a gas attack (Chlorine & Phosgene) and were removed from the line. One testimony from a member of the Irish division gives an idea of the nature of this war and its overwhelming effect on the young men who found themselves in the middle of every awful aspect of it, namely, the shelling, the trenches, the charges into no-man's land, the shell-shock and, in this case, the poison gas. He stated: Luckily for us, with the rising sun the wind began to change and we immediately counter-attacked and drove the enemy off, but the Dublin Fusiliers had been caught unawares and their casualties were very heavy. When it was over, I had the sad job of collecting and burying the dead. They were in all sorts of tragic attitudes, some of them holding hands like children in the dark. They were nearly all gassed and I buried about 60 of them in an enormous shell hole. A total of 338 Irishmen died in that attack.
Back in the front line trenches at Loos the beginning of May Evelyn was killed 10 May 1916. Buried at Noeux-Les-Mines Communal Cem. Age 36.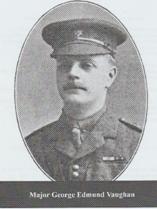 Maj. George Edmund Vaughan MC Coldstream Guards. ((95) Son of Edmund Vaughn, Gs of Earl of Lisburne. Commis 1901 3rd Bn, served Boer War, Adjutant. To India ADC to Governor of Bombay. Returned England 1914 re-joined 3rd Bn, The Coldstream Guards were based in Aldershot were at Chelsea Barracks with the 4th (Guards) Brigade, 2nd Division when war broke out in August 1914. On the 13th of August 1914 they proceeded to France, landing at Le Havre. in The Battle of Mons and the subsequent retreat, The Battle of the Marne, The Battle of the Aisne where George was wounded, the First Battle of Ypres and the Winter Operations of 1914-15. In 1915 they were in action during The Battle of Aubers and his actions saw George awarded the MC. In August 1915 the Bn transferred to the newly formed 1st Guards Brigade, Guards Division but George was repatriated with enteric but was back for The Battle of Loos. In 1916 they fought on The Somme in The Battle of Flers-Courcelette. On 15 September 1916 at Ginchy the first two waves of the Bn were decimated by machine-gun and rifle fire. Captain Sir Iain Colquhoun Scots Gds described the start as follows:
"At 6.30 am the entire British Line advanced, the 1st Guards Brigade on our left, the 6th Division on our right. As we anticipated the entire wave formation had disappeared before we had crossed our own front line, and we advanced in a great mass, Grenadiers, Coldstream, Irish and Scots Guards all inextricably mixed up.
Within 30 yards I found myself in front of the Grenadiers with a few of my own men. Our barrage was about 50 yards in front of us, and the whole landscape was obscured by smoke, and it was impossible to see anything or keep direction. About 100 yards on we found a few Germans lying in shell holes. I shot one and clubbed one. We came under heavy machine gun fire, and the lines disappeared into shell holes…. Many men began to fall and the Coldstream lost almost their whole Battalion by walking into our barrage…"
George was killed leading his company in the assault 15 Sept 1915 (see also Purcell). Buried at Delville wood Cem. Age 25.
Lt Henry Doone Vernon RNAS. (98) Son of J Y V Vernon of Monaco. Commis RN but transferred to the Air Service 1912. He was killed in Short Type 74 number 77 on 30-Sep-1914. Lost whilst scouting for German submarines off the coast of Scotland. The wreckage was found some two weeks later but the bodies never recovered. Commem Chatham Naval Mem. Having been lost at Sea. Age 29.
Lt- Cmdr. Theophilus Chater Vernon RNAS. (08) Brother of the above. Stockbroker in Shanghai and prominent rugby and polo player. At the start of the war he returned to join the RNAS. He trained as a pilot gaining his wings in a Farman biplane April 1915. During training he had a near escape when his plane dropped 600 feet and hit the ground. The machine was badly damaged but he walked away from the wreck with just his teeth damaged. After initial service in the Mediterranean he transferred to the Western Front. He was killed, not in aerial combat but trying to rescue a plane that had been forced down in No Man's land. A team led by Vernon worked on the plane in the middle of the night for some 90 minutes and had started to move it when they were spotted and the Germans opened fire and Vernon was hit in the head by two bullets. KIA 15 Sept 1917. His CO wrote:" I have lost not only a very gallant officer and gentleman but one of my greatest friends, he lived and died the death of a thorough sportsman that he was. It was an end he would have chosen for himself. We have buried him today with full military honours. The service was public and attended by the French Army and of course our Navy and the RFC. Vernon's body was eventually re-interred at Malo-les-Bains, a small town close to Dunkirk. Age 30.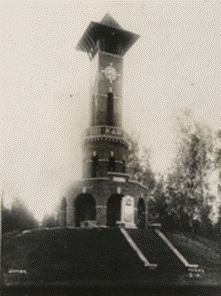 K A R Memorial
Capt. Henry Vetter King's African Rifles. (02) Commis Middlesex Regiment retired Lt 1911. Emigrated to East Africa. At the outbreak of war he re-joined and appointed captain 3rd Bn of 4th KAR that recruited in Uganda. Full strength of the KAR in 1914 was 70 British officers, three British NCOs, and 2,325 Africans. There were no organic heavy weapons (each company had only one machine gun), including artillery or organised reserves and the companies were in reality large platoons of 70 to 80 men. In 1915 the KAR was expanded by having the three Bns reorganised into standard four-company Bns, which were then brought up to full strength at 1,045 men each.
German East Africa comprised the territory occupied by Rwanda, Burundi and Tanzania. Although the hit-and-run campaign conducted there by Colonal (later General) von Lettow Vorbeck ended in his surrender to the Allies on 25 Nov 1918, this clever bush strategist and his force of some 14000 men managed to tie up, pin down, evade and exasperate an Allied force of 373,000 men for four long years. Once von Lettow Vorbeck had beaten off an initial landing by British and Indian forces at the start of Nov. 1914, he stayed brilliantly on the run. Captured supplies and ammunition maintained his small force. Ranged against them were three Bns of the KAR, Indian and British troops and a huge force of 600,000 porters – of whom some 1 in 5 died of disease or accident. Among those who succumbed was Henry 12 Jan. 1918. Buried at Dar Es Salaam War Cem.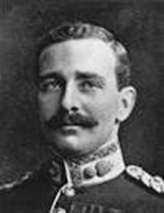 Capt. Arthur Claude Ward DSO Lancashire Fusiliers. (92) Son of Colonel the Hon Charles Ward of Kingston Jamaica. Husband of Ruby. Gt- grandfather was Governor of Calcutta during "the Black Hole". Commis 2nd Bn 1900 and fought in the Boer War. Awarded the DSO during the Kano-Sokoto Expedition 1904 northern Nigeria. 1914 landed at Boulogne 20 Aug as part of the 4th Division. Fought at Le Cateau. "The companies stuck valiantly to their posts but the casualties were very heavy, the shallow rifle pits being of little protection against the artillery. For about three hours the unequal contest was carried on, our infantry receiving no support from our own artillery which had not yet arrived. One by one our trenches were enveloped and enfiladed and the survivors forced to retire." Among those killed was Arthur. 26 Aug 1914 the first OB to die in the War. Commem La Ferte-sous-Jouarre Mem. Having no known grave. Age 36.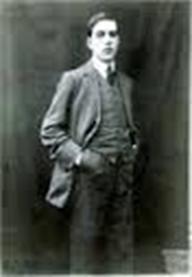 2nd Lt Cecil Francis Wegg-Prosser Rifle Brigade. (08) Son of Major Wegg- Prosser of Belmont. Husband of Emmeline. To Trinity College Cambridge, Law Inner Temple. !914 Commis Royal Sussex Regiment but transferred to family regiment and posted to 16th Bn. To France March 1916. During the battle of the Somme the Bn attacked north of Ancre in the area of Beaumont Hamel as part of 39th Division. He was killed leading his men shot through the heart as he topped the German parapet. Marcus Hecht died in the same assault (see above). KIA 3 Sep 1916. Commem. Thiepval Mem. Having no Known grave. Age 24.
Rfm Louis Weld-Blundell London Regiment. (07) Son of Charles Weld Blundell of Ince Blundell and Lulworth. To Royal Agricultural College Cirencester. Studied singing in Paris and Milan. 1914 enlisted as a Pte in the King's (Liverpool) Regiment before transferring to the 16th (Queen's Westminster Rifles) Bn 28 April 1916. They landed at Cork for security duties following Irish rebellion. Moved to Ballincollig and Macroom. 14 May 1916: sailed from Rosslare to Fishguard and returned to Sutton Veny. 22 June 1916: landed at Le Havre. November 1916: moved to Salonika. 2 July 1917: moved to Egypt, arriving Alexandria 5 July. They fought in Palestine and were the first troops to enter Jerusalem. On route home Louis contracted the Spanish flu and died at Dunkirk 8 Feb 1919. Buried Dunkirk Town Cem. Age 29. Memorial at East Lulworth.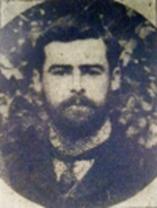 Lt Richard Shireburn Weld-Blundell King's Regiment. (06) Elder bro. of above. Husband of Mary the daughter of Jasper Mayne (OB). To Pembroke college Oxon. Commis Coldstream Guards but resigned because of ill health. He recovered by Feb 1915 to be re-appointed to the King's (Liverpool) Regiment and posted to the 7th Bn on home defence of the Channel Ports. Killed in wild weather at Ramsgate 1 Jan 1916. Buried at Ince Blundell. Age 29. Memorial at East Lulworth.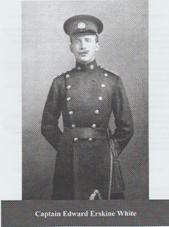 Capt. Edward Erskine White Northamptonshire Regiment. (88) Son of Erskine white of Hove. He served with the Imperial Yeomanry in the Boer war including the Relief of Mafeking and was severely wounded. He transferred to the Bedfordshire Regiment in 1907 and the Northamptonshires the following year. Promoted captain in 1913 he went to France in August 1914 with 1st Bn. On 10th September 1914, the Northamptons engaged in their first proper fight with the Germans at Priez. On the 14th September 1914 an even larger battle at the sugar refinery at Troyon took place with the Northamptons taking part in a counter-attack around noon after other battalions of 2nd Brigade had been counter-attacked themselves by the Germans. This was a period of open warfare with very little in the way of trenches (usually no more than shallow scrapes in the ground) and the fighting was with rifle and often bayonet as the British and German troops fought toe to toe. Edward was commanding "B" Company in the assault at Troyon 14 Sept during the First battle of the Aisne when he was shot through the head and died instantly. He was described as a very capable and gallant officer. Commem. La Ferte-sous-Joarre Mem. Having no known grave. Age 37.
Pte Victor Francis White York & Lancaster Regiment. (95) Son of Stephen White of Crayford. He enlisted at the outbreak of war in the 8th Bn and went to France Aug 1915. On the 4th April 1916, in preparation for the coming battle, the 8th Division moved up to the Le Boisselle-Thiepval sector, the 8th Battalion York & Lancaster occupying trenches to the left of the sector in front of Authuile Wood, periodically withdrawing to reserve at Albert. The ground occupied by the 8th Division was the most difficult of the whole front, no-man's land being exceptionally wide and the attack of the 70th Brigade would have to be made beneath the southern spur of the Thiepval salient which was commanded in enfilade by the Germans. After the artillery barrage lifted, the battalions began their assault near the village of Ovillers at 7.30am, 1st July 1916. Immediately after leaving their trenches the battalion came under heavy machine gun fire and most of the men were killed or wounded. The remainder carried on and took the enemy front line trenches and about 70 men eventually reached as far as the third line of German trenches, but only one man returned from there! What was left of the battalion remained fighting in the first line of trenches until overwhelmed. Such was the ferocity of the fighting that the Germans were forced to move extra troops in to face the 70th Brigade and this enabled other British units to make significant advances. The 8th York and Lancaster Regiment took 680 men and 23 Officers over the parapet, all the Officers were either killed or wounded and of the battalion only 68 returned. The battalion had effectively ceased to exist as a fighting unit and was withdrawn that evening.

7th Jun 1917 8th Yorks and Lancs are in action at the Battle of Messines until the 14th June. Victor had survived these battles unscathed but on 17 Sept he was killed. Commem. Tyne Cot Mem. Having no known grave. Age 41.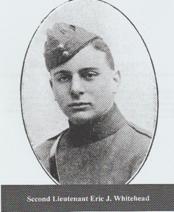 2nd Lt Eric Joseph Whitehead RFC. (17) Son of Joseph Whitehead. Fresh from school, he was commissioned RFC. He was killed in a flying accident when undergoing training 3 May 1917. Buried Wimbledon (Gap Road) Cem. Age 18.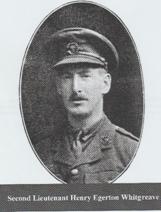 2nd Lt Henry Egerton Whitgreave Somerset light infantry. (99) Son of Robert Whitgreave of Mosley Court. A family of recusant Catholics involved in the escape of Charles II after the battle of Worcester. He enlisted on the outbreak of war and was commissioned July 1915 1st Bn and went to France. I July 1916 Battle of the Somme. After a very intense bombardment, at 7.20 a.m. a large mine was exploded under the Hawthorn Redoubt. Practically no casualties were suffered while in assembly trenches. At 7.30 a.m. the attack was launched. The 11th Brigade advanced in magnificent style in following order from right to left: 1st East Lancashire Regt., 1st Rifle Brigade, and 6th Warwicks. In second line: 1st Hampshire Regt., 1st Somerset LI., 8th Warwicks. Battalion advanced on a front of one company. Leading battalion advanced in lines, 2nd line of battalions in lines of sections.
The battalion advanced in four lines. The advance was carried out excellently to start with and a severe barrage was not encountered. Shortly after heavy rifle fire was opened and machine guns from both flanks. The 1st East Lancashires and 1st Hampshires were unable to get beyond the enemy's wire. The battalion had to ease off to the left, owing to the ridge which it should have crossed being swept by machine guns and quite impossible and found itself in the German trenches in the neighbourhood of the Quadrilateral. The Warwicks gained their objective but were unable to hold on there. The 4th Division was greatly handicapped owing to the fact that the 31st Division on the left was unable to make progress and that the 29th Division on the right was unable to capture Beaumont Hamel. It is impossible to get a detailed account of the fighting that ensued but the situation after the first hour or two was that men of various battalions in the Division were holding part of the Quadrilateral and were engaged in a fierce grenade fight. Our men were for some time severely handicapped by shortage of grenades, but these were afterwards sent up. The battalion lost very heavily. None of the officers who formed up in assembly trenches returned unscathed at the end of the day. Battalion casualties were 26 officers and 438 other ranks. Among the missing but later found dead was Henry. Killed 1 July 1916. Buried Redan Ridge Cem Beaumont Hamel. Age 34.
2nd Lt Almeric Watkins Wood Oxfordshire & Buckinghamshire light Infantry. (10) Son of Richard Somerville Wood one time chaplain to the Darjeeling Tea planters. To Merton College Oxon, 1st class Honours History. Studied for the Bar. At the outbreak of war he was commissioned 3rd Bn and went to France in July 1915 to join the 5th Bn. In September the Bn took part in another assault on Bellewaarde Farm in the Ypres sector. This attack was acting as a diversionary attack for a major offensive further south that became known as the Battle of Loos. Although the Bn reached its objectives they could not hold the line as some 80% (12 of 15) of the Officers were killed, there were heavy losses from shellfire, the enemy were in great numbers and better equipped with grenades and communications failed. Almeric was hit by shellfire directing his platoon and a leg was shattered: he died from loss of blood. 26 sept. 1915. Buried at Poperinghe New Military Cem. Age 23.

Canadian National Memorial at Vimy
Tpr Lionel Geoffrey Wood Fort Garry Horse. (06) Son of Cecil Wood, British Consul in Malta. He emigated to Canada to farm in Alberta. Married Elisabeth Kipling of Calgarry. Enlisted April 1916 . He went to France to join the Regiment where they joined the Royal Canadian Dragoons, Lord Strathcona's Horse (Royal Canadians) and A and B Batteries, Royal Canadian Horse Artillery to form an all-Canadian Cavalry Brigade. The Regiment took part in many actions, acting as Cavalry and also relieving Infantry in the trenches throughout 1916 and 1917.
In November 1917, as part of the famous tank attack on Cambrai, "B" Squadron was given the task of capturing a German Corps HQ at Escaudoeuvres. Destruction of a vital bridge caused the Cavalry Brigade's advance to be cancelled, but "B" Squadron had already crossed a temporary bridge and did not receive the order. The Squadron leader was killed but they pushed on. Coming across a German artillery battery, the Squadron charged with swords drawn and put the battery out of action. The Squadron rallied in a sunken road and found that only 43 men were left and most of the horses were wounded. After dark, the horses were stampeded as a diversion, allowing the men to make their way back through the German lines on foot, bringing in 9 prisoners.
Later, Lionel was to take part in probably the greatest Cavalry action of the War; the attack on Moreuil Wood which began on 30 March 1918 :-
"At Moreuil Wood, on the banks of the Avre River, victory would not only secure the river bank, it would help stem the German Spring Offensive of 1918. In the 10 days since the German breakthrough against the Fifth Army at St Quentin, the Canadian Cavalry Brigade had trekked a 120 mile, anti-clockwise loop south from Peronne to cross the Oise east of Noyon and then worked back north to get round the spearhead of the enemy advance. The Germans had smashed the British line, advancing 40 miles and taking more than 100,000 prisoners. The gloom was shared by the greatest war reporter, not to mention war leader, who ever put pen to paper. "Actual defeat seemed to stare the Allies in the face," wrote. Winston Churchill, Cavalry had been made all but redundant by trench warfare. The Germans had disbanded theirs at the end of 1917. Lloyd George had argued for the Allies to do the same after the disaster of the advance of tanks and 27,500 horses on Cambrai, Horses were easy targets, but a committed group could still act as a sort of early day parachute brigade. At full gallop they could shift hundreds of men half a mile in a couple of minutes. It was in this climate that General Seely, the Brigade commander, took the decision to charge. The signal group would lead - 12 men ready to plant a red pennant with a black C on a white star for the Canadians to aim for. The General led the charge.
The pennant was planted. Squadron after squadron came thundering up the hill, taking terrible casualties but going on to exact many of their own. They were supported by the Royal Flying Corps, which dropped 190 bombs and fired 17,000 rounds into the mêlée. The German official history records that one bomb knocked out an entire battalion staff: "Moreuil Wood was hell," especially for horses.
The engagement went on into what became a rainy afternoon, and as the light faded an unlikely looking little motorcade came down the valley. "The Bois de Moreuil lay before us," wrote Churchill, who was accompanying the French prime minister, Georges Clemenceau. "The intervening ground was dotted with stragglers, and here and there groups of led horses were standing motionless. Shrapnel continued to burst over the plain in twos and threes, and high explosive made black bulges here and there. Though Moreuil Wood had been taken and the German advance had been checked, a quarter of the men and half of the horses had been lost and fighting continued for another two days.From the War Diary of the Fort Garry Horse, 1 April 1918: The attack started at 9 a.m. and was completely successful, although the losses were heavy. The whole of the WOOD was in our possession by 11 a.m., having taken 121 prisoners, and 13 M.Gs which were successfully used against the enemy. The enemy were seen to be Massing for counter attacks, which when delivered were repulsed with great loss.
Casualties for the Fort Garry Horse that day were about 60 wounded, 8 killed and one missing. Among the dead was Lionel KIA 1 April 1918. Commem National Mem Vimy. Having no known grave. Age 28.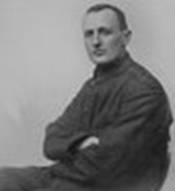 Lt Basil Henry Worsley-Worswick King Edward's Horse. (93). He was born in 1881 a younger son of Colonel Worsley-Worswick of Normanton Hall, Hinkley. He went on to Downside and then up to Christ Church Oxford. From there to Rhodesia where he was a farmer, before emigrating to Canada. He returned from Canada just before the outbreak of the war and enlisted in the army in August 1914. Worsley-Worswick was a 2nd Lieutenant in the 2nd King Edward's Horse which was on reserve in Ireland after months of fighting in France. When the Easter Rising began, the regiment was sent to Dublin to help quell the disturbance. The death of Worsley-Worswick was a result of general confusion in the city over that period. On the night of April 28th, a detachment of the Dublin Fusiliers was stationed at the malt house of the Guinness brewery. When an officer went to relieve the officer on duty, he was mistaken for an enemy and shot. Worsley-Worswick was in the next picket along and heard the commotion. He asked his officer to be allowed to investigate but was told to wait until morning. Worsley-Worswick arrived at the malt house at dawn on April 29th and finding that the officer had been killed, his suspicions were aroused and when he was challenged by a sergeant of the Dublin Fusiliers, he knocked the man down. The guards, seeing this, immediately fired upon Worsley-Worswick and killed him instantly. He was 35 years old.
This tragic story highlights the confusion and panic that surrounded the city of Dublin during Easter 1916. The memorial at Glasnevin commemorates everyone who died during the Rising; Republicans, civilians and British soldiers". He is buried in the Dublin Castle Grounds.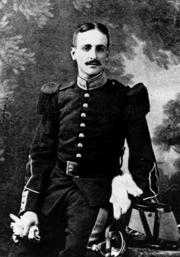 Sous-Lt Comte Daniel Coustant d'Yanville 5eme Dragons. (05) Son Comte d'Yanville. A young man of singular earnestness and uprightness of life, his devotion to his Country is well exemplified in his final; interview with his father before leaving for the front. The Count had very naturally remarked, "Pray God that you may come back safe". To which the young soldier replied, "No! Pray rather that I may do my duty, and more than my duty". His Colonel; breaking the news of his son's death to his father alluded to him as "a young officer full of gaiety, vigour and courage who rightly looked forward to a brilliant future". He was struck by a shell and killed instantly on the 5 Nov fighting near Heuvelland. Age 24. On hearing the sad news his Colonel hastened to the spot and found the soldiers carrying away the body under heavy fire. This devotion on the part of his men struck him as the best proof of the sincere affection which the young officer inspired in all. Commem Père- Lachaise Cem Paris « A la mémoire de Daniel Marie Henri Coustant Comte Daniel d'Yanville Sous-lieutenant au 5ème Dragons né le 30 novembre 1890 mort au champ d'honneur à le 5 novembre 1914. Décoré de la croix de guerre, chevalier de la légion d'honneur ».
Casualty Time Line
Year date Name Ship/Regiment Battlefield
1914 26 Aug Capt Arthur Ward 2nd Lancashire Fusiliers Le Cateau
Sept Pte Illytid Nicholl South African Army (Cape Town)
8 Sept Capt Charles Dalglish 1st Black Watch Marne
14 Sept Capt Edward White 1st Northamptonshires Aisne
22 Sept Mdsm Geoffrey Harold HMS Hogue North Sea
30 Sept Lt Henry Vernon RNAS North Sea
6 Oct Ct A de Boisgelin Cuirassiers Arras
9 Oct Pte I Nicholl South African Army Cape Town
20 Oct 2Lt Alan Anderson 2nd Royal Irish Regiment Le Pilly
23 Oct Lt Donald Miller 2nd Grenadier Guards Ypres
3 Nov Lt R Nolan 1st Black Watch Ypres
5 Nov Lt Noel McGrath Queen's Bays Messines
5 Nov S-Lt Ct D d'Yanville 5eme Dragons ----------
6 Nov Lt William Hope 1st Irish Guards Ypres (Zillebeke)
11Nov Lt A Douglas-Dick 1st Scots Guards Ypres (Veldhock)
17 Nov Capt Frederick Liebert North Somerset Yeomanry Ypres (Zillebeke)
18 Nov Lt J Huntingdon 2nd Lincolnshire Regiment Ypres
4 Dec Pte Cecil Castelli 13th London Regiment Ypres (Armentiers)
21 Dec Lt B Bernard 2nd R Warwickshire Ypres
24 Dec Lt W Stapleton-Bretherton 4th Royal Fusiliers Ypres
1915 7 Feb Capt A Gosselin DSO 2nd Grenadier Guards Ypres
14 Feb Lt P Anderson 2nd Royal Irish Regiment Ypres
28 Feb Pte C Cavrois 110eme Régiment Marne (Mesnil Les Hurlus)
11 Mar Lt L Ruck 1st Worcestershire Regiment Neuve Chapelle
17 Mar Lt B Berrill 6th Royal Fusiliers Ypres (Hill 60)
20 Mar Cpl W Morgan 6eme Chasseurs Alpins Reichsackerkopf
23 Apr Lt J Hamilton Dalrymple 2nd KOSB 2nd Ypres (Gravenstafel)
28 Apr Cmdr O Prentis HMS Wolverine Dardanelles (Cape Helles)
4 May Cpl T Pace 1st London Regiment 2nd Ypres (St Julien)
5 May Lt E Carr 1/5th KOLR 2nd Ypres (Frezenberg)
9 May Capt Ld de Freyne 1st South Wales Borderers Artois Aubers Ridge
22 May Pte P O'Sullivan Beare Royal Engineers ------------------
24 May Lt C Considine 2nd Dublin Fusiliers 2nd Ypres (Mousetrap Farm)
4 June Lt F Leake 1st Lancashire Fusiliers Dardanelles (Krithia)
13 June Capt P Shepheard 1st Essex Regiment Dardanelles
16 June Lt T Horsford 2nd Bedfordshire Regiment Artois
16 June Capt C Harter 4th Royal Fusiliers Ypres (Hooge Chateau)
2 Aug Capt H Morrogh 5th Royal Irish Fusiliers Dardanelles (Suvla Bay)
5 Aug Maj E Molyneux-Seel King's Regiment UK
7 Aug Capt H Pace Royal Marines Dardanelles
7 Aug Capt J Rymer 11th Manchester Regiment Dardanelles (Helles)
10 Aug Maj E Conway 6th Royal Munster Fusiliers Dardanelles (Suvla Bay)
9 Sept Capt J Holms 9th London Regiment Somme Carnoy
25 Sept Lt A Watkins Wood 5th Ox & Bucks L I Ypres (Bellewaarde Farm)
25 Sept Lt A Copner 8th Devonshire Regiment Loos
27 Sep 2Lt W Clifford 2nd Irish Guards Loos (Chalk Pit)
I Oct Capt J de Castro 2nd Suffolk Regiment Ypres (Hill 62)
3 Oct Capt G Monk 1st Welsh Regiment Loos Hohnzollern Redought
13 Oct 2Lt G Morison 1st Cameron Highlanders Loos Hohnzollern Redought
22 Nov Capt F Bowring 22nd Punjabs Mesopotamia (Ctesphon)
1916 I Jan Lt R Weld Blundell 7th King's Regiment UK (Ramsgate)
3 Mar Maj J Harter 2nd Durham Light Infantry Ypres (The Bluff)
8 Mar Maj C Lumsden 18th Highland Light Infantry Artois
14 Mar 2Lt T Ellison 9th Welsh Regiment Loos (Vermelles)
27 Mar Capt G Grisewood 11th Royal Sussex Regiment Artois
30 Mar Capt F Burkinshaw MC RFA Mesoptamia (Kut)
3 May Capt G Gerrard 1st Highland Light Infantry Mesopotamia (Basra)
3 May 2Lt C Wegg-Prosser 16th Rifle Brigade Somme (Beaumont Hamel)
10 May 2Lt E Vardon 8th Royal Dublin Fusiliers Loos (Hulloch)
20 May Lt Col T Berkeley Black Watch (att 10 Corps) Somme
31 May Lt J Hanley RN HMS Queen Mary Jutland
31 May Cmdr A Silvertop RN HMS Defence Jutland
5 June H O'Beirne CB CVO HM Government (FO) HMS Hampshire (Orkneys)
30 June Lt F Grisewood 11th Royal Sussex Regiment Artois Richebourg
1 July 2Lt H Whitgreave 1st Somerset Light Infantry Somme (Quadrilateral)
3 July Lt C Meyer 2nd Lincolnshire Regiment Somme (Ovillers)
20 July Capt E Bagshawe 5th Green Howards Ypres Locre
20 July 2Lt L Cary 9th Devonshire Regiment Somme Mametz
3 Aug A/S P Grisewood Public Schools Bn RNR UK
7 Aug Lt T O'Brien RFA Somme (Delville Wood)
18 Aug 2Lt T Hartigan 6th Northamptonshire Regiment Somme (Delville Wood)
31 Aug Lt H Butters RFA Somme (Guillimont)
3 Sept Capt M Hecht 17th Kin's Royal Rifle Corps Somme (Beumont Hamel)
8 Sept Maj C Ryan 9th Essex Regiment Somme (Ovillers)
15 Sept Capt J Merewether 9th Rifle Brigade Somme (Flers-Courcelette)
15 Sept Lt C Purcell 2nd Irish Guards Somme (Ginchy)
15 Sept Maj G Vaughn MC 3rd Coldstream Guards Somme (Ginchy)
23 Sept S-LT J Hennessy 8eme Chasseurs a Pied Somme (Cagny)
28 Sept 2Lt J Stein 2rd Royal Irish Rifles Somme
3 Oct Lt W Hackett 7th Royal West Kent Regiment Somme (Thiepval)
23 Oct Lt F Oddie 2nd Berkshire Regiment Somme (Ovillers)
27 Oct Capt H Considine MC Royal Irish Regiment Ypres
13 Nov Lt B Devas 2nd Suffolk Regiment Somme (Serre)
1917 Jan Pte J Lynch Royal Fusiliers ------------
2 Feb Lt E Ryan Royal Marine Light Infantry UK
4 Feb Lt J Munster 13th Hussars Mesopotamia (Kut)
3 Feb Lt M MacDonell 2nd Royal Irish Rifles Ypres
17 Feb Pte A Outram 22nd Royal Fusiliers Ancre (Miraumont)
15 Apr Capt W Bunbury 6th Northumberland Fusiliers Arras (Wancourt)
22 Apr Lt B Tolhurst RFC Arras (Drocourt)
23 Apr Lt F Galton 1st Devonshire Regiment Arras
3 May 2Lt E Whitehead RFC UK
6 June Pte F Parrot US Army USA
7 June 2Lt F Hoey RFC UK Yatesbury
14 June 2Lt J Lane-Mullins RFA Arras
14 July 2Lt B Clutterbuck RFA Ypres
14 July Lt H Eyre 2nd Irish Guards Ypres (Boesinghe)
15 July Capt H Pearce MC 171st Tunnelling Coy RE Ypres
24 July Capt H Bicknell Ox & Bucks light Infantry Mesopotamia (Baghdad)
30 July Capt F Roche AVC Aisne
31 July 2Lt O Stewart MC RFA 3rd Ypres (Pilckem)
18 Aug Capt A Radcliffe MC RFA 3rd Ypres
4 Sept Dom P Pritchard St John's Ambulance Bde Persia
15 Sept Lt Cmdr T Vernon RNAS 3rd Ypres
17 Sept Pte V White 8th York & Lancaster Regiment 3rd Ypres
4 Oct Maj K Maitland MC & Bar RFA 3rd Ypres (Broodseinde)
5 Oct Lt J Morriss 1/5th Royal Warwickshire Regiment 3rd Ypres
12 Oct Maj E Nicholson 7th South Lancashire Regiment 3rd Ypres (Passchendaele)
20 Nov Lt A de Lisle 21 Sqn RFC 3rd Ypres (Passchendaele)
24 Nov Tpr T Dixon Hertfordshire Yeomanry Egypt/ UK
1918 12 Jan Capt H Vetter 3/4th King's African Rifles E Africa
16 Feb Lt J Harold RFA att 5 Sqn RFC Flanders
1 Mar Tpr L Woods Fort Garry Horse Moreuil
24 Mar Cpl V Eyre 15th Cheshire Regiment Somme
25 Mar Capt G Pauling MC 3rd Grenadier Guards Arras
25 Apr Capt C Repton RAF Palestine
5 May Maj J Lattey RFA Somme
18 May Sub Lt F Reddie RNAS Flanders
27 May Lt C Coffey 52 Sqn RAF Somme
27 May Brig-Gen C Martin DSO & Bar 151 Infantry Brigade Champagne Soissons
28 May 2Lt H Bicknell Yorkshire Regiment att 1st East Yorks Champagne Trigny
23 July Cpl E Guillet 412eme Régiment d'Infanterie Champagne
11 Aug Capt E Bonnyman DSO MC 10th Argyll & Sutherland Highlanders Parvillers
18 Aug Capt F Plowden Shropshire Yeomanry Ypres
1 Oct Lt F Twomey 54th Australian Infantry Aisne Bellicourt
2 Oct Lt G Martin 8th Northumberland Fusiliers Arras
18 Oct Lt E Parrot United States Air Force R. Meuse
20 Oct Capt W Hayes DSO 2nd Queen's Regiment Italy
1 Nov Lt H Robertson MC RFA Mons
6 Dec Lt W Hinsley RAF Salonika (Struma)
1919 8 Feb Rfm L Weld Blundell 16th London Regiment Palestine (Dunkirk)
16 Feb Lt – Col Sir Mark Sykes Bt Green Howards Paris
22 Dec Capt A Capel CB CBE Council of Ministers Paris
1943 17 Aug Lt R de Lisle R N
AWARDS & DECORATIONS
ORDER of the BATH; KCB 1, CB 5.
ORDER of St MICHAEL & St GEORGE; KCMG 1, CMG 10
KT; 1.
ROYAL VICTORIAN ORDER; MVO 1.
ORDER of the BRITISH EMPIRE: CBE 5, OBE 15.
DSO; with 2 BARS 1, with 1 BAR 2, DSO 43. = 46
DFC; 1
DSC; 1
MC; with 1 BAR 5, MC 63. = 69
AFC; 2
DCM; 2
MM; 1
LEGION D'HONNEUR (France); Comdr 3, Officer 3, Chevalier 9
MEDAILLE MILITAIRE (France); 4
CROIX DE GUERRE (France); 19
ORDER OF THE NILE (Egypt); 2
TITLE OF "SERENE HIGHNESS" (Belgium); 1
ORDRE DE LA COROUNNE (Belgium); Comdr 1, Officer 1, Chevalier1.
ORDRE DE LEOPOLD (Belgium); 3
ORDER OF THE CROWN OF ITALY; Grand Officier 1, others 2
MEDAL FOR MILITARY VALOUR (Italy); 2
CROCI DI GUERRA (Italy); 3
ORDER OF ST MAURICE & ST LAZARUS (Italy); 3
ORDER OF ST STANISLAUS (Russia); 3
ORDER OF ST GEORGE (Russia); 1
ORDER OF ST ANNE (Russia); 1
ORDER OF THE WHITE EAGLE (Serbia); 6
ORDER OF CHRIST (Portugal); 1
MEDAL FOR MILITARY MERIT (Greece); 1
ORDER OF ST DANILO (Montenegro); 1
ORDER OF THE STAR OF RUMANIA; 1
ORDER OF THE RISING SUN (Japan); 1