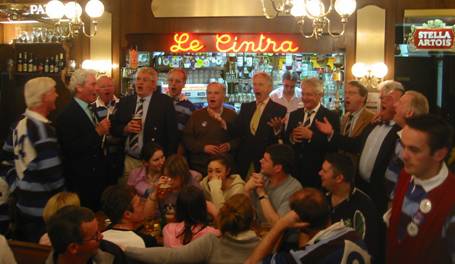 HCPT was formed in 1956 after a young doctor, Michael Strode, first took four disabled children to Lourdes from Chailey Heritage School on a pilgrimage holiday. On that first HCPT pilgrimage, Dr Michael Strode and Fr Michael Byrne stayed at the same hotel as the Beaumont Easter Pilgrimage. The Boys helped Dr Strode and Fr Byrne with the wheelchairs and looking after the children. Thus an early link was forged between Beaumont and the HCPT. Until the school closed, the annual HCPT reunion was held on the lawns at Beaumont where the children were entertained to cream teas and by the school band, and as a result many boys, old boys and their families became involved. A number of Group Leaders emerged from this association, the best known probably being Freddie Wolff (Group 1) and several of the masters became group chaplains.
From those early beginnings, each Easter around 2000 children with disabilities or special needs travel to Lourdes and stay in over sixty hotels around the city. Each child is sponsored through donations and the helpers that accompany each child are volunteers who pay for themselves.
In 1974, a hotel outside Lourdes at Bartres was bought and adapted as Hosanna House for adults with disabilities who had outgrown the HCPT pilgrimage. An additional house – the Villa, has also been acquired nearby for small groups to enjoy the same experience. Each year thousands of people enjoy a week at Lourdes with HCPT.

Since the beginning and to this day the Trustees, Group Leaders and helpers of the HCPT have included old boys of Beaumont and St John's and their children and grandchildren. The creation of the London Beaumont Region and the formation of a Beaumont Union Group have ensured that the association has endured and strengthened for a period of over fifty years. Apart from Group 1, the other Beaumont associated Groups are 2, 3, 18, 24, 35 and 42.

HCPT FUND RAISING Click HERE